ESTIMATING THE TIME/PLACE OF CELESTIAL IMPACTS
By Dr. Barry M. Warmkessel
With Support From Maxine Crafton, Sonja M. Kawamoto and Justin A. Warmkessel
Back To Home Page
Previous Version
© Copyright: 4 October. 2017 Update 06/22/2018

Results from the 3200 year old Bible Code matrices appear to be uniquely correlated with Vulcan, our Sun's Brown Dwarf companion star, and the specific dates the comet swarms it forms pass thought the inner solar system. The Bible Codes also seem to identify 'Signs In the Sky', the place and magnitude of related impact events. Visions of catastrophic giant meteorite or comet collisions, obtained by religious organizations (or individuals), appear to be quantitatively correlated the Bible Code results (e.g. impact place, crater size). They also are qualitatively correlated with the results obtained by military grade Remote Viewers involved in a double blind exercise.

These results suggest three single or multiple chains of massive celestial impact events may occur before or near the end of 2025. These are associated with a comet swarm that has passed through our inner solar system many times before. The main comet swarm may not be noticeable until 2017. Fragments of the main comet swarm have intercept Earth as early as October 2017. Major impacts from fragments of the main swarm may hit the oceans of both the Northern Hemisphere and The Mediterranean Sea/Europe causing a "natural disaster - the likes of which our country (the USA) has never seen".
This paper will try to combine comet/large meteorite impact predictions with the best estimates of when they could happen available. See: 2016, Tollmann's Hypothetical Bolides Return. This data derived by mathematically extrapolating past events ~ 9938 years ago from ice core data (reflecting Earth Impact related weather changes). They are projected to the present by simple celestial mechanics. This is standard scientific practice and thus these results are deemed reliable. This method predicts a one sigma likelihood of an Impact Threat from a passing comet/meteor stream before the close of 2017.
A one sigma threat boundary can be derived by conventional projections from ice core data that formed about ten thousand years ago. Earth will be threatened at least five times by meteor impacts in the next 150 years. Thus, predicted meteorite or comet impact events may 'run together' due to the difficulty in 'timing' these events.

7946 BC + 9938 = 1993 AD +/- 42.6 years ~ 2035.6
7907 BC + 9938 = 2032 AD +/- 42.1 years ~ 2074.1 +/- 4 years
7878 BC + 9938 = 2061 AD +/- 42.1 years ~ 2103.1 +/- 4 years
7812 BC + 9938 = 2127 AD +/- 41.1 years ~ 2168.1 +/- 4 years
7797 BC + 9938 = 2142 AD +/- 41.1 years ~ 2183.1 +/- 4 years

The uncertainties are when within the 1993 +/- 42.6 years impacts can be anticipated. Thus, this 'soft value' expires at the end of 2036. There is also current information derived from extra-terrestrial alien warnings that support the 2017 threat boundary, but this may be just the beginning of the threat period. Additional data indicates that a direct impact threat may be in the October 5 +/- 6 days time frame for 2017 and a number of years thereafter. This appears to be the beginning of the current impact cycle of Tollmann's returning bolides. However, an indirect, but major, threat from meteors/comets trapped in near Earth orbit will continue for several months after October thereafter up until the end of 2024.
Similarly, the Avebury Manor crop circle warned of this kind of an event and permits an estimate when of when Earth will be threatened. If it was truly formed by extra-terrestrial aliens, it can also be considered reliable. Their flight through space at near light speeds requires a LIDAR like radar that can detect space debris (meteors) in their path. They could detect a comet/meteor swarm approaching Earth and accurately predict its time of arrival by simple celestial mechanics. The exact date associated with the Avebury Manor crop circle, is shown by the known planets appear on December 23, 2012. The threatening comet swarm is located either at that time or when this crop circle was formed (07/08/2008). This crop circle shows that the comet/meteor swarm is about four or five years away from passing perihelion and threatening Earth. The earlier date would mean they would threaten Earth around 2012, which did not happen. Thus, this crop circle implies the comet swarm will threaten Earth 4 or 5 years later than 12/23/2012. Furthermore, the passage of the muli-year long meteor swarm is indicated to be around 7 (+/- 10 days) Sep. 2017 . Crop circle T367 (an earlier version of the Avebury Manor crop circle) implies a 7 (+/- 6 days) October threatening date as well but this date seems to have faded away. A timeline of the impending comet/meteor swarm is offered in List 1. Here is an example of such a bolides' timeline assuming a 2017 threat,

List 1:
Impacting Bolides Timeline Of Approach
Leading Edge (12.4 AU) Reaches 2.8 AU and could glow as early as: 2015.93 AD
Leading Edge (12.4 AU) Reaches Perihelion (In Sun's Heliosphere) as early as: 2016.30 AD
Leading Edge (12.4 AU) departs at 1 AU Outbound as early as: 2016.38 AD
Main Threat To Earth Could Start To Glow (2.8 AU) as early as: (7 Sep. - 164 days) 2016
First AND Second Main Threat To Earth Reaches Perihelion (Max Heat From Sun) as early as: (7 Sep. +/- 29 days) 2016 & 2017
Earth First Intersects The Main Threat as early as: 2016.77 AD (7 Sep. 2016 +/- 60 days)
Second Time Earth Intersects The Main Threat as early as: 2017.77 AD(7 Sep. 2017 +/- 60 days)
Trailing Edge (16.71 AU) departs Earth's Orbit (1 AU Outbound) as early as: 2018.27 AD
Three independent analysis paths lead to the suggestion that Earth will be twice threatened with a meteorite/comet fragment(s)impact between 2016 until the end of 2017. The government/elite (or military) appears to be involved with the collection of related data. Nevertheless, some of this information has 'leaked out' from political sources.
The emphasis on the prophetic material will be focused along three main mechanisms. Both 'Visions' and 'Remote Viewing' data may be from the Astral plane where events go from 'effect to cause'. This causes confusion in the flow of 'time' observed in the predicted events.
Bible Code Data
Prophetic Visions.
Remote Viewing Experiments
The source of the Bible Code data is thought to be of extraterrestrial alien origin because technical information is obtained when decoding the ancient Hebrew Pentateuch. Consequently, Visions that contain technical data are likewise sought because they may be of extraterrestrial alien origin. These visions are targeted at those few humans who are receptive to 'telepathic' communications. There appears to be two general targeted areas, one in the Northern Hemisphere and the other in the Southern Hemisphere. There could be multiple impacts occurring at nominally the same time. However, the impacts are anticipated to cluster into several separate events.

Bible Codes, Visions and Remote Viewing are three ways to investigate where these Earth threatening impact events are most likely to happen. Northern hemisphere events seem to be best described by the Bible Code's and Visions, although there is some supporting data in the Remote Viewing material (used primarily for the Southern hemisphere events).

As amazing as it may seem, the name this site gives to our Sun's tiny Dark Star companion (Vulcan) is found in the Bible Code:
INCOMING ASTEROID
Key Words:Vulcan - Nemesis - USA - Impact - Word of God - Whole Earth - Billion - Missile - 2009 to 2010
TSUNAMI
Key Words: Vulcan - planet/star - stony - impact Indian - India - Hindu - Athens - Greece - tsunami - flaming - gigantic - flame - obliterate - flabbergasted - leviathan - oblivion - overwhelming
Dates 2015 - 2021 - 2042 - 2053 - 2065 - 2085
Even more amazing was that future predicted dates were included that were somewhat consistent with estimated times when Vulcan generated comet swarms would again pass through the inner solar system. Note that these are not precise. This web site derived those dates from past Ice Core data combined with the Resonate Interval, that is twice Vulcan's orbital period of 4969 (theoretical) or 4969.3 (measured) years. This two period value is known as the Resonate Interval and it is indicates times when the celestial geometry is the same. Thus, this accurately predicting reoccurring threat intervals.

The Bible Codes are pretty good about predicting events, but the time of the event is another matter. The codes seem to have a lot of times associated with them. However, one must look within a (set of) Bible Codes to ascertain a valid time when the event may happen. Consider the set listed below. For example, here is a List Of Codes relating to Comets & 2015:

Notice that these Bible Codes all have comet and 2015 (the current AD date) listed in them. Moreover, many have other identifying features that limit these dates, like 'Shmitah', 'Blood Moon', 'Barak', 'Obama', 'Netanyahu' and '5775' the Hebrew year.
Blood Moon Prophecy
On April 15, 2014, there was a total lunar eclipse. It was the first of four consecutive total eclipses in a series, known as a tetrad; a second one took place on October 8, 2014, third one on April 4, 2015 and the remaining one will take place on September 28, 2015. It is one of eight tetrads during the 21st century AD.
It is worth remembering that Bible Code dates are seldom trustworthy. They just mark a nominal time at best.

Two other Bible Codes have 5775 (the Hebrew Year for 2015 AD) and a comet like term in them. One code has 'Vulcan' in it and another one has the term 'comet'. The around 2022 to 2024 dates are emphasized because they relate to the one sigma bound of when the approaching comet cluster will pass by Earth. The dates that correlate with future predicted Vulcan induced comet swarms have been bolded. Only dates up to 2150 were investigated.

ASTEROIDS
Key Words: Asteroid - Comet - India - Indian - Crater - Object - Fallen - Vertical - Mainland - South - Noisy - Blazing - Ashes - Air - Darkening - Darkness - Fracture - Demolishing - Smash - Pounding - Soiling - Roast - Frazzle - Burnt - Panic - Will die - Annihilation - Extinction - Oblivion - Termination - 2006 - 2010.
Bible Code (Converted from Hebrew Calendar dates) 2006*, 2015*, 2016*, 2074, 2091, [2045, 2110,] (2010, 2040, 2041, 2046, 2048, 2050, 2060, 2070, 2090)
Seems to suggest that a comet or asteroid (dead comet?) will vertically impact the densely populated Indian mainland annihilating many by the release thermal energy and causing a crater.
TSUNAMI
Key Words: Vulcan - planet/star - stony - impact Indian - India - Hindu - Athens - Greece - tsunami - flaming - gigantic - flame - obliterate - flabbergasted - leviathan - oblivion - overwhelming
Bible Code (Converted from Hebrew Calendar dates) 2006s*, 2012s, 2015*, 2016, 2053*, 2065*,2011*, 2021, 2085*, [2020, 2110,] (2010, 2040, 2041, 2042, 2043, 2046, 2050, 2060, 2070, 2080)
Plain dates were found once, or if followed by an "s" are from the short Hebrew calendar version. Dates [bracketed] and in (parenthesis) were found twice and three or more times respectively in the controls. Dates with an asterisk are deemed significant on a subjective basis judged by close proximity to the main search term and/or with small vertical or horizontal spacing and/or with small number of letters in that order. TOI is Time Of Impact.
Added to these are the following India related codes. Note that in these codes, the full array of dates have not been run, thus time is not a meaningful parameter. Note that Rome and Gomorah (near Israel the Dead Sea) cross and that Gommorah and Comet cross. The impacting comet may be coincident with a fairly extensive nuclear war that may have already started in 2013. The first of two 'India' codes seem to indicate that Athens, Greece, Rome and Israel will also be involved in a comet like ocean impact event.

The 'India' codes are also tied to the Zachariah/Nostradamus Impact event by the location given above implying a 2015 or 2016 date. Late August through October and a few months thereafter are the peak threat times. But the India impact seems to be one falling vertical from the heavens, while the Athens, Greece event seems to be related to a low elevation impact. Thus these appear to be two separate impacts. Additional others are suggested. Figure 1 shows the impact regions found in Nostradamus' quatrains. They have long been known to fall along straight lines.
VI/6 Eretria - Greece - 38.2N 23.6E
VI/6 Boeotia - Greece - 38.5N 23.5E
VI/6 Siena - Tuscany Italy - 43.0N 11.3E
VI/6 Susa - Italy/France Border - 45.0N 7.0E
I/46 Auch, Lectoure, Mirande - 43.5N 0.5E
V/98 Bearn, Bigorre - 43.5N 0.5E
Analysis of Nostradamus', Mother Shipton's, and the Biblical Zechariah's prophecies (predicted to occur at the start of this millennium) lead to the following comet impact trajectory: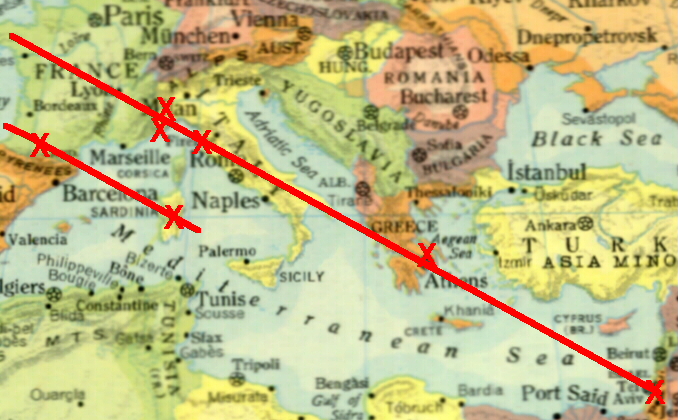 Figure 1. The Zachariah/Nostradamus Impact Map Showing The Ground Track Of The Impacting Meteorites.

The above Bible Codes appears to be related to the following seven other Bible Codes by both the casual agent, 'Vulcan', and the place of the impact events. These Bible Codes describe a major impact events (and the resulting tsunami) in Ohio, Canada and the Atlantic Ocean. Notice that a stone like objects are specified which tend to throw Earth into a (Younger Dryas like) Ice Age. These codes are not to describe the time of the event, rather the place and magnitude of the event along with associated events.
There are a few miscellaneous Bible Codes that are also of interest.
SIGN IN THE SKY
Key Words: Hanniel - Reddish - Crucifix - Phophecy - Beam - Flash - Searchlight - South - Southerly - Sky
SIGN IN THE SKY.
Key Words: Hanniel - Reddish - Remnant -Raiment - Sky - Fire - Crucifix - Prophet - They Will Travel - Journey - Red Sea - Sun Moon - Taurus - Moon - plague - Moses - Lava - Miller - Exodus - Dust
NEW MADRID
Key Words: Seismic - Earthquake - 2010 (HC 5770) - 2016 (HC 5776)
Here, Hanniel is thought to be an Angel (ET Alien) of Jewish mythology. The 'Sign In the Sky' Are believed to be the 'Blue Beam' Sky Circles featuring the seven red comet swarm and the New Madrid is thought to represent an earthquake area that is stimulated into activity by a comet (fragment) impact, especially if it is in the south Atlantic ocean or the Gulf Of Mexico.

Note the Bible is full of warnings of comet or asteroid impacts, especially from Christ as found in the New Testament. Clear text Bible predictions speculating on impacts have been interpreted as follows:
"Starting at the end and work forwards, the last Cataclysmic event is when the Earth is renovated by fire. It is discussed in 2 Peter 3:5-13 and Revelation 20:7-15. The Earth is turned into a sea of fire and lava. There are no longer any oceans. This event could be cause by a large impactor 100- 200 miles in diameter.

Before that happens there will be a millennium, a thousand years, of peace. Revelation 20:1-6 - God made a promise to the Jewish people, during this time he will begin to fulfill it. Before that there is a Great Tribulation. This event is discussed in Matthew 24:21, Revelation 8:5-13, Revelation 6:12-17, Revelation 16:17-21 and Revelation 18:8-10,21 to name a few. The damage falls in line with the damage that would be created from an impactor in the 2-3 mile diameter range. Across many cultures, dragons have been symbolic of comets. As a result, if the damage during the Great Tribulation, was done by an impactor, it is somewhat natural to believe that the impactor would be a comet."
Note that a 3 mile wide meteorite would produce a crater ~50 mile wide:

"A 3 mile wide Long Period Comet/meteorite has an impact energy approximately 10,000,000 megatons of TNT equivalent. The initial blast pulse will be 3 psi at around 1000 miles, and 1 psi at around 2000 miles. Very high mortality rate within 1000 miles of point-of-impact. Outside 2000 miles of point-of-impact, high initial survival rate. Outside 2000 miles, most deaths will be in the long term due to starvation and plagues. The impact would definitely damage the U.S. ability to produce/process/distribute food and since the U.S. is a major producer, it will create massive starvation worldwide. Most of the deaths will be Northern Hemisphere, which is also the most populated. Maybe 1/2 to 3/4 of the worlds population will perish if no warning. A lot depends upon where in Canada, the point-of-impact will occur. If it is near the Canadian border with Alaska, much of the Midwest breadbasket will remain intact. - James A. Marusek (now retired US Navy physicist)
MAJOR RESULTS FROM THE VISIONS AND BIBLE CODE
The following are the major discoveries from the Bible Code.
A 'Sign In The Sky' is predicted that appears to relate to the 'Sky Circles' and their associated seven red comets as suggested by Book Of Revelation in the Bible.
The Location Of Impact.

Celestial impacts are tied to a star/planet Vulcan (or Nemesis) that cause tsunami(s) affecting India, the USA and the entire Earth.
An asteroid, comet or meteorite called Wormwood will impact America.
A comet fragment will hit a (southern?, sea?) that is part of, but not the Atlantic Ocean.
A comet fragment will impact near the mid Atlantic ridge.
Other countries to be affected are Canada and England.
Possible impacts in the Mediterranean basin region affecting Greece, Rome, Israel.
The Son Of Wormwood will Impact India or the Indian Ocean.

The comet or meteorite is stone like.
Tsunami or Great Wave is specified.
A sixty mile crater is generated, maybe in Canada.
The first thing to notice is that almost all of these Bible Codes are implying an impact from a stony like object that would cause an Ice Age. Notice also that this event is twice correlated with Vulcan, our brown dwarf companion star, that forms these comet and meteor swarms.
Session 23 August 2014
Q: (L) I just keep wanting a comet to just come down on Tel Aviv. There was a session years ago where the C's warned us not to go to Tel Aviv. We were invited to a conference, and they suggested that we not go because they could see something really big coming for Tel Aviv at some point in the future. Now, that was years ago, but you know how time is for the Cs; it's irrelevant. So, I suspect that there IS something really big coming for Tel Aviv.
(Pierre) Something of cosmic origin?
(L) Possibly, we don't know.
Session 23 March 2013
Q: (L) Well, thanks a lot! (Ailen) That's a nice way of saying, "No dice!" (L) Okay, as you know, we had a wonderful little exploding comet fragment out there in Russia that did some serious damage and injured lots of people. I'm not glad that it injured lots of people, but I just think it was pretty interesting that this happened like within three days of our new book "Comets and The Horns of Moses" being released in hardcopy. So, I guess the first question is: Anything to tell us about the exploding comet fragment, or whatever they wanna call it? It could have an asteroid, or it could have a comet fragment, or whatever?
A: Denatured comet but who's counting?
Q: (L) Okay. Is that all you're gonna say?
A: Just wait for the next one! That one will be a doozie! And it has "friends!"
Q: (L) Can you give us a time estimate on that? [laughter] (Belibaste) And location? (L) Location, maybe? (Andromeda) Roughly? Ballpark figures? (Belibaste) Plus size?
A: We would have liked to arrange things so that it could have hit [birds start chirping a lot in the background] on the very day of the book release, however things just don't work that way in the STO reality. Thus, the same applies to predictions of future impacts.
Q: (L) That was a nice way of saying, "No dice!" So there is more out there that's coming, but you can't tell us exactly when, and the next one's gonna be a doozie; so we know that much. Are you saying you know that much?
A: Yes. Please put all former clues together for ballpark figure, keeping in mind that the universe is open thus there will always be variables.
Q: (L) Okay. (Andromeda) Past comet streams? (L) So in other words, if we factor in what we know from the science of, say, Victor Clube and Bill Napier, plus observations we make, plus historical records, etc. and signs, we can figure out that something is probably fairly imminent. That would be my best guess. My thought is that if we don't get a plague from this one that exploded over Russia, we will from the next one. That's my best guess.
A: Good guess!
Q: (L) Okay. What else? (Ailen) I can't hear a thing with the birds! (L) Hush up back there! (Mr. Scott) They were fine for awhile, and they all woke up. They're repeating letters and answers to each other. (L) Okay, what's our next topic? (PoB) One more question. Was there any connection between the Russian meteorite and the asteroid DA14?
A: Indeed. By the way, have you noticed how many "new" bodies are being discovered in the solar system?!?
Victor's video showing an interview with a 'Grey' or 'Hill' alien suggests that the HANDS aliens could also be involved with their understanding of the impending catastrophic impact on our Earth. Telepathic communications are at work between the 'HANDS' and 'Grey' aliens and the former could even still be back on their home planet. Possibly a few humans could be involved in these communications. Mivule may be one such human and this telepathic data reached him TWO times.
These disturbing visions were acquired by Kato Mivule in May and June of 2005. Kato Mivule visions are also linked to the above Bible Codes. The single most disturbing vision was acquired by Kato in May and June of 2005. The threat periods revealed by Kato's 'vision' appears to be September and October of an unspecified year when he was ' Shown the Calendar' in a May 2005 Wormwood Vision:
The Lord showed me a powerful vision. I was taken to the heavens above the earth and I could see the earth in a distance not so far but clearly. Suddenly I heard a very loud sound and vibration with a very heavy zoom sound coming my way, hundred times louder than that of a Boeing 747 Jet.

I then saw a very huge rock almost the size of the moon zooming past me at a very high speed with a large tail of fire besides and behind it. In The vision I was made to feel the waves of vibrations and the heat it generated that hit me but I was protected. It was like someone was holding me by my collar and snatched me out of its way to a safe distance. I then could see other splintering rocks falling of this huge burning object and catching fire themselves.

I looked where it was headed, I knew it was headed for planet earth and thought well, I hope it lands in the ocean, not many people will die. However, it seemed targeted to the ocean and the United States. I was like, no Lord no! However, it kept its course targeting the ocean and the United States, it seemed as though someone was controlling its path unhindered and sure to hit its target.
A later 27 June 2005 Wormwood Vision Kato was 'Shown A Calendar':
First, I saw someone dressed in a white robe holding a calendar and said to me, "The date has been set back for Wormwood" which I understood as forward - he then showed me the calendar with September/October written on it and the number 7. I did not see the year but I instantly knew it was the Fall Season.

Then I was shown the second vision. People were having their usual life, for some reason I saw people going to get movies at blockbuster and did not seem to care about what was coming. People were busy watching movies. No one was warning anyone, life was going on as normal.

Then in the same vision I was taken to the Chiefs Football Arrowhead Stadium, here in Kansas City. I knew it was fall and the beginning of the Football Season. In the Vision it looked like evening and the stadium was packed to capacity with everyone putting on their red Chiefs outfits, the stadium was all red as it is normally here with Chiefs games in Kansas City.
The game was going on as usual and suddenly there was a very huge loud bang in the sky and then a huge object I had seen previously in my May vision lit the sky with red fire and zoomed passed across the sky - with very powerful vibrations that threw everyone off their seats and shook the stadium. Everyone in the stadium begun to scream and go hysterical, and run too and fro but could not leave the stadium. The huge ball of fire flew from the east across to the west. I knew it was Wormwood. The Stadium officials seemed to have had a clue about the coming disaster but did not warn anyone and also they locked the stadium doors and no one could go out.

I then saw something amazing, people begun to fall on their knees and pray to God, they knew they were going to die anytime soon. I even saw young toddlers who had come to the game with their parents praying too.

I was then taken back to the blockbuster place and people saw the object and heard the band and vibrations but seemed not to care about it, some said, " I will die watching a movie"?

Debris more destructive than 2004 Dec Tsunami…

After this, I was shown the debris and damage floating all the way on the Atlantic ocean like the force of the moving star caused the debris of destroyed buildings to float all the way from Europe and dumped it at the east coast of America with more excessive damage…I remembered the Tsunami, it looked like very small compared to the Wormwood damage…

Angels High Tech Room…

I was then taken to a room were I saw men around some very high tech gadgets with screens that looked more like flat screen computer panels…but this was very high tech, technology I have never seen before…I knew the men here angels, they were all dressed in white robes and they turned on one flat screen panel and showed me the trajectory of the Wormwood star, then I was shocked to look and behind Wormwood was another star following the same trajectory, just few distance behind Warm Wood and again headed for the Ocean and the United States…they all seemed to have the United States in their path…

Uganda/Africa…

After this I was then taken to Africa, in Uganda where I come from. I was shown people, very sad looking to the destruction in the West. In Uganda, the staple food is Bananas (Matoke inLuganda, a Ugandan Language); people grow different types of Bananas and Plantains. However, the Path of Wormwood dried up all the banana plantations. There was already a drought before Wormwood and now the little food was gone. People cried because the West that provided them food was in destruction…fierce hunger loomed on the horizon…
Those September and October dates in Kato's vision is astounding because it implies a mental (telepathic) link between some aliens and some humans which has already been noted in earlier contacts. Assuming the above visions are valid telepathic contact from a prophetic extra-terrestrial alien species, the information that was acquired seems to imply the following:
The date has been set back for Wormwood.
The impact event happened in the evening implying a pre-season game.
The threat periods revealed by Kato's second 'vision' appears to be Sep. and October of an unspecified year.
There is the number '7' associated with these events - See Figure 1A.
A football game in Arrowhead stadium is associated with a giant meteorite (Wormwood) flying in a roughly east to west direction.
The Stadium officials seemed to have had a clue about the coming disaster (because Victor's alien interview project has already warned the elite about this impending disaster).
The astral plane is the source of dreams and visions. Kato sensed that the time for this event to occur being 'set back'. These impact events were anticipated to be in 2012, but they have been 'set back' (to around 2022 to 2024) just as he was told. Kato's vision seems to imply that a most likely 'Time Of Impact' (TOI) of at least one event because the football game was a pre-season one beginning in the evening and it correlates with a giant meteorite impact during a full Moon that has been predicted by Efrain Rodriguez. He even warned NASA on 11/12/2011 of this anticipated event. The 'number '7' appears to relate to the number of asteroids or comets involved with this event as '7' such red objects are shown in Sky Circles Connected To Crop Circles believed related to this event. See Figure 1A.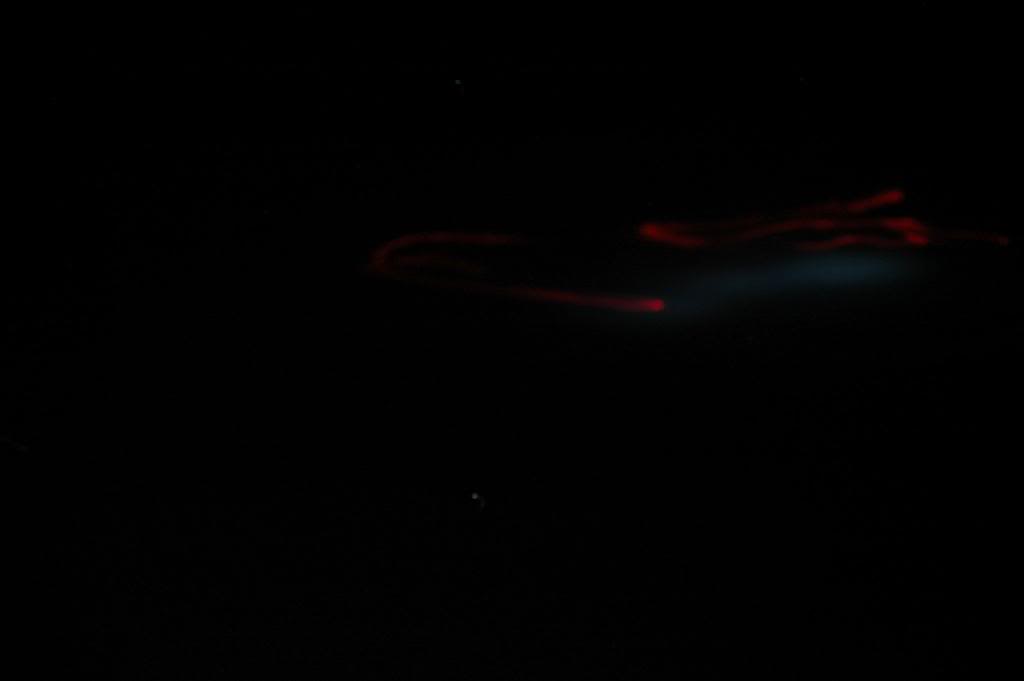 Figure 1A. The Seven Christchurch Simulated Red Comets (e.g see Revelation 12:3) - Formed 03/29/11
One of 12 Photo by Benjamin_T_C

The same number of celestial objects was also arrived at independently by the Watchmen Prophets Assembly (WPA) and is discussed later.

Earth can be hit at any time by a massive meteor, but it is most likely to occur when a concentrated swarm of comets and their associated debris are clearly visible in our skies. That is anticipated to occur around 2022 to 2024

Home season football games for the Kansas City Chiefs are held at Arrowhead Stadium. This stadium is oriented in a NW to SE direction However, Kato considered that this could also be a pre- season game because 'it looked like evening'.

Here is the Kansas City Chief's 20XX Schedule. Many of their games begin in the late evening. There are some date correlation of Kato Mivule's and Efrain Rodriguez's full Moon estimated times and direction of the meteorite. See List 2:

List 2:
Possible Kansas City Chiefs (KCC) Football Games In Kato's Cosmic Impact Vision

Note: All times are Eastern Standard or Eastern Daylight time as appropriate. later analysis indicates that the impacts will be in the 10 PM to 2 AM time frame. Several giant meteorites appear to be impacting Earth.

Efrain Rodriguez (discussed later) envisions his meteorite flying from ENE towards WSW and there being a full Moon at the time of the impact. Similarly, the Watchmen Prophets Assembly (WPA) also had direct input to these predictions which may have further analyzed by NASA.

The most interesting facet of this analysis is the passage of Dead Comet 2015 TB145 ('SPOOKY') Earth Flyby on 30 October 2015.
2015 TB145
The media has nicknamed the asteroid the "Great Pumpkin" after the animated Halloween television special It's the Great Pumpkin, Charlie Brown, "Spooky", the "Halloween Asteroid", and the "Skull Asteroid" due to its human skull-like appearance following radio frequency images taken at Arecibo Observatory.

Aphelion: 3.9076 AU (584.57 Gm) (Q)
Perihelion: 0.29345 AU (43.899 Gm) (q)
Semi-major axis: 2.1005 AU (314.23 Gm) (a) Eccentricity: 0.86030 (e)
Orbital period: 3.04 yr
Inclination: 39.6863o (i)
Longitude of ascending node 37.7318o (?)
Argument of perihelion 121.731o (?)

Possible cometary origin
The high orbital inclination and eccentricity suggest 2015 TB145 may be an extinct comet that has shed its volatiles after numerous passes around the Sun.
Asteroid making surprise flyby at an 'unusually high' velocity - October 19, 2015

It'll streak by on October 31st at an "unusually" high encounter velocity of 35 km/s, or around 78,000 mph. By contrast, the Russian meteorite caught by vehicle cameras in 2013 was 17 meters (55 feet) across and traveled at a top speed of 19 km/s,

Halloween Skies to Include Dead Comet Flyby - October 30, 2015

Scientists observing asteroid 2015 TB145 with NASA's Infrared Telescope Facility (IRTF) on Mauna Kea, Hawaii, have determined that the celestial object is more than likely a dead comet that has shed its volatiles after numerous passes around the sun.
"The IRTF data may indicate that the object might be a dead comet, but in the Arecibo images it appears to have donned a skull costume for its Halloween flyby," said Kelly Fast, IRTF program scientist at NASA Headquarters and acting program manager for NASA's NEO Observations Program.
"That is similar to fresh asphalt, and while here on Earth we think that is pretty dark, it is brighter than a typical comet which reflects only 3 to 5 percent of the light. That suggests it could be cometary in origin -- but as there is no coma evident, the conclusion is it is a dead comet."
Asteroid 2015 TB145 was discovered on October 10, 2015, by the University of Hawaii's Pan-STARRS-1 (Panoramic Survey Telescope and Rapid Response System) on Haleakala, Maui, part of the NASA-funded Near-Earth Object Observations (NEOO) Program.

"stephen@... [WPA-EAS]" (WPA-EAS@yahoogroups.com) wrote:


11-18-2004 Standing in open vision in the middle of a large town center. The Lord fills me with that this is Lima Peru it is day time, in front of me is a old looking fountain, beyond that is a large tower/skyscraper. This city is set very high above the ocean behind the tower. From the west a Large rock falls from the sky into the ocean, it causes a wave higher than the tower in front of me. This will be first of seven.
gammadim24 Message 2 of 2 , Today at 6:58 PM David Haase attended a WPA meeting that we had at the Barney home in North Carolina on July 14/15, 2006. At that meeting, I was discussing asteroid prophecies with him and Bob Neumann was there too. It was on the second day, in the afternoon, that he came to tell me how there would be seven asteroids coming to Earth.
He saw out into space and saw seven asteroids/comets, each with a skull face. They were lined up one by one, single file, heading toward Earth.

Note, that the Watchmen Prophets Assembly (WPA) seem to be predicting more threats to Earth coming along the orbit of SPOOKY. This orbit threatens Earth about the same point in its orbit, specifically very near 30. October. This is one of those Sundays that the Kansas City Chief's is having a game in Indianapolis Lucas Oil Stadium for Arrowhead Stadium, the direction of the flight path of his meteorite (Wormwood) would match Efrain Rodriguez's

Kato's visions seems believable because they contains warnings of the resulting food crisis and possible alien (angels) involvement in the impact warnings. But there is another relevant vision as well. Note that Kato observes both the "Wormwood" and following Warmwood meteorites heading for the USA and is nearby oceans. Both these objects are mentioned in the Bible Codes and associated with America or the USA. Note also that the Hebrew Shmitah year 5775 ends 13 September 2015 which has already passed.

Watchmen Prophets Assembly (WPA)

Visions catalogued by the Watchmen-Prophets-Assembly (WPA) also seem to indicate Asteroid/Comet/Tsunami/Great Flood/Inundation impact events. These visions occurred between 25 February 2002 and 8 March 2004 appear related to the possible impact event that suggest a fragmenting meteorite will strike at three locations, two in the Atlantic Ocean and one in the Gulf Of Mexico. A dramatic tsunami will result flooding much of the east coast of the USA and Florida. Figure 2 attempts to depict the areas that may be flooded from these visions.


Figure 2. Impact Tsunami Map
See: Asteroid/Comet/Tsunami/Great Flood/Storm Prophecies


The red areas are certain to be inundated. The yellow areas will probably be inundated, but there are fewer prophetic witnesses. The blue areas represent mountainous safe zones. The green areas are safe as well. The cross hatched green area in Northern Florida is the subject of prophetic disagreement: several say it is safe, and several say it is not.

There are several points associated with these visions. They are:

1) This event will be the first event: This will be the beginning of the pain that I will allow upon the earth. - One witness
Consistent with the events postulated to occur between now and 2130 AD
4) This 3 asteroid/comet event will be heralded by a final warning that will commence with simultaneous, identical dreams of warning that will be received by many, beginning at 2 A.M. (7 A.M. GMT)
5) North Carolina will be inundated as far West as Morganton, at a distance of 200 miles inland, and at an elevation of 1160 feet. The ocean will intrude as far as Gwinnett County, Georgia (Just Southeast of Atlanta) at an elevation of 1080 feet, and at a distance of 225 miles inland.
6) Florida homes will be covered by waves that will be higher than the rooftops.
7) Key West, FL will be destroyed by Tsunami.-
8) There will be three asteroid/comet impacts - Six witnesses -she said, "when they hit the ground, there was total devastation". She never said she saw them hit the ground, as in hard Earth. She may have been using the word "ground" in a general sense, to refer to the horizon.)
9) Augusta, GA will suffer terrible flooding
10) New Orleans, LA will suffer terrible flooding
11) Florida will be entirely covered with water as far North as approximately Orlando. Another witness saw a map in a vision where Florida and the East Coast of the USA had disappeared several hundred miles inland, and the Coastal area of Louisiana, Alabama and Mississippi had disappeared inland by about 50 miles. Another witness saw, in a vision, that all of Florida had disappeared.
12) The general populace will be warned on Television at 6 P.M. The first warning will be by CNN. The next warning will come from the Pentagon. The area of evacuation will be said to be from Key West, FL to Plymouth Rock, MA - One witness
13) The impact of the three asteroids will occur at 10 P.M. - One witness
14) Two asteroid/comets will hit in the Atlantic, one will hit in the Gulf Of Mexico. Of the two Atlantic impacts, one will hit further out, off North Carolina, the other will hit off the East Coast of Florida. Three Witnesses.
17) This asteroid impact and flood will fling revival out of South Florida, and we will preach as a team throughout the Midwest states of the United States, until we are warned to flee from the great New Madrid earthquake that is to come. Florida is the gate of the United States, and events that control her destiny will commence here.
19) This event will trigger martial law, with military crackdowns in the USA
20) The electric power grid will fail in the entire lower 48 states of the USA for an indeterminate time
21) This event appears to be connected with the arrival of a large brown asteroid into the solar system.
22) Several prophets are saying this event is set, and is certain to occur and will not be cancelled for mercy sake alone
23) There will only be two warnings: the prophetic warnings and the simultaneous, identical dreams that are given by the Lord 20 hours prior to impact.
24) Those who wait to see the asteroids with their physical eyes will perish if they live in the zones of destruction. The prophecies and the dreams must be heeded in order to escape.
25) One witness, after a fast of forty days on water, saw a reduced size map of the USA. Then, he saw, hovering in the air, the number "17". "I explained that the flood of Noah occurred on Marheshvan 17 (Hebrew Calendar). I believe the Lord has connected this future asteroid impact with Marheshvan 17, and has called that future date ZERO HOUR."
26) One witness, had a vision on May 4, 2012 of a tsunami of approximately 40 (actually 30) feet in height coming in to Palm Beach, Florida.

For example, these visions are like this:
The Beginning Of Pain

There were a handful of comets in the sky which looked to be peaceful. Suddenly three of them, all different sizes, began to head toward the earth. When they hit the ground, there was total devastation. As I looked up, the sky turned black and I saw thunder. The thunder was also black. A dark cloud lifted up and it began to rain. When I looked closer I saw that it was not rain but drops of blood.

Compare this with this painting jn 'Clark R. Chapman and David Morrison: Cosmic Catastrophes'.


Figure 3. A Medieval Painting Dated 1456 AD, Near A Pass Of Halley's Comet.

The drops of blood are iron oxide compounds.

Earth/Asteroid Collision Coming?

Just as I made a comment to someone standing next to me about the uniforms, "at least they aren't the same old Nazi uniforms they used in world war two," a wave of water came in from the southeast; it was about a twenty to thirty footer and crashed over the playing field. Something made me turn around. As I looked around a wave close to 200 feet high was engulfing us from the east. As it passed over we were all under water. However, the water was full of people, many more than from our town. There were literally so many people in the water I could not swim to the surface for the people. I then woke up and prayed to remember the dream and for interpretation and then went back to sleep.
This is what I believe it means: First we (N. Florida) will have a storm surge of 20 to 30 feet in the Gulf of Mexico (Or the Puerto Rico Impact). It will be followed by a tsunami of around 200 feet on the eastern seaboard (The Mid Atlantic Impact). Not many people will drown in the first because in the dream I saw many people evading the first and smaller wall of water. However, when the second larger wall of water comes thousands, maybe millions, will drown, because in the dream the water was literally full of people. It appears this will happen when we see people in those strange uniforms.
6/17/04 The three overshot the city I was in and continued eastward toward the Atlantic. The three meteor (comets?) then continued on striking the earth in the distance. Two fell into the oceans the third one struck nearby land. The people began to panic and run into the courthouse, which I felt was foolish and futile considering their enormous size.
December 2003 Then I heard, "Rex, run!" I asked where and the voice said, "Up."
I took that to mean north. So I turned and ran and ran and ran. Every once in a while I would turn back to see what was happening and I noticed a huge wave rushing toward the beach at a phenomenal speed; it was high, raging, angry- looking and huge. I stopped trying to get anyone to listen and started concentrating on running. Not sure how long I ran but I ran to what I think was almost the border of Tennessee.
I was standing on a hill, looking back over several states and I could see water rising. I saw Florida, Louisiana, most of Texas, a good portion of Mississippi and half of Alabama covered with water. People were everywhere -- debris and huge damage.
At this point I was taken to San Francisco but I was looking at it from the vantage point of the air. I could see all of the coast line, both north and south. I recognized the Transamerica building and water was halfway up. People were hanging out of the windows and in the water. The building looked like it was about a half mile out in the water.
Roxanne B. But most of the country and world would be under the supernatural siege of God with ever increasing and worsening droughts, flooding, earthquakes, storms, tornadoes, hurricanes, pestilence, etc. I knew that because of these natural judgments of God that many crops would fail and millions of people in different places of the United States and the world would be starving. It is not a pretty picture and is therefore very difficult for me to talk about, but I saw millions of people starving and trying to find edible roots and grasses to eat. I saw presidents of corporations reduced to nothing except their homes and the food in their cupboards. One man was trying to warm watery soup for his family on a fire in his backyard."
Mark's I do not know exactly where we (our family) were going, but it was a different place (see *note) than the shuttle transports, and it was not very far. I told my wife that the hardest part would be finding water for the 70 something days [God's people were in bondage in Babylon for 70 years before it was destroyed and they were set free]. Somehow I knew we would be all right; nevertheless, I dreaded going through it. The country-side we would be surviving in looked lifeless and dry like a desert or the remnants of a nuclear blast (not necessarily resulting from a nuclear bomb but from a giant wave of destruction)."
May 25, 1997 There were a handful of comets in the sky which looked to be peaceful. Suddenly three of them, all different sizes, began to head toward the earth. When they hit the ground (Earth?), there was total devastation. As I looked up, the sky turned black and I saw thunder. The thunder was also black. A dark cloud lifted up and it began to rain. When I looked closer I saw that it was not rain but drops of blood.

The Tsunami House - Stephen Bening

TSUNAMI HOUSE TIMING PIN REVELATION
Tsunami House Timing Pin Revelation 100% complete as of February 23, 2017. We await the topping out party that was seen in the painter's dream #thetsunamihouserevelation
Tom, a believer in Christ, had a dream in 2006. In his dream, he saw a tsunami come in from the Atlantic and overwhelm a party, a topping out party that he was attending at an ocean front house on the Atlantic Ocean In South Florida. In the dream, the house had just been completed. He knew the place because he recognized the lighthouse nearby. The tsunami went far inland and made a great mess, covering highways and overpasses in Broward and Palm Beach County Florida. I (Stephen Bening) work with this man named Tom who owns a house painting company.
My friend and client since 1991...a nominal, non church going Christian...ex mormon like me...he is a painter...he knows my (Bening) prophetic stuff for a long time. has a dream in 2006. In it, he sees the house and the lighthouse close by. He is at the topping out party in the dream... and he sees a huge tsunami coming in. He sees it go many miles inland.
The painter knows the general area, but not the specific house. He has never seen the house before. Then, in 2010, he is asked to come and bid a house for painting. He goes there, walks into the back yard and it suddenly rushes in on him...this is the house from his dream, four years back. The Tsunami House. The house is in South Florida, on the East Coast Atlantic Ocean. This house is right on the beach. It is normal height above the sand, not on any type of rise or anything.
We bid the house and we are rejected. Somebody else puts one coat of primer paint on the house. The paint FALLS OFF. They call us, and we get the bid. Original completion should have been end of 2012, but there were unexpected delays. Now, it is a rush job to finish. We have a firm contract. We have to be paid out. But to finish it, things are always up in the air as to how fast or how slow. Everything is always subject to changes.
The painter told me (Bening) that he saw the tsunami coming in just about up to the level of the low hanging clouds, which here in Florida, could be a few hundred feet. I spoke to the painter this morning (06/25/2015). He said that in the dream, the party on the pool deck was going on at sundown. That is when the wave came in. It took out all the bridges. There was no way to get back over the Intracoastal Waterway.
The painting is now 99% complete and could easily be finished by summer 2017 if requested by the owner.

Predicted event happened: "stephen@... [WPA-EAS]" (WPA-EAS@yahoogroups.com) wrote:
47Re: [WPA-EAS] David Haase: Seven Objects To Hit, Lima Peru First

11-18-2004

Standing in open vision in the middle of a large town center. The Lord fills me with that this is Lima Peru it is day time, in front of me is a old looking fountain, beyond that is a large tower/skyscraper. This city is set very high above the ocean behind the tower. From the west a Large rock falls from the sky into the ocean, it causes a wave higher than the tower in front of me. This will be first of seven.

gammadim24

Message 2 of 2 , Today at 6:58 PM
David Haase attended a WPA meeting that we had at the Barney home in North Carolina on July 14/15, 2006. At that meeting, I was discussing asteroid prophecies with him and Bob Neumann was there too. It was on the second day, in the afternoon, that he came to tell me how there would be seven asteroids coming to Earth.
He saw out into space and saw seven asteroids/comets, each with a skull face. They were lined up one by one, single file, heading toward Earth.

Dead comet with skull face to hurtle by Earth on Halloween - October 31, 2015.
The prediction of David Haase (July 14/15, 2006) comes to pass.

There is additional data that suggests a massive impact in the Caribbean Sea, perhaps one somewhat reminiscent of the Atlantis Catastrophe. Efrain Rodriguez obtained a detailed prophetic vision of a large meteorite impacting near Puerto Rico, and another individual from the same general area obtained similar information from an ET alien source. It is this latter report that makes that makes both the WPA and Rodriguez's prophetic vision credible. The Grey ET aliens are known to travel with a very prophetic co-sentient species (Our Priest COMBO Species) who are extremely capable at sensing future events. Efrain Rodriguez's prophetic vision is thought to also come from an ET alien source although he attributes it to God. ET aliens find that the information they impart to humans is more acceptable if it comes from a religious source.


Figure 5. This giant meteorite will be making impact in the sea between the island of Mona and Mayagüez.



Figure 6. The Caribbean Basin States.
One degree of latitude equals 60 nautical miles (approximately 69 statute miles, or 111 km). Caribbean Basin States with scale.


Figure 5 illustrates between which two landmarks where the giant meteorite will drop into the sea. Figure 6 illustrates the location of the generally affected states. This cosmic impact event is anticipated to be one (perhaps the first) of several that occur at nominally the same time. The giant meteorite appear to be moving East to West just as the one in Kato's vision. The resulting 40 to 70 million deaths in North America exceed the past comet impact reported deaths (~ 6 million) by a factor of ten. Efrain Rodriguez numbers seem too low by a factor of 18 or more. This leads one to suspect that multiple global impact will occur in roughly the same nominal two year time frame.

An attempt was made to model Efrain Rodriguez's 'asteroid, which is really thought to be a meteorite associated with the incoming B swarm comets. A 12.0 Earthquake was too large as most of Puerto Rico would be destroyed. Perhaps he meant a 10.2 Magnitude Earthquake which also is greater than any earthquake in recorded history. Following are the meteorite impact parameters used.

7.8 km (4.9 mi) - 8.7 km (5.4 mi) diameter
1500 kg/cubic meter
Impact Angle 15 degrees (almost horizontal)
Velocity 70 km/sec
Target water depth 400 ft

The impact effects at the strike point would be as follows.

Crater Diameter 55 - 61 miles
Crater Depth 0.71 - 0.73 miles
Blast: 2 x 108 MT - 3 x 108 MT
Earthquake: 10.2 Richter

The ejecta and tsunami would be major killers, the former as breathing them would cause lungs to bleed and both would cause victims to die by drowning. It is antiicipated that much of the ejecta would mix with sea or rain water forming a 'hot mud'. Table 1 lists the ejecta thickness and tsunami height as a function of range from the impact point. If the meteorite is coming in at an angle, the tsunami in the forward direction (compared to the direction the meteorite is traveling) is usually higher than the opposite (backwards) direction 180o

Table 1 - Range Vs. Ejecta Thickness And Tsunami Height
Meteorite Parameter
7.8 km - 8.7 km Ice
5.3 miles (8.5 km) Stone
60 miles
100 miles
200 miles
500 miles
700 miles
Ejecta (thickness) ft:
253 - 360
337 ft.
30.3 - 43.2
72.9
9 - 9.7
9.11
0.58 - 0.63
0.58
0.21 - 0.23
0.21
Tsunami height ft.
(backward/forward) feet:
183/366 - 199/399
196/393
95.9/193 - 104/209
118/236
59/118 - 60/120
58.9/118
24/47 - 24/48
23.6/47.1
17/34 - 17/34
16.8/33.7

Massive housing damage out to 1500 miles is anticipated, with damage to wood frame building out to 2000 miles or more. Glass windows may shatter out as far as the California coast.

Table 2
Puerto Rico Meteorite - Range Vs. Peak Pressure, Max Wind And Related Damage For 5.3 Mile Diameter Stony Meteorite
Range
Miles
Peak Over Pressure
psi
Max. Wind
mph
Damage
1000
14.9
401
Multistory wall-bearing buildings will collapse.
Wood frame buildings will completely collapse.
Highway truss bridges will suffer bracing distortion.
Glass windows will shatter.
Up to 90 percent of trees blown down.
1500
6.7
211
Multistory wall-bearing buildings will collapse.
Wood frame buildings will completely collapse.
Glass windows will shatter.
Up to 90 percent of trees blown down.
2000
4.0
132
Wood frame buildings will completely collapse.
Glass windows will shatter.
Up to 30 percent of trees blown down.
2500
2.7
93
Glass windows will shatter.
Up to 30 percent of trees blown down.
3000
2.0
70
Glass windows will shatter.
3500
1.6
55
Glass windows will shatter.
DISTANCE BETWEEN CITIES calculator - Puerto Rico Impact Point 18.2 N 68.1 W (near Mayaguez, Puerto Rico

These calculations were done with the Purdue Impact Simulator The model permits getting only as close as about 60 miles to the impact point of an object of this size. Rodriguez, in his June 8, 2010 (Asteroid en route towards Puerto Rico) says " At the impact area, the wave will be more than a thousand feet high. In the northern area, it will be about 200 feet, and after Fajardo, in the Eastern part, it will come down to 100 feet." This seems to favor the 8.7 km diameter ice (8.5 km porous stone) meteorite. Assuming an ice meteorite and that the impact point is about 15 miles east of Mona Island, Hatillo is 60 miles away.

Ejecta: 253 ft.
Tsunami Height (backward): 199 ft.

Fajardo is 132 miles away from Mona Island and the Purdue model predicts a tsunami height close to the anticipated value of 100 feet.

Ejecta: 33.8 ft.
Tsunami Height (backward): 90.7 ft.

Santo Domingo is about 153 miles from the impact point.

Ejecta: 21.7 ft.
Tsunami Height (forward): 156 ft.

Such thick ejecta will continue to kill the tsunami and blast survivors in both Puerto Rico and the Dominican Republic.

Using the Bible Code data ('Hill Of The Atlantic' = Mid Atlantic Ridge) along with Vision data ('Of the two Atlantic impacts, one will hit further out, off North Carolina') provides a nominal estimate of the location of the North Atlantic impact. This is nominally the location as confirmed by others below. Caution, dates associated with impacts are notoriously unreliable.
The size of the mid Atlantic meteorite is assumed to be 2.4 miles based on the Watchmen-Prophets-Assembly Tsunami House vision. Assuming this house is 2200 miles from the impact point, a 118 ft high tsunami reaches the house 6.3 hours after impact. The observed height of the tsunami is taken as 150 ft. The back end of the tsunami increases by an estimated 30% giving a deep water tsunami wave of about 118 ft. Following are the meteorite impact parameters used. If the tsunami arrives around sunset Miami Florida on 1 September(7:40 PM) the impact must have occurred around 1:30 PM.
2.4 mi. diameter
1500 kg/cubic meter
Impact Angle 15 degrees (almost horizontal)
Velocity 70 km/sec
Target water depth 2500 meters (nominal depth of the Mid Atlantic Ridge)
The impact effects at the strike point would be as follows.
Crater Diameter 10.2 miles
Crater Depth 2260 ft
Blast: 2.7 x 107 MT
Earthquake: 8.3 Richter
Table 3 offers an estimate of the tsunami and blast at various distance from this mid Atlantic impact point as derived from the Bible Code and Watchmen- Prophets-Assembly (WPA) data. The impact point off the coast of Venezuela is thought to be less reliable.
Table 3
Mid Atlantic Meteorite - Range Vs. Tsunami Height, Peak Pressure, Max Wind And Related Damage For 5.3 Mile Diameter Stony Meteorite
Range
Miles
Tsunami Height*
feet
Peak Over Pressure
psi
Max. Wind
mph
Damage
1000
130 bkw - 260 frd
3.3
112
Multistory wall-bearing buildings will collapse.
Interior partitions of wood frame buildings will be blown down.
Roof will be severely damaged.
Glass windows will shatter.
About 30 percent of trees blown down; remainder have some branches and leaves blown off.

1500
87 bkw - 173 fwd
1.7
60
Glass windows will shatter.
2000
65 bkw - 130 frd
1.1
39
Glass windows will shatter.
2500
52 bkw - 104 frd
0.8
29
-
3000
43 bkw - 87 frd
0.63
23
-
3500
37 bkw - 74 frd
0.5
19
-
DISTANCE BETWEEN CITIES calculator Mid Atlantic Impact Point 32 N 45 W
* bkw = backward direction, frd = forward direction from direction of impactor.
Multiply tsunami height by about 1.3 if impacting the USA eastern seaboard.
The tsunami is larger for the mid Atlantic impact than for the Puerto Rico impact in much shallower water. The sea floor rises gradually upward toward the USA thus the back end of the tsunami to catch up with the front end and increases the tsunami height.

Sir Fred Hoyle said that if a meteorite larger that 300 meteors in diameter struck, it could transition Earth back into an Ice Age. The estimated size of these giant meteorites is 20,000 times greater.


The Watchmen-Prophets-Assembly's reported Asteroid/Comet/Tsunami/Great Flood/Inundation events are time tied to both Kato Mivule vision of a giant meteor (Wormwood) near Arrowhead Stadium, in Kansas City and to Efrain Rodriguez's Puerto Rico impact event. Both seems to be associated with a triple impact event in the northern hemisphere. While the Gulf Of Mexico event cannot be pinned down, a fairly precise location of the Puerto Rico impact is specified and a nominal location of the North Atlantic impact event can be made and it seems verified by collateral data from an unspecified source. The nominal location of these sea impacts are depicted in Figure 7.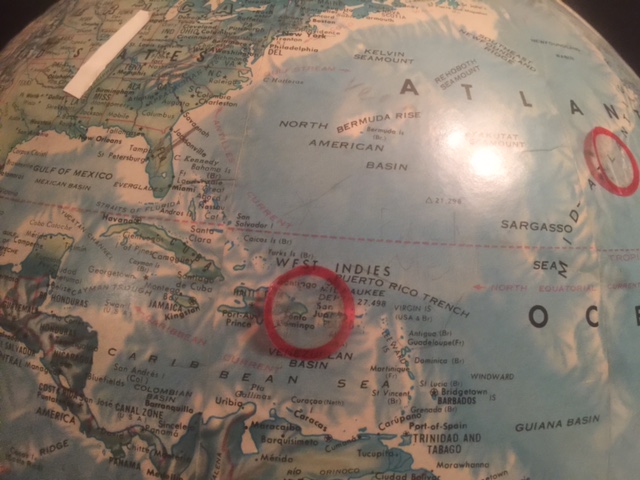 Figure 7. The North America/Europe Impact Map Showing The Ground Track And Impact Point Of The Impacting Meteorites


Amazing Prophetic Word Of The Lord From Brother Marcus - 08/10/2012
By November hidden deceptions will become clear as water
And chaos shall begin the slaughter.
From the skies shall come a sign - The Chelyabinsk Meteor A Warning From The Angels?
With My Kingdom will it's time to align.
Pillage and plunder shall come to the cities and towns
And the enemy shall try to take away your crowns.
The East and West shall see My hand,
. . .
The terrorists shall soon arise from their posts
And you shall see the dirty bombs and terrors from the sky come to your coasts.
The man in your capital house shall now show his true face
As you see him greet those of a fallen AND foreign race.
Many saints shall soon be hunted as prey;
. . .
I will show My elect My supernatural protection the end of this year.
For at the end of the year and in 2013 you will see the weakness of your nation
But I warn you not to give place to deception and frustration.
Perilous times you will go through
Never can it be the same for the red, white and blue.
Oh major cities of every nation
You are about to see the worst destruction since creation.

Veronica Lueken and her apparent telepathic contact with aliens posing as Jesus and the Virgin Mary have revealed major substantiated predictions:

What is being shown is the ramifications of the comet impact and its changing the weather in Russia and Northern China. There is a war involved in the relocation and they are bringing their military with them.

Dr. Barbara Baaden also has some interesting prophecies concerning these impending catastrophic events. The time that the catastrophic events are extrapolated to occur start at or around 13 September 2012. Consider her Prophecy 1 which was revealed to her on 13 Sep. 2011. As with many who experience catastrophic visions, fear may influence the readings by introducing errors, especially in the time domain.

Notice that there are two prophecies perhaps because two impact events are anticipated. Prophecy 1 on seems to point to catastrophic events in the Southern Hemisphere whereas Prophecy 2 seems to be pointed at events in East Africa, the North Atlantic ocean and Europe.
Zimbabwe will be met with tidal waves. North Pacific will be met with chaos. European countries meet devastation. Britain, the Queen will have a massive heart attack. A third of the sea will die in the North Atlantic. These are the signs. Blood shall be poured out in the sea.
Times seen in Visions are notoriously unreliable.
MAJOR NORTHERN HEMISPHERE RESULTS
The following are the most important findings from these celestial impact related visions.
Two visions are firmly tied to 'reality'. One, Efrain Rodriguez's vision of a giant meteorite hitting Earth's oceans near the time of a full Moon is tied to an actual ET alien encounter (14 May 1988) warning of a meteorite falling into the Caribbean near Puerto Rico.Two Kato Mivule's vision of a giant meteorite (Wormwood?) passing overhead during a night time Kansas City Chief's football game at Arrowhead stadium in the September/October time frame. Both these visions are tied to a actual known comet fragment passing near Earth. The comet fragment (dubbed Spooky) passed near Earth on 30 October 2015. Other fragments of the same crumbling cosmic body usually follow in the same orbit path passing Earth's orbit at the same place (e. g. where Earth is circa 30 October). Both the 2 October 2017 and 30 October 2017 threat dates are valid. However 'Spooky' is in such a short period orbit (suggesting it was recently captured and there are no significant signs of activity then in 2016. 2 October 2016 did show significant fire ball activity then.
Both Efrain and Kato's meteors appear to be on a ENE to WSW direction. Kato's meteorite seems to suggest an impact in the USA's Midwest and Efrain's suggest an impact off the Western coast of Puerto Rico.
An historic event has occurred on May 3, 2017 as Puerto Rico has fallen into bankruptcy. President Donald Trump suggested that the United States needs a "shutdown" in September (2017).
Two massive impacting meteorites, Wormwood and Warmwood, are cited in both the Bible Code and the 2005 Vision.
Both the Bible Code and Kato's visions indicate that one meteorite (Wormwood?) will impact the USA.
Three ocean/sea impacts are anticipated, one in the Gulf of Mexico, another in the Caribbean Sea and another near the mid Atlantic ridge. These locations are supported by the Bible Code data.
The times of these impacting meteorites may be separated by up to several days.
The envisioned tsunamis suggest an impact of a 5.3 mile wide meteorite at 2 AM between Puerto Rico and The Dominican Republic (18.2 N 68.1 W).
A nominal sixty mile diameter crater is estimated from the impact of a 5.3 mile wide meteorite. This size crater is supported by the Bible Code data.
A massive amount of Atlantic Ocean debris is anticipated and reported by Kato Mivule and the Puerto Rican UFO contactee. This contamination is consistent with the magnitude of the 60 mile impact crater's ejecta.
Combining the Bible Code and the Vision data, an Impact of a 2.4 mile wide meteorite at about 1:30 PM near the North Atlantic ocean's ridge (32 N 45 W). A 10 mile wide crater in the sea floor would be anticipated.
The 'stone' like meteorite (Bible Code) is anticipated to produce a 'Great Cold' (Vision) or a new Younger Dryas like Ice Age.
Political leaders and selected families (of the elite) are preparing to move to safe locations.
As Kato envisioned The consequences of such an impact would initiate the rapid onset (7 to 10 years) of an Ice Age that would limit the food production and produce 'fierce hunger'. This starvation may have been intentionally made worse by the elite through the Oroville dam fiasco.
Both Veronica Lueken and Mother Shipton appear to predict double impact events. Both may be perceiving time to flow in the opposite direction that it really does on the physical plane. Mother Shipton seems to imply that these are separated by years. Considering this sorted collection of Remote Viewing efforts it appears that there is going be meteorite impacts near Fort Jesus, Key West and the US Capital building on or before the end of 2017.
The famous Remote Viewer, McMoneagle, has things to say about Planet X (maybe Vulcan) and when meteors/comets may pass near or impact Earth.
"Planet X, the tenth planet in our solar system, will be verified in the year 2015. It will have an elliptical orbit with a mean distance from the Sun of 51.50 AU, and a density approximately equal to that of Mercury. The discovery will be a result of modifications to an Earth-bound telescope of more than twelve meters, which has not yet been completed (constructed)." "Sometime in the year 2016, an asteroid will bypass Earth, missing our globe by less than 1.3 million miles. It will be large enough to cause a measurable electromagnetic effect on the Earth's surface. This will be the first of four that will visit our neighborhood over the next hundred years. The second will pass around 2030, the third in 2044, and the fourth in 2071. None of these rocks will strike our planet."

"However, we can expect a large impact from an asteroid exceeding 1.5 kilometers in size by the year 2200. This event will probably occur closer to our next century than toward the end of the second - or sometime between 2120 and 2130."
In early 2008, the Farsight (Remote Viewing) Institute undertook an experiment to try to deduce what kind of climate change would be taking place between June of 2008 and June of 2013. Modest changes in sea level and slight changes in snow pack data were anticipated. The experiment and a summary of the results are presented here:
2012: A Remote-Viewing Experiment (Full Version) - Feb 12, 2011
The same eight areas were targeted for both 2008 and 2013 Remote Viewing and they are:
Vaitupu, Tuvalu - 1 Meteorite Observation
Fort Jesus, Mombasa Kenya - 2 Meteorite, 3 Tsunami, 2 Flooding, 2 Mud Flow, Observations
Sydney Opera House, Sydney - 1 Tsunami, 3 Volcanic Observations
Mount Kilimanjaro, Tanzania- 1 Tsunami, 3 Flooding, 1 Mud Flow, Observation
United States Congress Building - 1 Meteorite, 1 Flooding Observation
Malé International Airport, Malé Maldives - 2 Mud Flow Observation
KITV Building, Honolulu, Hawaii - 2 Cooling Observations
Key West, Florida - 2 Meteorite Observations
The result of this Remote Viewing experiment that was suppose to end mid year 2013 are as follows.
Remote Views Predict Catastrophic Meteor Impact Before Spring 2013


A summary of what was seen by these remote viewers looks like this:
In general, these remote-viewing data suggest the following types of physical changes across many of the above geographical locations by mid-2013:
1. Impacts from what appear to be large meteors leading to tsunamis and possible volcanism
2. Extensive and forceful flooding of coastal areas
3. Excessive solar radiation
4. Storms and other severe weather
In terms of the effects of these changes on humans, these data also suggest:
1. Massive self-organized relocation from coastal areas (refugees)
2. The breakdown of rescue or other notable governmental functioning
3. The breakdown of the food supply system
4. The breakdown of the vehicular transport system
5. Extensive loss of buildings near coasts
See Appendix A for additional details. The above also reflect the number of observations of damage in these areas. Notice that the Key Observations correlate to the Puerto Rico impact event, one that has been verified by direct ET alien contact. Note the apparent likelihood that Remote Viewing cannot directly determine time without looking for something being viewed that is time dependent.

The strongest volcanic activity is associated with Sydney and some additional evidence of volcanic activity near Fort Jesus. Considering the tsunamis, flooding and mud flows in the Fort Jesus Remote Viewing, a major impact in the ocean near Mombasa Kenya is suggested. This impact produces a tsunami that may reach as far as the Mount Kilimanjaro, Tanzania foothills causing flooding and mud flows. There may also be an associated impact near Sydney, Australia producing volcanic activity.

The Key West and Congress Building appear to parallel Kato's Wormwood event thus they may be time associated with it. The Southern Hemisphere impacts have no firm date associated with them and may possibly be around 2022 to 2024. Even this association is marginal. See Figure 8.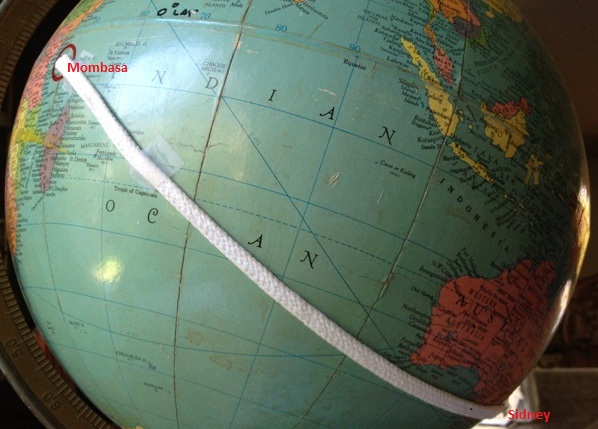 Figure 8. The Southern Hemisphere Impact Map Showing The Ground Track Of The Impacting Meteorites Anticipated.

The Remote Viewers see the Fort Jesus/Mombasa ocean area impact as a massive one. Dr. Courtney Brown sees the resulting tsunami reaching all the way to the base of Mt. Kilimanjaro. Dr. Baaden seems to agree as she prophecies a tidal wave reaching all the way to Zimbabwe. See Figure 9.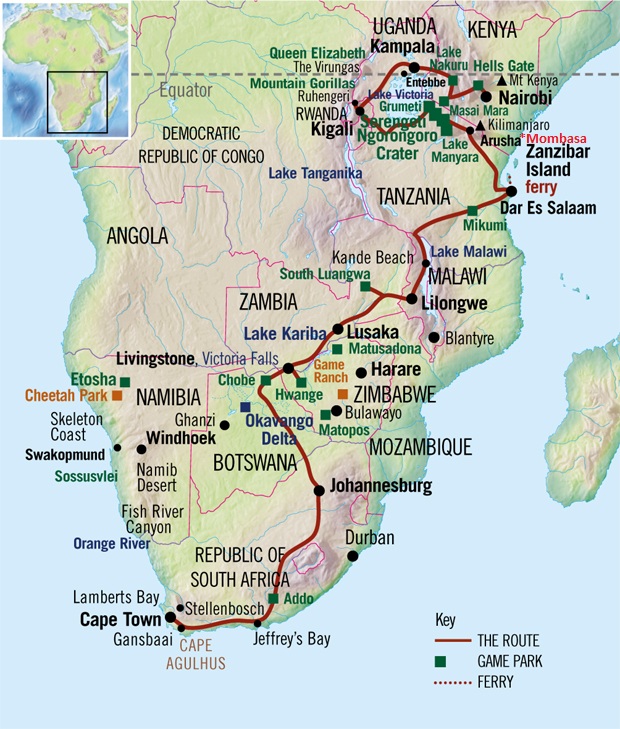 Figure 9. The Southern Hemisphere Region Affected By The Impact's Tsunami.
MAJOR SOUTHERN HEMISPHERE RESULTS
Southern hemisphere impacts:
At Least two major impact events are anticipated, one in the Northern Hemisphere and the other in the Southern Hemisphere.
One producing volcanism in the grater Australia area
A sea impact near Fort Jesus, Mombasa Kenya producing a tsunami that reaches to or affects Mount Kilimanjaro, Tanzania and Zimbabwe.
As strange as it may seem, religious predictions and military grade remote viewing appear to be consistent in predicting comet or giant meteorite impacts before the end of 2024. Note that it is very hard to predict the specific times of these events by either the Bible Code or various Remote Viewers. Time dependent events within the predictions must be used to determine the specific times of the events.
At least four separate events are anticipated.
The first impact ranges from The Midwest, Gulf Of Mexico, Puerto Rico, and the mid Atlantic ocean impact. There may occur on or near the Texas coast ~10 PM EDT and a Puerto Rico 5.3 mile wide impact at (18.2 N 68.1 W) producing a 60 mile crater. Another 2.4 mile wide comet fragment may impact near the mid Atlantic ridge (32 N 45 W) ~1:30 PM and affect the Potomac river up to Washington DC.
A northern hemisphere impact near the month of October (30 October) is suggested by the passage of the known comet fragment 'Spooky'. 2017 marks the passage of a century since three young Portuguese shepherds were given the Third Secret Of Fatima by the Virgin Mary near Fatima Portugal. It consisted of a series of six apparitions beginning 13 May 1917 that were apocalyptic visions and prophecies.
There may be another string of impacts along the Mediterranean basin. but they are expected to be relatively small, with meteorites on the order of 400 meters diameter.
Another nearly vertically impact may occur near India.
Yet another is thought to produce impacts along a very broad arc generally connecting the oceans off Mombasa Kenya (and possibly inland) to a region near Sydney Australia producing volcanism.
Impacts during 2022 to 2023 are anticipated if a comet swarm is first observed. One is the most completely described and is backed up by direct ET alien contact. The 60 mile crater described in the Bible Code is reflected in Efrain Rodriguez vision. His impact would produce a nominal 34 foot tsunami at Florida reflected in the Watchmen Prophet Assembly's tsunami of approximately 30 feet in height coming in to Palm Beach, Florida. The impact of one of three and is in time co-incidence with Kato Mivule visions that describes 'Wormwood' passing over a football game, possibly in Arrowhead Stadium at night. The single envisioned Puerto Rico impact alone could cause a new Ice Age due to the massive size of the meteorite.

The precise time of the impacts (like to a given day) not known, but anticipated to be in the general August through October 2017 time frame with a time near October favored.

The fourth one is the clearest example of an impact from the Remote Viewing sources. It has also been detected by Dr. Barbara Baaden. Notice that Jesus/Christ was instrumental in offering impact warnings 2000 years ago and Fort Jesus is mentioned in the Southern Hemisphere Remote Viewing experiment. Also it is not surprising that Sky Circles similar to the most relevant Crop Circle was formed near Christchurch New Zealand.

The death toll over the three year period could approach 1.3 billion people. The Earth could return to Ice Age (Younger Dryas) like condition. It is even possible that the Infinite Soul Avatar (AKA the Maitreya, the Mahdi, the Messiah or the 'Second Coming') could manifest to aid humanity through these times. ET alien beings warning us of these upcoming impact events are of the same Group Soul as we are, and they are serviced by the Mahdi, Christ and Buddha (Avatars) as we are. Thus it would not be surprising to find that another similar Avatar appeared during these devastating times. See Appendix B.

Much to the surprise of those running this Remote Viewing experiment, catastrophic consequences of giant meteorite impacts were detected. However, Remote Viewing is a 'tricky science' and the trick is in the timing of the events. The events have not come to pass as of August 2013, but that does not mean they are not in our near future. A 2022 or 2023 time frame may be more reasonable.

Giant meteorite or comet impacts produce tsunamis, Floods, Mud Flows, Volcanic Activity and a Cooling of the world in general. The raw remote viewing data was reviewed to find which of the remote viewing sessions produced these results and where they could be anticipated to occur. This effort hoped to deduce the impact pattern of the giant meteorites and correlate them to the other prophetic visions of these events listed above.
Meteorite Impact Observed:
Tsunami Event Observed:
Flooding Event Observed:
Mud Flow Event Observed:
Volcanic Activity Observed:
Cooling
There is marginal evidence that the Infinite Soul Avatar (Christ or Mahdi, etc) has returned to help mankind through this crisis. These are:
Has The Maitreya Incarnated? The Infinite Soul (i.e. The Maitreya, The Fifth Buddha, The Twelfth Imam [Mahdi], The Second Coming of Christ, The Messiah) on 16 June 2008 at 8:00 AM EST +/- 1 (or 1.5) hours. The incarnation would have occurred in the western hemisphere, along a longitude varying from 170 o W in the northern polar regions to 70o W in the southern polar regions.
The mention of the Mahdi in the Bible Codes one of which includes the terms: Comet, 2015, Wormwood, Mountain Of Fire, Tsunami, United States
Cosmic - Please! Year 2010 What? - Comet, Enemy From.
Key Words: Cosmic - Comet - Messiah - Word Of God - Fracture - Please
Jesus is directly mention in one of the comet related Bible Codes:
The Fullness Of The Gentiles:
Key Words: Comet, 2015, Shmitah, The Eclipse, United Nations, United States, Jesus, Yeshua, God Of My Salvation, Messiach, Barak, Obama, Netanyahu, His Heart Loved Her, Grace & Truth, The Completion
Efrain Rodriguez's claims that 'This is the generation that will see the Lord Christ' and 'The Lord is coming in person' because his predictions are at least consistent with many other similar predictions of a major impact in the Atlantic Ocean area and the likely passage of the first of the B Swarm: Cluster 1 comets.
Mother Shipton sees the return of a Great Man:
6. Then upside down the world shall be - #6 Vague. Finance rules our life.
And gold found at the root of tree - "
Through towering hills proud men shall ride, - #7 Mountain Tunnels.
no horse or ass move by his side. - "
Beneath the water, men shall walk, - #8 Submarines.
shall ride, shall sleep, shall even talk. - "
And in the air men shall be seen, - #9 Airplanes, airborne military.
In white and black and even green. - "
A great man, shall come and go - #10 Gandhi or The Madhi/Maitreya
for prophecy declares it so. - Comment only.
Nostradamus also sees the return of the Great Messiah; V 53:
The law of the Sun contending with that of Venus,
appropriating the spirit of prophecy.
Neither the one nor the other will be understood;
The law of the Great Messiah return through the Sun.
The Solar Logos: Solar Logos as the Cosmic Christ
The Christ
The advent of Christ in the heart of the man is a fact that transform us radically. Christ is the Solar Logos.
Jupiter, Venus appear closer in evening sky - 26 June 2015
These two planets will get closer together each night until Tuesday. On that night they will nearly merge. Some 2,000 years ago, on June 17 2 BC, these planets did merge and could have been the sign in the night sky that directed the Wise Men to travel to Jerusalem, said Fritz Osell, Northern Oklahoma College astronomy instructor.
"This very rare event will occur on June 30, at dusk when Jupiter and Venus will be in nearly the same relative positions they occupied 2,000 years ago, when they merged in the western evening sky to form the brightest object ever seen. This may have been the event that we call the Star of Bethlehem. As seen from Baghdad (Babylon) in June 2,000 years ago, Venus and Jupiter would have appeared to merge directly over Jerusalem."
"You can see this for yourself if you look west just after sunset. The periodic clockwork dance of the planets has brought Venus and Jupiter together again as they were 2,000 years ago. We will show the sky from Enid that night and will compare it to the event as seen from Babylon on June 17, 2 BC, as it pointed the Wise Men toward Jerusalem on their journey to find Jesus."
See APPENDIX B JESUS' DATE OF BIRTH
Should the above be valid, the USA and UK may have placed their reputation in an unfortunate position as far as world history is concerned. According to Mohabat News a pro–Israel Iranian Christian news agency, the fear of the hidden Imam is so credible that they posted news of how the CIA and MI6 have been going to Iraq for the past 20 years to get information about imam Mahdi; how they tortured religious scholars and innocent villagers to ask question based on where the Imam was last seen? Which city? What time and when will he be coming again and in which year? Since the Infinite Soul is the Essence Twin to all Mankind, hostility to the elite who lead the USA and UK from the Group Soul controlling all mankind may be forthcoming.