Alien generated crop circle T367 has predicted time intervals when the world is at risk of impact events
Apparently one of the main fireballs just grazed Earth's atmosphere during the 5 & 6 Sept. Colombian event. Maybe, it, or one of its associates, returned at an unexpected time, circa 10 +/- 4 Nov. 2010 and related fireball activity was observed over the USA and the UK. The substantial fireball activity of 7 & 8 Nov. 2010 suggests that a storm of comet fragments passed by Earth's orbit for those two days. Thus, similar fireball activity over the Eastern hemisphere is anticipated. However hard information is not available because fireball activity is seldom reported from these countries. There was also fireball activity on the 12 to 15 Nov. 2010 over both Europe and the USA, and this was reported. However, it is thought that it was the unexpected activity around 7 to 8 Nov. that 'spooked' China's (and/or Russia's) military. See List 1.
The fireball activity of 7 and 8 November 2010 was as numerous as the largest past event that has been compiled based on Crop Circle T367 warning that indicated an impact threat period beginning Feb. 2007. The past largest period of fireball activity was the one that occurred in the T367 predicted August 11 to 12, 2007. Note also that the Leonides are active 07 to 28 Nov. and that they peak Nov 18. See List 1. The contribution of this known meteor activity is unknown at this time but there seems to be a time correlation between the observed increased in fireball activity and the occurrence of cold weather abnormalities in the countries bordering the North Atlantic. The 7 - 8 Nov. associated China fog with the Leonides activity is tenuous at best.
Perhaps it was the activity around 14 November that convinced them that the threat was natural and not of human origin. One must wonder if it was the first, at UTC time 18:20 or 10:20 PST, that relates to the Web Bot predicted time of 6:50 PST on 14 Nov. However, List 1 suggests that the activity between 12 to 15 Nov. was Europe's undoing.
SOME RECENT UK FIREBALL SIGHTINGS

Significant impacts produce local or (northern/southern hemispherical) cooling. The injection of aerosols into the atmosphere by exploding comet fragments can have a significant effect on the atmosphere. As NASA claims - Aerosols: Tiny Particles, Big Impact

Tiny aerosol particles can be found over oceans, deserts, mountains, forests, ice sheets, and every ecosystem in between. They drift in the air from the stratosphere to the surface. Despite their small size, they have major impacts on our climate and our health.
It is just plain comet dust that is reducing the sunlight's warming of our planet - no changes in the Sun's power output needed to explain our current weather situation. Note: Dust Study Raises Questions Concerning Warming Models - December 29, 2010

It seems that unusual weather is also being experienced in Australia (Victoria and New South Wales) where the southern hemisphere's prevailing westerlies are found.The nature of the impinging meteor swarm is such that it easily could strike both the northern and southern hemisphere up to about 60o(N or S).

The time of this possible impact or comet fragment atmospheric explosions is consistent with both fireball and climate data. They both occurred about 7 Nov., 2010 and both are consistent with the Web Bot's original 8 to 11 Nov. predictions of a massive but unspecified event (possibly a thermonuclear war). Furthermore, one or two days later, 'warning' SLBM launches were observed just off the USA's east and west coasts.

It is worthwhile to notice that China has experienced devastating 'dry fog' before, and that these have been associated with comet/meteorite impacts that are thought to have exploded in the atmosphere.

MYSTERY CLOUD OF AD 536
Swarm Volcanic Strike
The densest and most persistent dry fog on record was observed in Europe and the Middle East during AD 536 and 537. There is sufficient detailed information to estimate the optical depth and mass of this remarkable stratospheric dust cloud. Its importance resides in the fact that its mass and its climatic consequences appear to exceed those of any other volcanic cloud of the past three millennia. Of course, not the whole world is cold.

Examining the changes in the mean global temperature reveals likely locations for the impacts. See the figure below. Here, it seems likely that the impact occurred around or south of Iceland/Greenland in the case of the 12 to 15 November events. The temperature modifications due to the 7 November impact around southern China were small but there was the massive fog.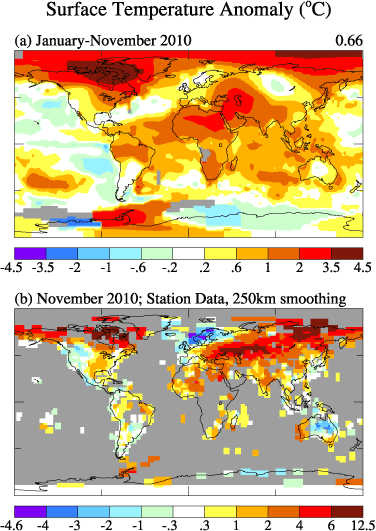 (a) January-November surface air temperature anomaly in GISS analysis, (b) November 2010 anomaly using only data from meteorological stations and Antarctic research stations, with the radius of influence of a station limited to 250 km to better reveal maximum anomalies.
The following image suggests that the significant comet fragments must have exploded south of Iceland and west of the UK even though it covers the first week in December.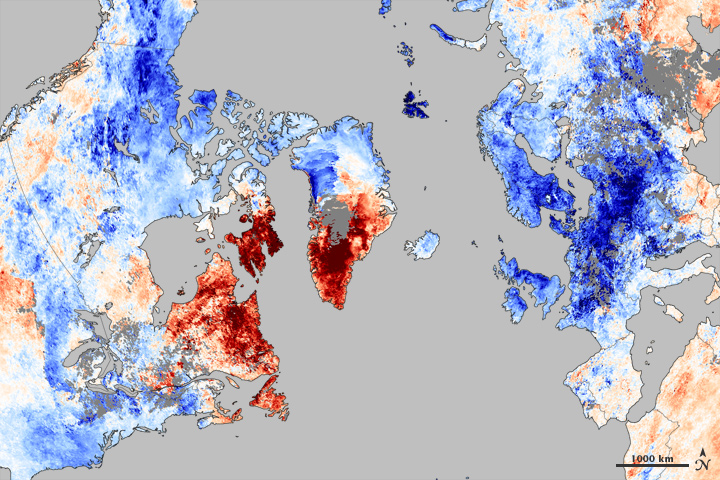 This image shows the temperature of the land surface for December 3-10, 2010, compared to the average temperature for the same period between 2002 and 2009.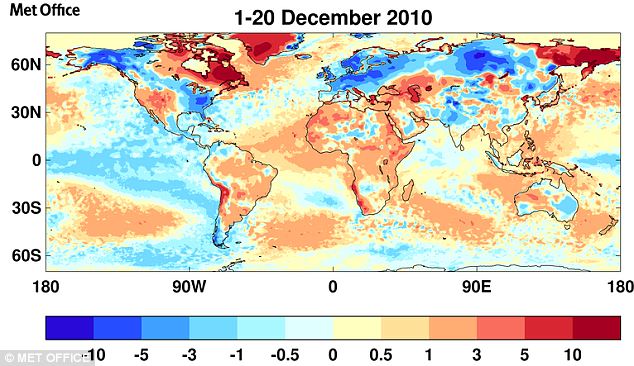 This image shows Daily mean temperature anomalies around the world between 1st December and 20th December compared with the 30 year long term average between 1961 and 1990
12 Jan. 2011: Freezing: Only Florida, in the extreme southeast, has so far escaped snow fall as two storms cover virtually the whole of the U.S.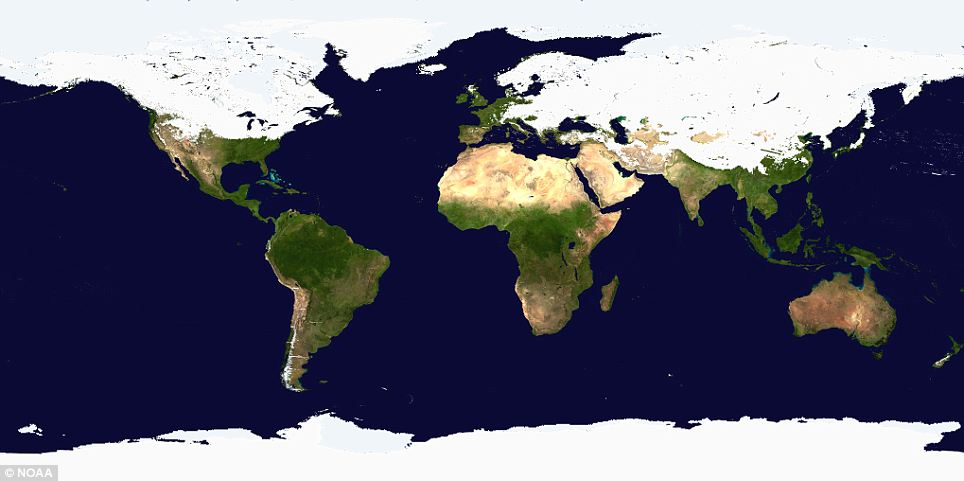 3 Feb. 2011: A new satellite map by the government agency NOAA shows the extent of the snow blanketing a vast area from the west coast of Canada to eastern China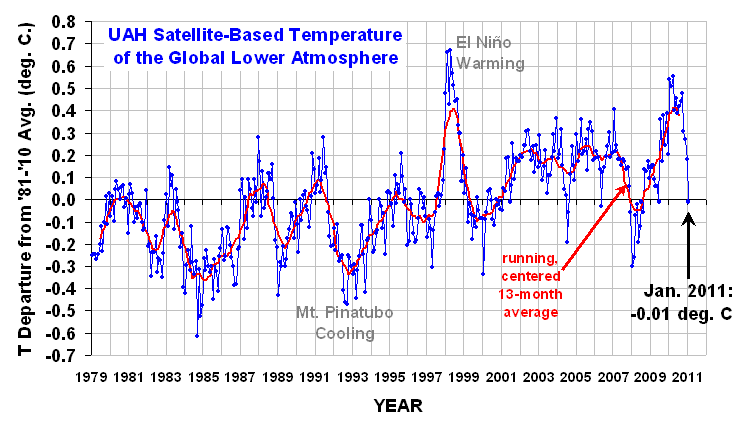 UAH satellite-Based Temperature Of The Global Lower Atomesphere
Note how these winter 2010/2011 weather patterns mirror the climate conditions of an Ice Age as found in the USA and Europe.
See: WHAT WILL IT BE LIKE FROM THE HUMAN PERSPECTIVE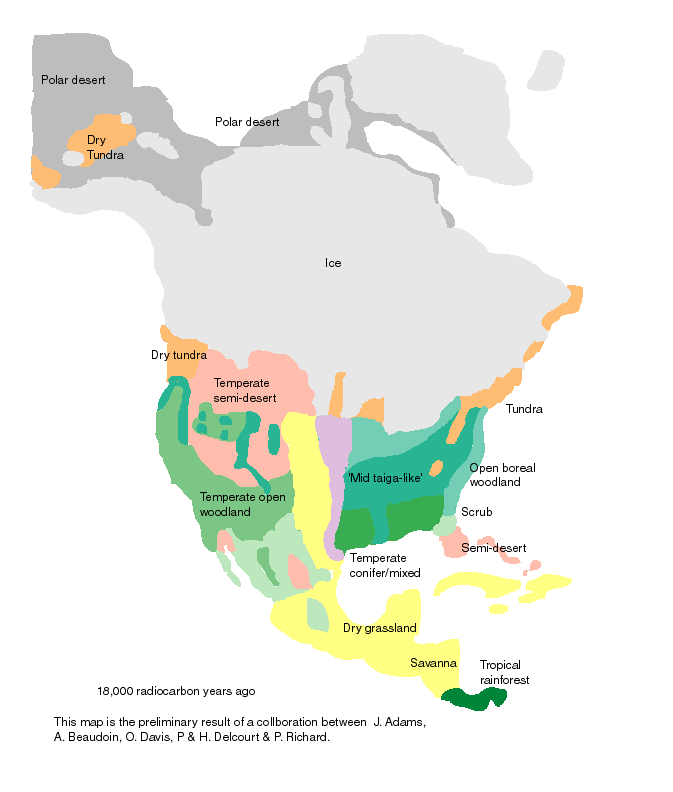 North America's Vegetation Pattern At Peak Glaciation.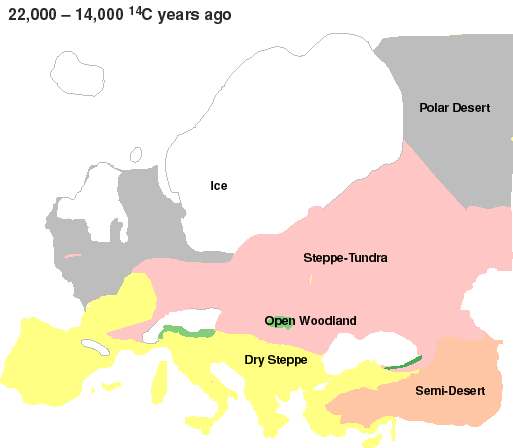 Europe's Vegetation Pattern At Peak Glaciation.
The general direction of the wind influences when and where the 'comet dust' from the comet fragment explosions will affect the weather. The weather bands are depicted below.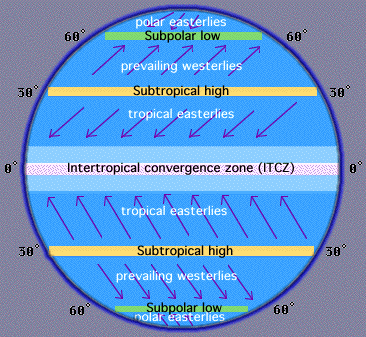 The Global Wind Patterns .

The global wind pattern, also known as the "general circulation" and the surface winds of each hemisphere, are divided into three wind belts for each the Northern and Southern latitudes. For the Northern latitude:
Polar Easterlies: From 60-90 degrees latitude.
Prevailing Westerlies: From 30-60 degrees latitude (aka Westerlies).
Tropical Easterlies: From 0-30 degrees latitude (aka Trade Winds).
The easterly trade winds of both hemispheres converge at an area near the equator called the "Intertropical Convergence Zone (ITCZ)", producing a narrow band of clouds and thunderstorms that encircle portions of the globe.

The following two figures give an ideal of about how rapidly the 'comet dust' can be spread across the globe. The 'comet dust' will spread in a manner similar to the "Perfect Asian (Dust) Storm" of April 12 - 16, 2001. This dust storm occurring in the Prevailing Westerlies band (between 30o and 60o) and appears to spread about 10 - 15o per day based on the following two figures.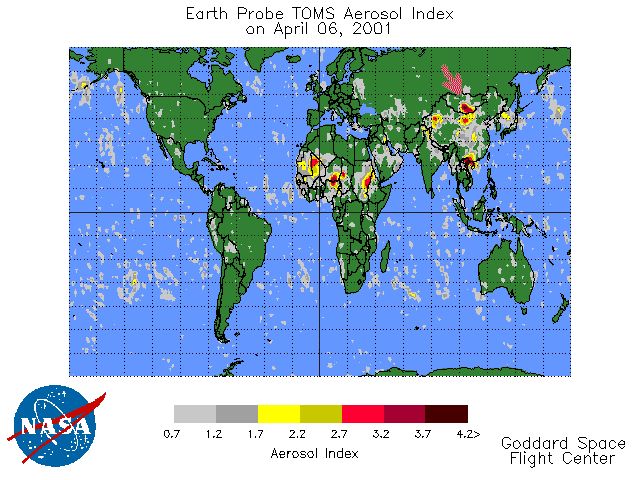 The "Perfect Asian (Dust) Storm" - 6 April 2001.


and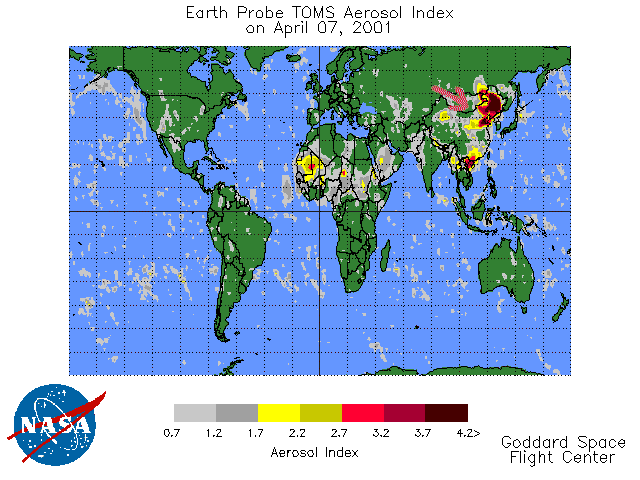 The "Perfect Asian (Dust) Storm" - 7 April 2001.


6 days later, it had disbursed over the pacific and the satellite image looked like the following 6 days later.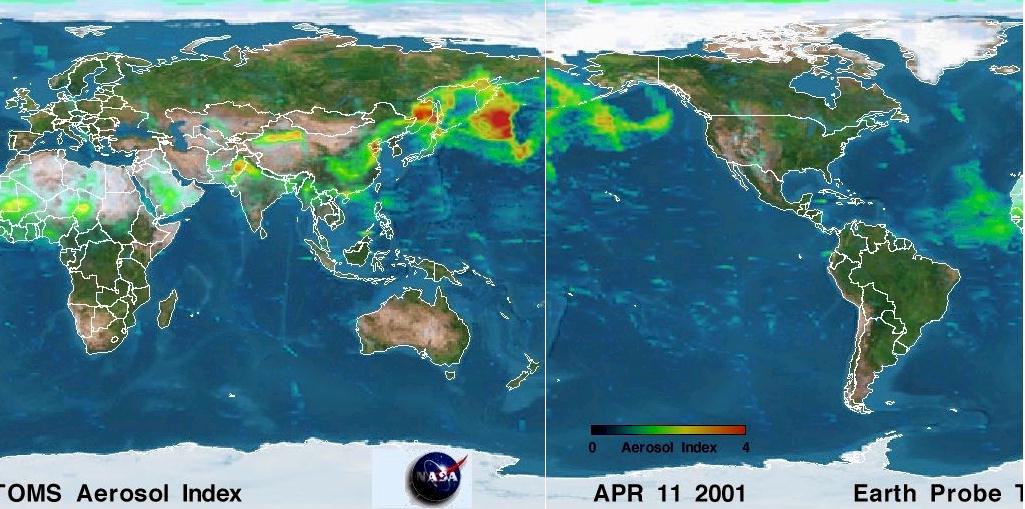 The Asian Cloud(s) moves across the Northern Pacific - 11 April 2001.


and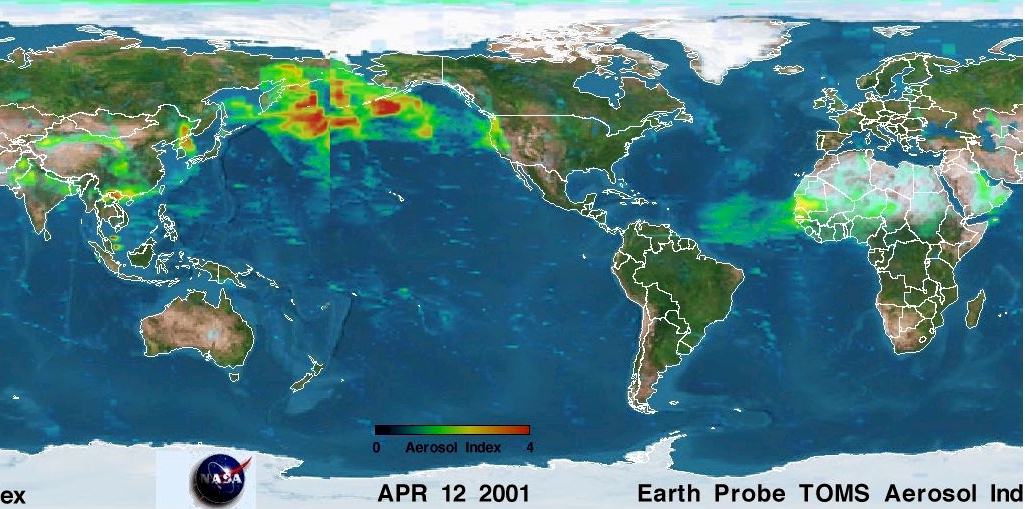 The Asian Cloud(s) moves across the Northern Pacific - 12 April 2001.


Assuming the 'comet dust' of the 12 to 15 Nov. impact moved about as fast, the comet fragments must have detonated somewhere between the north Atlantic. This dust must almost circle the globe before its affects are felt on the Western USA. This would be an ideal place for such an impact if the USA NEWS media wishes to 'bury the story' as they have done with similar past events. Otherwise, panic would set in.

The Central to Southern China event 'fogged over' China for a while, but the Tropical Easterlies winds pumped the particulate matter into the ITCZ where storms washed much of the material out of the atmosphere. The desert regions of Africa and the Central American Countries may have experienced some effects, but most of the dust was absorbed into the oceans before a significant percentage of it passed by Hawaii.

Predictions of a 2010 nuclear war go back to the time of Moses. Notable is one particular Bible Code.
ATOMIC HOLOCAUST: - Atomic Holocaust - Fulfilled a Prophecy - Immigrants Home/Cementary is Ramallah Which Is Full; It Will Happen - In 2010 And Who? - En 2015 Who? - In 2010 Feared - In 2013 Applied/ Was Valid
But it is not just that this Bible Code exists, but rather who was the original author that is important in this case. Notice this material stems from the Hebrew Pentateuch which is associated with THE ALIENS OF THE ARK. Further, notice that these aliens are most often associated with cylindrical atmospheric ships. See:


OUR COMBO'S PRIEST SPECIES
and notice:
TABLE H-14
BIRD LIKE UFOs AND THEIR CIGAR SHAPED SHIPS
SELECTED CASES FROM ASTRO-METRICS' TABLE AD-4


It is specifically these aliens that appear to have intervened in the launches of at least one of these submarine based ballistic missiles.

A more current example is that of a recently deceased Bulgarian who specified the month and year of the beginning of the nuclear war.

It appears that her date is consistent with the one found in the Bible Code.

The Web Bot project has been consistent in its warnings of a catastrophic event that was to occur in the first half of November 2010. Here is a past and current evaluation of the dates involved. Note the graph listed in the first of these following items and its reference to a thermonuclear war.
WEB BOT (See Graph) TICK...TICK...TICK - ISRAELI MISTAKE, CONFUSION, AND A CHART ~ 22 June 2010
As you may note from the chart below, the period from July 11th through to the tipping point of November 8th through the 11th is both very short, and extremely 'toothy'....as may be expected of the time between the skirmish (the israeli mistaken attack on Iran), and the resultant global thermonuclear war.
TIPPING POINT CHANGE - 4 Nov. 2010
Clif posted an update on his sight here, but the key thing is - as was posted Wednesday- the actual 'tip' has narrowed from a Nov. 8-12 window - to this:
"This has changed in the newest data runs and now looks as though it will be November 14th at 6:50AM Pacific Coast Time (UTC + 8)."
Once we get to the actual TIP, what's changed is that instead of the charts going down at about a 45 - degree angle through January 23 of 2011, the release date starts a little later (the 14th, yeh?) and ends a little earlier (January 16-18, 2011). Which means (of necessity) the average slope of the release will be steeper (approaching 50-degrees on a chart.
There are two significant bumps to the slope. Seems over January 1st/new years, there is a 25-hour break in the release language, but then things get rolling again on January 2. Then, around January 7th, we get a really, really big release increase. Whatever it is, the angle right in there drops to a 70 - degree down slope. No, we have no idea what could cause that.
The following graph (credit Web Bot at halfpasthuman.com)) may show how humans come to realize they are in trouble due to the impact events and Global Cooling. There is about a two month downturn of language relating to the catastrophe as mankind wakens to the catastrophe that has befallen Earth.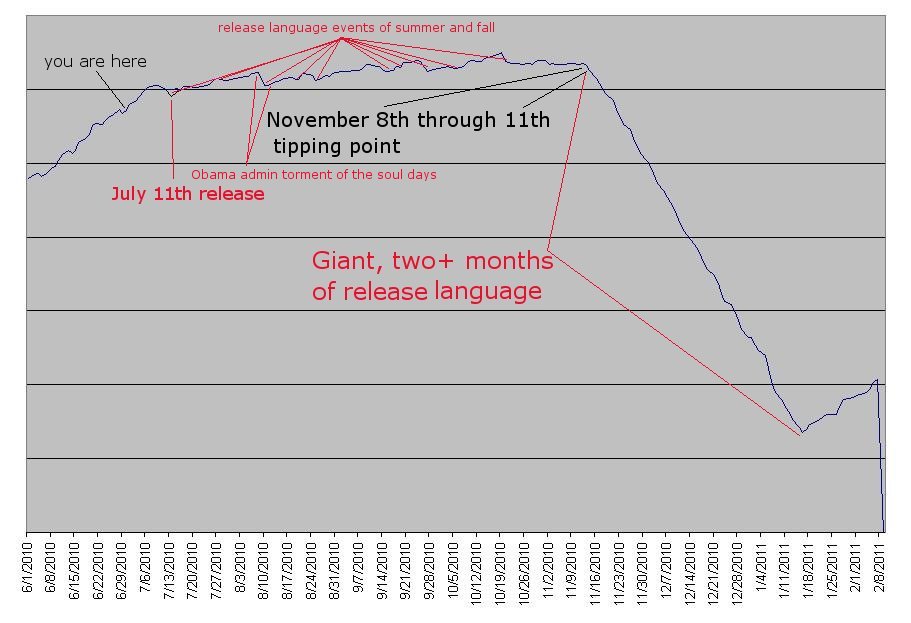 A Graph Of 'Release Language' Clearly Showing The 8 To 11 Nov. Tipping Point And A Sharper Downturn Around 7 Jan. 2011.

As the event gets closer, the Web Bot date seems to become more accurate.

Also see predictions of comet/meteorite like impact threat for 2010 To 2012. Additional Bible Code data is presented therein. Note these in particular when considering the missile launches and the China fog.
INCOMING ASTEROID - 2009 to 2010 - Apollo - Hale Bobp - Burma - Chili - Prophets - Authentic - Overclouding - Fire - Hole - Air - Darkness - Myriad - metal - Killing - North - Oblivion - Overwhelmed - 2043 to 2044 - 2047 to 2048 - 2079 to 2080
INCOMING ASTEROID - 2009 to 2010 - Word of God - Whole Earth - USA - Impact - Billion - Missile - Nemesis - Vulcan
US President Obama went the 10 to 12 November 2010 G20 meeting trying to get China to go along with the economic mess Wall Street has gotten the world into, and the only card the USA had to play was the Military Might card. Coercion could well have been anticipated by members of the G20 meeting, and military coercion was certainly a possibility. Trends Researcher Gerald Celente clearly was aware of this option.
GERALD CELENTE THIS IS THE BEGINNING OF THE END OF THE EURO
Trade wars turn into real wars.
The militaries of the Superpower's were on alert for such options and sure enough, threat like events seemed to appear circa 7 November 2010 over the North Atlantic and China. The Chinese (and or Russians) apparently did not want appear to be intimidated, so they tried to respond in kind. Two Sub launched ballistic missiles were launched off both the East and West Coast of the USA. They were soon determined to be of foreign origin, and likely Chinese.

From Los Angeles: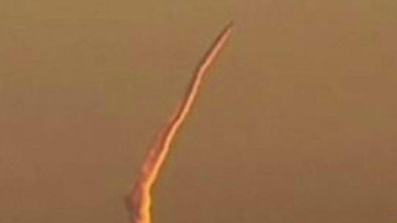 A ballistic missile being fired off of Los Angeles at around 5:00 pm Pacific Standard Time, during the height of evening rush hour.
And from New York: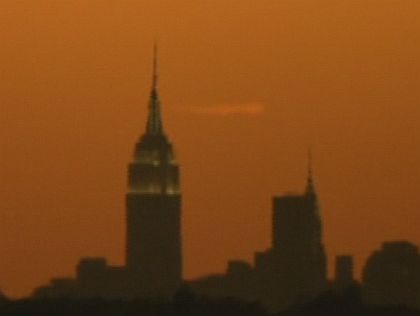 A missile over NYC on Nov. 10, 2010 right at sunset Wednesday.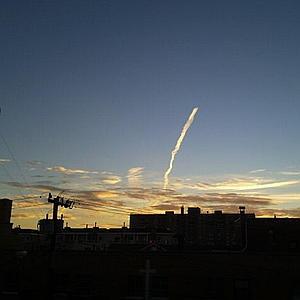 A missile-like streak appears in the sky yesterday to the west of the Rockaways, much like the still-unexplained mystery Monday off California.
QUEENS GETS ITS OWN 'MISSILE' ATTACK - November 11, 2010
DID YOU SEE THE FIRE IN THE NYC SKY? - November 10, 2010
Chopper 2 Films Red-Hot Streak Moving Behind Emp. State Bldg It was a bizarre, glowing red-hot streak in the sky ?right at sunset Wednesday ?moving briskly behind the Manhattan skyline.
"MYSTERY MISSILE" FLY-BY OVER NYC -
What *Was* That?...Really.
"Nothing More than Condensation Trail"
Seems New York City had its own brush with a fast-moving object streaking through the sky above Manhattan at sunset.
This was one day after the "Mystery Missile" event in California. It was caught by a HD video camera from a high rooftop, with a smooth pan of this strange object, moving across the sky at a high rate of speed.
The guy totally knows he's not telling the truth and he looks totally embarrassed to be there.
These events almost in our territorial waters were almost an act of war. These warning Submarine Launched Ballistic Missile Launches (SLBM) may have been due to (1) possible USA provocations or (2) to the explosions of comets/meteorites over the Russian or Chinese landmasses. The latter could be a reaction to these comet fragment explosions over the Chinese land mass or to serve as a warning to the USA not to take advantage of this 'catastrophe'.

Yet another unexplained missile.

Tempers are high during the G20 meetings possibly due to a misinterpreted comet fragment explosions. Another possibility is China's reluctance to have its dollar reserves purchasing power diminished as they may be needed to buy food from the USA's breadbasket (if it still remains viable). Worldwide food production may be greatly curtailed if these comet fragment detonations lead to a much cooler world.

Alien intervention may have happened both during and about two weeks before these Submarine Launched Ballistic Missile (SLBM) firings. There has been past activity around USA ICBM silos that have resulted in USA ICBMs being compromised. Notice that our 'Priest' Combo species are likely present because their ''UFOs' are active both near the Los Angeles SLBM launch and they are presence over New York started in near time co-incidence with the SLBM launch near NYC. Our 'Priest' like extra terrestrial alien species can sense the future, and they may have picked up on the impending accidental nuclear war. Since they are pro-active in promoting the 'Higher Good' they tend to be environmentalists and therefore are prone to preventing a nuclear exchange among humans, their Combo 'Warrior' species.

The 26 Oct. item happened about two weeks before the G20 summit. Could it be that our Priest Combo ET species were aware of a potential nuclear war soon to occur and took measures to suppress its accidental occurrence? The USA's ICBM system may be the one considered the most advanced and the one most likely to be used first.

The world starts to awaken to the threat of a New Ice Age and the terrible consequences of that happening.
22,000 SCIENTISTS DISAGREE WITH UN GLOBAL WARMING PUSH - FEBRUARY 12, 2008
Dr. Robinson: Right now the UN claims that they have about 2,500 people involved in this and about 600 scientists seriously involved. This is what Al Gore would point to today.
We have more than 22,000 scientist signers of our global-warming petition who've looked at the issue and concluded essentially the opposite of these United Nations people. This says nothing about the science. Science does not depend on polling. Just because we have 22,000, and the UN may have 600, does not matter. The only thing our petition demonstrates is that there is no consensus among scientists in support of the UN claims.
Comet fragments explode over southern China 7 to 8 Nov. 2010
Comet fragments explode over the North Atlantic 12 to 15 Nov. 2010
URGENT - BIG FREEZE HITS BRITAIN - DEATH OF THE GULF LOOP? START OF MINI ICE AGE? video - November 26, 2010
COLDEST WINTER IN 1,000 YEARS ON ITS WAY - November 26, 2010
AUTHOR CLAIMS WE'RE IN THE GRIP OF A MINI ICE AGE - Dec 5 2010
These bitter winters aren't going to last forever. The bad news is that they will go on for the next 30 years as we have entered a mini ice age.
WHY EARTH MAY BE ENTERING A NEW ICE AGE - December 6, 2010
The scientist, accurate in past predictions, has recently pronounced his belief that Earth will enter a "little Ice Age: as early as 2014 and lasting as long as two centuries. The last one occurred between 1650 and 1850 and accounted for many crop failures, outbreaks of famines and mass migrations.
Whereas global warming would be a good thing (despite the gloomy forecasts) a mini-Ice Age could be disastrous: growing seasons would be shortened, more energy must be extended to stay warm, and food shortages may lead to breakouts of regional warfare.
EUROPE FACES EVEN MORE COLD WEATHER THIS WINTER AND IN FUTURE YEARS - 06.12.2010
Britain's Meteorological Office forecasts that the cold snap affecting northern Europe will continue for the next week or so, according to a Met Office spokesman. "Much of December looks like being on the cold side,"
But there is "no evidence to suggest" that a slow-down in the Gulf Stream is to blame for the early cold weather as has been reported in the press, according to UCL's Maslin. "This is an atmospheric effect and is not due to a slow down of ocean circulation,"
This sea ice situation could, if it persists, result in a continental-scale winter cooling reaching on average, 1.5C colder than it would otherwise have been. This is an average so minimum temperatures may in reality dip by much more than 1.5C.
COLDEST IN CENTRAL ENGLAND SINCE 1659 - Dec 11 2010
When you look at the two-week period, says Bastardi, the last week of November and the first week of December, it's the coldest since CET records began in 1659.
This puts central England back to the temperatures of the Little Ice Age.
And there's more to come, Bastardi warns.
Preparation for renewal of extreme cold from France to Scandinavia and west through the UK should be made.
FORECASTER: TWO PHENOMENA RESPONSIBLE FOR WORLD'S BIZARRE WEATHER - January 13th, 2011
The catastrophic weather events taking place across the globe ?from Brazil's and Australia's flooding to the Eastern United States?heavy snowfall ?have two likely explanations.
Tony Barnston, lead forecaster at Columbia University's International Research Institute for Climate and Society, said two phenomena ?La Niña and the North Atlantic Oscillation ?are likely responsible for the patterns we're seeing.
Since November, we have been in the negative phase of the North Atlantic Oscillation, Barnston said, meaning that air temperatures between the eastern U.S. and Europe will drop. This causes temperatures to rise in places like northeast Canada, Greenland and Iceland, as the mercury drops on thermometers in the eastern U.S.
So while La Niña would normally mean dryer, warmer weather for folks in the southern United States, ?B>the North Atlantic Oscillation has superseded the La Niña?this year, bringing El Niño-like winter temperatures and snow to the Southeast, he said.
Though La Nina typically lasts until April or May, the North Atlantic Oscillation can move from a negative to positive phase mid-winter. Barnston said the Southeast "could be warmer and dryer than normal later this year if the North Atlantic Oscillation ceases and desists.?
HOW GERMANY'S WEATHER TEAM VIEWS THE 'HOTTEST YEAR EVER'
"New Little Ice Age Cannot Be Ruled Out" - 15 December 2010
"It is quite possible that we are at the beginning of a Little Ice Age." the meteorologist said. Even the Arctic ice could spread further to the south . . . In Berlin, there was an absolute cold record in early December, "For 100 years it had not been as cold as in the first decade of December," . . . The last two weeks have been the coldest in England since the second-to- last solar minimum, many hundreds of years ago.
ICE AGE? WINTRY WEATHER BRINGS SNOW TO AUSTRALIA IN MIDSUMMER - December 20, 2010
Australia normally experiences temperatures of 86F (30C) at this time of year, but the chances of a rare white Christmas have increased after plunging temperatures and snow swept across the east of the country.
In one part of the state temperatures dropped as low 39.2F (4C), the coldest December morning in 54 years, according to the Weather Channel.
Further south in the state of Victoria, Mt Hotham had four inches of snow and Mt Buller up to two inches.
This is just about the beginnings of summer in Australia. Perhaps comet fragment explosions were more widespread.
Winter Begins 21 Dec. 2010
THERE'S A MINI ICE AGE COMING, SAYS MAN WHO BEATS WEATHER EXPERTS - December 21, 2010
Piers Corbyn not only predicted the current weather, but he believes things are going to get much worse, says Boris Johnson, London's mayor
DAWN OF A NEW ICE AGE - December 21,2010
"Property values will crash, the economy will disintegrate and the nation might well find itself in a state of near anarchy by the middle of the next decade," he says.
"The big freeze of 2010 is part of a much broader climate change phenomenon," he explains. Most alarmingly it appears to be following a similar pattern to the most recent seriously cold spell when the River Thames froze over in the 1700s.
"Global warming is fact globally but it's not fact in northern Europe. Last year was the 14th coldest winter in Britain in 350 years yet globally it was the fifth warmest taken as an average across the planet."
IS THIS THE DAWN OF A NEW ICE AGE? - December 22, 2010
Manchester's coldest December on record was 1981, with an average temperature of -0.2 degrees C. The average for the first two weeks of December this year was - 0.5 degrees C, so this year is on course to be our coldest since records began in 1910.
He adds that 30 years of freezing temperatures, and a lack of Government planning could lead to 'complete havoc? crop failures, water shortages, riots and even, eventually, authoritarian government. "This thing started last year... I'm 100 per cent certain of that," says Cooke
RENSE & FELIX - ICE AGE NOW? - December 22, 2010
MINI ICE AGE ON THE WAY! - December 23rd, 2010 (google the title to get link to work - its blocked from this site)
Scientists, climatologists and the mayor of London are all in agreement - the cold snap in Europe is going to get worse, much worse. A new ice age is underway.
GOVERNMENTS PREPARE FOR WARMING AS SOLAR ACTIVITY DECLINES AND COOLING CONTINUES - December 27, 2010
WHY IS IT SO COLD? SHOULD THE BIG FREEZE ALTER OUR APPROACH TO CLIMATE CHANGE? - December 27, 2010
AL GORE, TAKE NOTE: ICE AGE HAS RETURNED - December 28, 2010
SCIENTIST: "GULF LOOP CURRENT IS BROKEN":
MINI ICE AGE PREDICTED FOR EUROPE - 28 Dec 2010
This Is Coldest Winter in Europe in Ages
The cooler temperatures have impacted harvests in Northern Europe, whereby Russia will *not* be exporting wheat this quarter and expects, instead to be importing wheat. This will affect European commodities markets and food prices.
Unless the prevailing ocean currents of the past 10,000 years are restored, we may be looking at mass crop failures, starvation and ultimately, the collapse of the economies of the Northern Hemisphere.
EXPERTS: FOOD AND FUEL SHORTAGES IMMINENT AS NEW ICE AGE DAWNS - December 31, 2010
Mass migrations and famines
Now other scientists—including John L. Casey, the Director of the Space and Science Research Center—are warning that people in the coming decades are facing food and fuel shortages.
Some northern countries will be abandoned as the ice marches down from the Arctic; energy production will be interrupted; and shortened growing periods in the Northern Hemisphere will precipitate mass migrations, famines, food riots, regional conflicts and a loss of human life that could be measured on an apocalyptic scale.
Imminent crop damage was forecast back in 2007 and predicted to start by 2010
ICE AGE IS HERE SAYS GEOPHYSICIST, GLOBAL WARMING HOAX EXPOSED - AGAIN - December 31, 2010
LITTLE ICE AGE IS COMING - 1/2/11
The record-breaking snowfall and cold that hit the Northeast in December 2010 forced cancellation of 5,000 airline flights and one NFL football game, prompted six states to declare states of emergency, and left nearly 55 percent of the U.S landmass covered in snow.
MET OFFICE KNEW BIG FREEZE WAS COMING BUT HUSHED IT UP - 4th January 2011
'The truth is it did suspect we were in for an exceptionally cold early winter, and told the Cabinet Office so in October

NOW THE PENTAGON TELLS BUSH: CLIMATE CHANGE WILL DESTROY US - 22 February 2004
- Secret report warns of rioting and nuclear war
- Britain will be 'Siberian' in less than 20 years
- Threat to the world is greater than terrorism
Already, according to Randall and Schwartz, the planet is carrying a higher population than it can sustain. By 2020 'catastrophic' shortages of water and energy supply will become increasingly harder to overcome, plunging the planet into war. They warn that 8,200 years ago climatic conditions brought widespread crop failure, famine, disease and mass migration of populations that could soon be repeated.

HOW THE DOOMED MET OFFICE TRIED TO SPIN ITS WAY OUT OF TROUBLE - January 4th, 2011
2010.. THE ICE AGE - 6 January 2011
ICE AGE DAWNS AT THE CROOK O'LUNE - 6 January 2011
Brian Davison, from the meteorology centre at Lancaster University, said the event was unusual for a place so close to the coast.
BRACE FOR A NEW ICE AGE - January 5, 2011
BIG STORMS YES, GLOBAL WARMING NO - 05/01/2011
However, 41% do think it's more likely that the Earth is going through global warming than that the planet is about to enter a new mini-Ice Age. Seventeen percent (17%) say it's more likely that we're entering a new Ice Age. Twenty- nine percent (29%) see no major climate change coming, and 13% are undecided.
PIERS CORBYN WINTERS WILL BE COLDEST FOR CENTURIES - January 07, 2011
GREENHOUSE GASES - January 7, 2011
Instead of pretending, lets face facts. In the last half-million years, the Earth has suffered ice ages about 80 percent of the time. These ice ages were regularly interrupted by interglacial warm spells, which we are in now. If we are going to prepare for drastic climate change, we should prepare for the next ice age, which will surely come.
HOW LIKELY IS THE PROSPECT OF ANOTHER LITTLE ICE AGE? - January 8, 2011
"There is mounting evidence that we are entering another Little Ice Age caused by the lack of solar activity." - Dr Ian Elliott, respected solar physicist, retired from research at Dunsink Observatory
ADAPT OR DIE - January 9, 2011
This time of warm abundance was terminated by a sudden return of the cold. But good times returned with the Roman Warming. It was not Roman use of coal which caused the warming and no carbon tax triggered the lethal Dark Ages cooling which followed. Then, with no help from man's carbon dioxide, earth recovered into the Medieval Warming Period but soon slipped back into the bitter Little Ice Age. Finally, well before man's engines and smelters became numerous, the Modern Warming started.
SEA LEVEL MAY DROP IN 2010 - January 17, 2011
Based on the most current data it appears that 2010 is going to show the largest drop in global sea level ever recorded in the modern era. Since many followers of global warming believe that the rate of sea level rise is increasing, a significant drop in the global sea level highlights serious flaws in the IPCC projections. The oceans are truly the best indicator of climate. The oceans drive the world's weather patterns. A drop in the ocean levels in a year that is being cited as proof that the global warming has arrived shows that there is still much to learned. If the ocean levels dropped in 2010, then there is something very wrong with the IPCC projections.
Even more interesting is the fact that from 1992-2005 there was an increase each year. 2006 was the first year to show a drop in the global sea level. 2010 will be the 2nd year to show a decrease in sea level.
Did the comet fragments inject enough dust into the air during 2010 to cause land ice/snow to form and reduce the apparent sea level of the oceans?
METEOROLOGISTS BLAME FREAK ARCTIC WEATHER PHENOMENON FOR US SNOWSTORMS - December 27, 2010
But for reasons experts do not fully understand, the North Atlantic Oscillation sometimes switches to a Negative Phase. High pressure develops over the Arctic, forcing cold air south into North America and Eurasia. Jeff Masters, a meteorologist, explains that the phenomenon is a little like "leaving the refrigerator door ajar ?the refrigerator warms up, but all of the cold air spills out into the house."
100 MILLION POTENTIALLY IMPACTED BY NEXT STORM - 28 Jan. 2011
What: Major winter storm complete with heavy snow, sleet and freezing rain to impact Rockies, Plains, Midwest
When: Monday Night (January 31) through midday Wednesday (February 2)
Cities Potentially Impacted: Denver | Amarillo | Dallas | Oklahoma City | Wichita | Kansas City | St. Louis | Tulsa | Chicago | Indianapolis | Cincinnati | Dayton | Lexington
Scenario: Low pressure will develop in north-central Texas and tap into a huge resource of moisture from the Gulf of Mexico. As the storm pushes into the Midwest, moisture will be captured and transported northward into the Front Range of the Rockies, Plains and Midwest
UK WEATHER: SNOW AND RAIN... NOW THE DROUGHT - January 29,2011
It said its reservoirs are 71 per cent full ?24 per cent lower than the same time last year.
And that was "significantly lower?than the 1975-76 drought.
The problems have been driven by the UK's third driest December in records going back 100 years.
The Met Office says the UK got an average of 47mm rainfall, just 38 per cent of the average.
WATER FLOWING INTO THE ARCTIC OCEAN IS 'WARMEST IT'S BEEN FOR MORE THAN 2,000 YEARS' - 31st January 2011
He said that the study does not necessarily prove the change is man-made, but it does 'strongly point toward this being an unusual event?
?B>On a scale of 2,000 years, it stands out dramatically as something that does not look natural,?he said.
WORLD OF TWO HALVES! MAP SHOWS MOST OF NORTHERN HEMISPHERE IS COVERED IN SNOW AND ICE - 3rd February 2011
At first glance it looks like a graphic from a Discovery Channel programme about a distant ice age. But this astonishing picture shows the world as it is today - with half the Northern Hemisphere covered with snow and ice.
That Antarctica, the Arctic, Greenland and the frozen wastes of Siberia are covered in white comes as no surprise. But it is the extent to which the line dips down over the Northern Hemisphere that is so remarkable about the image.
The shroud of white stretches down from Alaska and sweeps through the Midwest and along to the Eastern seaboard. The bitter cold has reached as far as Texas and northern Mexico where in Ciudad Juarez temperatures today were expected to dip to minus 15C.
UAH UPDATE FOR JANUARY 2011: GLOBAL TEMPERATURES IN FREEFALL - 02/03/2011
January 2011 experienced a precipitous drop in lower tropospheric temperatures over the tropics, Northern Hemisphere, and Southern Hemisphere. This was not unexpected, since global average sea surface temperatures have been falling for many months, with a head start as is usually the case with La Nina.
MUSINGS: METEOROLOGISTS AT A LOSS TO EXPLAIN THE WINTER WEATHER - February 03, 2011
Not on this site.
EMINENT GEOPHYSICIST REJECTS GLOBAL WARMING THEORY, SAYS WORLD ON VERGE OF 'MINI ICE AGE' - Feb 18, 2011
An eminent Mexican geophysicist says that despite predictions of global warming based on computer models, the world may be on the verge of an eighty-year cold period similar to the "little ice age" experienced by Europe from 1300 to 1800 A.D..
"We are talking about the period between 1645 and 1715, which is known as the Maunder Minimum, a period in which the sunspots practically disappeared from the surface of the sun, and in which our planet occupied a position similar to which it has today, with respect to the center of gravity of our [solar] system." Velasco said in an interview published by the university.
GLOBAL WARMING ALARMISTS FLIP-FLOP ON SNOWFALL - MARCH 2, 2011
Regardless of whether global warming is causing more heavy snow events, the alarmists' about-face on snowfall calls to mind other alarmist global warming assertions that were supposedly "settled science", but that were subsequently refuted by real-world climate conditions. The alarmists used to claim global warming was causing more hurricanes, but real-world data show hurricanes have fallen to historically lows levels.
TALK ABOUT BOGUS! - March 9, 2011
I would like to draw attention to various ¡§bogus¡¨ actions (your word Mr. Murphy) of the IPCC. First let us look at their famous charts. They have completely eliminated the Medieval warming which occurred from about 900 AD to about 1350 AD, when the ¡§little ice age started.¡¨ This warming was a world- wide event, proven by research, and the temperatures were as warm or warmer than current. Why would they eliminate a warming period, of course to bias the results to look like lower average temperature over the last 1200 years.
The little ice age went from 1350 AD until about the end of the 19th century. Except for the period from 1940-1970, we have been warming up since then.
GLOBAL WARMING, R.I.P. - March 13, 2011
I come to bury global warming, not to praise it
THE DEATH BLOW TO ANTHROPOGENIC GLOBAL WARMING - Apr 30, 2011
The influence of the sun has been discounted in the climate models as a contributor to the warming observed between 1975 and 1998. Those who support the theory of anthropogenic global warming (AGW), now known as anthropogenic climate change (even more recently described as climate disruption) so that recent cooling can be included in their scenario, always deny that the sun has anything to do with recent global temperature movements.
Cosmic dust influences the amount of sunlight reaching the surface of the Earth.
BREAKING NEWS: THE CLIMATE ACTUALLY CHANGES! - May. 3 2011
About half of all estimated warming since 1900 occurred before the mid-1940s despite continuously rising CO2 levels. Even U.K. East Anglia University Climate Research Unit (CRU) Director Phil Jones has admitted that there has been no statistically significant warming for at least a decade. He has also admitted that temperatures during the Middle Ages may have been higher than today.
So perhaps you'll wish to ponder this question; Given that over most of the Earth's known climate history, the atmospheric CO2 levels have been between four and eighteen times higher than now – throughout many times when life not only survived but also flourished; times that preceded humans; times when CO2 levels and temperatures moved in different directions – how much difference will putting caps on emissions accomplish? Consider also that about 97% of all current atmospheric CO2 derives from natural sources.
LET'S CHECK RECORD ON GLOBAL WARMING - May 11, 2011
In 2005, the United Nation predicted 50 million refugees from the effects of global warming. Where are they?
Is the Earth warming? Data does suggest the Earth is warming as we come out of the "Little Ice Age."
But looking at the geological record, more than 90 percent of the last 10,000 years were warmer than they are now. Both the Roman and Minoan civilizations thrived in warmer climes than seen today
When a theory makes predictions and those predictions do not come true, the scientific process mandates that the theory is weak or even disproven.
And when the staunchest promulgators of said theory are found to falsify evidence, drop inconvenient data sets, conspire to suppress dissent and evidence attacking their theory, thinking minds should recoil from their claims.
Where else have we seen the faithful stick with the holy writ? Oh, yes, creationism.
Today's warmists are exactly like creationists, retreating to the faith in the face of contradictory evidence and outright fraud.
FORMER "ALARMIST" SCIENTIST SAYS ANTHROPOGENIC GLOBAL WARMING (AGW) BASED IN FALSE SCIENCE - MAY 15, 2011
SCIENTIST FLIPS, BLOWS GLOBAL WARMING TO BITS - May 16, 2011
David Evans is a scientist. He has also worked in the heart of the AGW machine. He consulted full-time for the Australian Greenhouse Office (now the Department of Climate Change) from 1999 to 2005, and part-time 2008 to 2010, modeling Australia's carbon in plants, debris, mulch, soils, and forestry and agricultural products. He has six university degrees, including a PhD in Electrical Engineering from Stanford University. The other day he said:
"The debate about global warming has reached ridiculous proportions and is full of micro-thin half-truths and misunderstandings. I am a scientist who was on the carbon gravy train, understands the evidence, was once an alarmist, but am now a skeptic."
And with that he begins a demolition of the theories, premises and methods by which the AGW scare has been foisted on the public.
The whole idea that carbon dioxide is the main cause of the recent global warming is based on a guess that was proved false by empirical evidence during the 1990s. But the gravy train was too big, with too many jobs, industries, trading profits, political careers, and the possibility of world government and total control riding on the outcome. So rather than admit they were wrong, the governments, and their tame climate scientists, now outrageously maintain the fiction that carbon dioxide is a dangerous pollutant."
SEA LEVEL PLUMMETING : LOWEST LEVEL SINCE AT LEAST 2004 - May 27, 2011
72% OF THE US BELOW NORMAL TEMPERATURES IN MAY - May 27, 2011



70% Of The Country Has Been Below Normal Temperatures During May 2011.

WARNING: EXTREME WEATHER AHEAD - 13 June 2011
Drought zones have been declared across much of England and Wales, yet Scotland has just registered its wettest-ever May. The warmest British spring in 100 years followed one of the coldest UK winters in 300 years. June in London has been colder than March. February was warm enough to strip on Snowdon, but last Saturday it snowed there.
Vast areas of Europe have received less than half the rainfall they would normally get in March, April and May, temperatures have been off the scale for the time of year, nuclear power stations have been in danger of having to be shut down because they need so much river water to cool them, and boats along many of Europe's main rivers have been grounded because of low flows. In the past week, the great European spring drought has broken in many places as massive storms and flash floods have left the streets of Germany and France running like rivers.

'GLOBAL CATACLYSMS' NOT CONSPIRACY THEORY ANY LONGER - 6-15-11
Whether the planet is flipping its axis prior to the cataclysmic event foretold by the ancient Mayan calendar is still any one's guess, but what is clear is that Earth-changing events are now affecting politics, economics, the environment, and standards of living around the planet.
EARTH FACING A MINI-ICE AGE 'WITHIN TEN YEARS' DUE TO RARE DROP IN SUNSPOT ACTIVITY - 15th June 2011
Matt Penn of the National Solar Observatory, another study co-author, said sunspot magnetic fields have been steadily decreasing in strength since 1998.
SUNSPOT DROP WON'T CAUSE GLOBAL COOLING - June 15, 2011
The cooling impact of the last prolonged solar lull "was probably only a couple tenths of a degree Celsius," said climatologist Michael Mann of Penn State University. "It's a tiny blip on the radar screen if you're looking at the driving factors behind climate change."
But cosmic dust injected into Earth's atmosphere my do the trick.
PIERS CORBYN: MAJOR EVENT JUNE 27 - JULY 2 - 13-6-11
On 14 June astrophysicist Piers Corbyn appeared live on Al Jazeera TV talking about the increase this year in extreme weather and earthquake events and his successful forecasts of them.
He also revealed: The next VERY SERIOUS earthquake and extreme weather period is 27th June to 2 July. This period will be more serious than the periods 13-15 & 16-19 Jun and possibly more dangerous than May 31 to June 5. In the interview Piers was asked "What is it like to know that these things are going to happen and do you warn Governments? He replied that we do warn Governments such as we warned the US Govt of impending blizzards (eg the ones that hit NE USA causing total chaos from Boxing Day ) but they (and media) ignored us preferring to believe silly theories that CO2 causes these things**...".
GLOBAL WARMING OR LITTLE ICE AGE: WHICH WILL IT BE? - June 27, 2011
While admitting that a small decrease in warming could happen, Mann doesn't agree that it could send Earth into another Little Ice Age. "It's ludicrous, there is no scientific support for that whatsoever," Mann said. "The science doesn't even remotely support that conclusion."
Mann believes that the temperature changes during the Little Ice Age were mainly caused by several volcanic eruptions during that time, which changed the temperatures and dynamics of the atmosphere, causing localized cooling.
Changes to the jet stream also affect local temperatures, as it moves cooler air upward across Europe. The jet stream is dependent on ozone levels in the atmosphere, which in turn can be affected by either solar radiation or by volcanic output in the atmosphere. The debate still rages as to how big of an effect each of these factors play.
ROTHBARD & RUCKER: THE U.N.'S CLIMATE OF DESPERATION - June 28, 2011
Even die-hard warmists increasingly recognize that bureaucratic solutions hatched at these conferences are rife with waste, fraud and abuse. They may enrich a few, but they are powerless to control Earth's climate.
In March, German investigators reported that 850 million euros disappeared when shady companies swarmed into carbon trading, emissions and energy businesses.Criminal enterprises raked in tens of millions, fended off regulators with delaying tactics and then announced bankruptcy or vanished.
But rest assured, they will do whatever is necessary to get theirs. Big Warming will not surrender its hold on Western taxpayers without a fight.
UK FACES MORE HARSH WINTERS IN SOLAR ACTIVITY DIP - 5 July 2011
Britain is set to face an increase in harsh winters, with up to one-in-seven gripping the UK with prolonged sub-zero temperatures, a study has suggested.
Professor Lockwood was keen to point out that his team's paper did not suggest that the UK and mainland Europe was about to be plunged into a "little ice age" as a result of low solar activity, as some media reports had suggested. The late 17th Century is often call the Little Ice Age, wrongly says Professor Lockwood
The Maunder Minimum, a period of extremely low solar activity that lasted for about half a century from the late 17th Century, has been dubbed by some as the Little Ice Age because Europe experienced an increase in harsh winters, resulting in rivers - such as the Thames - freezing over completely.
GLOBAL WARMING? A NEW ICE AGE? THE ONLY CERTAINTY IS THAT YOU'RE PAYING FOR THE HYSTERIA OF OUR POLITICIANS - 6th July 2011
All of us today have become so accustomed to the notion of global warming that it is hard to believe that in the Seventies, U.S. scientists began to warn us the world was heading for a cooling so severe it might even herald a new ice age.
Make your minds up: For years, scientists were telling us about global warming This was because for 30 years, after a sharp rise earlier in the 20th century, global temperatures had markedly dropped.
And the cause of this cooling, it was argued by the U.S. scientists, led by climatologists Stephen Schneider and James Hansen, was all the sulphur dioxide and other particulates being chucked out by burning fossil fuels — notably those from coal-fired power stations.
Fifteen years later, the very same scientists were at the forefront of the great panic over global warming.
As our politicians continually impose on us ever higher taxes and other costs supposedly in the cause of 'fighting climate change' — costs that have already helped to increase every family's energy bills by an average £200 a year — they have been carried away by a collective fantasy that has no parallel in history.
And all this is happening in the name of a theory so fraudulent that the same people who told us the world is about to fry unless we close down all those power stations are now telling us the same power stations may be heading us into a new ice age.

Truly, the lunatics have taken over the asylum. And short of some massive injection of common sense from the British people, it seems the rest of us are condemned to live in it.
THE "HOCKEY STICK" DEBATE: NEW STUDY FINDS "SUBSTANTIAL UNCERTAINTY" WITH TEMPERATURE RECONSTRUCTIONS USING NATURAL PROXIES - July 11, 2011
"We conclude unequivocally that the evidence for a 'long-handled' hockey stick is lacking in the data," the authors wrote. The handle of the hockey stick "is best understood to be a feature of regression and less a reflection of our knowledge of the truth....The fundamental problem is that there is a limited amount of proxy data which dates back to 1000 AD; what is available is only weakly predictive of global annual temperature." While they do not deny the existence of climate change, they believe the case as it pertains to proxy-based temperature reconstructions has been overstated.
THE GLOBAL WARMING HOAX: HOW SOON WE FORGET - July 16, 2011
ICE AGE THREAT SHOULD FREEZE EPA GLOBAL WARMING REGS - 07/26/11
Rather than spiraling into a global warming meltdown, we may be heading into the next ice age.
Many reputable scientists have been warning for decades that we are nearing the end of the 11,500-year average period between ice ages. And the last similar crash in sunspot activity coincided with the so-called "Little Ice Age" in the 1600s that lasted nearly a century.
What happens during a "Little Ice Age?" Food-producing land becomes scarcer, food-growing seasons become shorter, and the world becomes a much more arid and less hospitable place. Think food shortages and the social unrest that follows.
The forces at work behind the global warming regulatory regime have, at worst, covered up, ignored and manipulated climate evidence to make the case that humans cause global warming and therefore humans should be punished.
CONFIRMATION: MAN MADE GLOBAL WARMING IS A COMPLETE FRAUD - July 29, 2011
NASA satellite data from the years 2000 through 2011 show the Earth's atmosphere is allowing far more heat to be released into space than alarmist computer models have predicted. The study indicates far less future global warming will occur than United Nations computer models have predicted, and supports prior studies indicating increases in atmospheric carbon dioxide trap far less heat than alarmists have claimed."
These findings will dramatically alter the global warming debate exposing yet again that the central premise of alarmist global warming theory that carbon dioxide emissions are warming the planet quickly is wrong.
U.S. GOVERNMENT UNPREPARED FOR EXTREME WEATHER EVENTS: SENATOR - July 29, 2011
Majority whip Dick Durbin of Illinois said that the federal government needs to focus strategically on the long-term budget consequences of extreme weather events, which are increasing in severity and frequency.
"Our weather events are getting worse, catastrophic in fact. The private sector is prepared, but the federal government is ignoring the obvious. We need to do more to protect federal assets and respond to growing demands for disaster assistance on an increasing frequency."
Durbin indicated that after a tumultuous 2010, "the U.S. has already experienced eight natural disasters this year -- the previous record was nine. Chicago, in my home state of Illinois, has seen some of the worst weather in history."
BRRR-ACE YOURSELVES! BRITAIN TO SHIVER IN -20C IN WEEKS AS COUNCILS STOCKPILE EXTRA GRIT - 8th October 2011
1.4million tonnes of salt has been ordered this year
Snow already falling in Scotland
Temperatures in London today are 16.5C lower than last week
NEW CLIMATE SCARE: EUROPE MAY BE FACING RETURN OF 'LITTLE ICE AGE' - October 10, 2011
Britain should brace itself for another freezing winter with the return of La Niña, a climate phenomenon known to disrupt global weather, ministers have warned. The warning coincides with research from the Met Office suggesting Europe could be facing a return of the "little ice age" that gripped Britain 300 years ago, causing decades of bitter winters.
NEW ICE AGE ON THE WAY - BUT IT'S JUST 'A LITTLE ONE' - October 10 2011
GLOBAL WARMING UPDATE: BRITAIN FACES MINI-ICE AGE, ICE CAP HAVING MAJOR GROWTH SPURT - October 10, 2011
The Ice Age prediction comes from Britain's Met Office. They indicate that nation could be facing a repeat of the "little ice age" that gripped the country 300 years ago, causing decades of harsh winters.
So far it has been very cold in the arctic this fall, in fact it has been coldest autumn the arctic has seen in over a decade.
RENSE & FELIX - MINI ICE AGE IS ON THE WAY - Oct 17, 2011
CLIMATEGATE II: WON'T GET FOOLED AGAIN? - November 1, 2011
BIG SIBERIAN FREEZE TO HIT BRITAIN - November 2,2011
80% OF AUSTRALIA BELOW NORMAL TEMPERATURES OVER THE LAST 12 MONTHS - November 4, 2011
WANT WEIRD WEATHER? COME TO OKLAHOMA! - Nov 10, 2011
State records set this year have ranged from the lowest temperature (31 degrees below zero in Nowata in northeast Oklahoma) to snowfall in a 24-hour period (27 inches, also in Nowata) to the largest hail stone (a spiky, six-inch piece recovered in Gotebo, in southwest Oklahoma).
This year also produced the state's highest-ever-recorded surface wind speed (151 miles per hour near El Reno, outside of Oklahoma City) and biggest known earthquake (5.6 magnitude, breaking the 1956 record).
On Wednesday, Governor Mary Fallin declared a state of emergency for 20 counties because of earthquakes, tornadoes and severe storms.
If this catastrophe did occur, those countries most affected would seek an alliance with their neighbors who are similarly affected. Thus there would be moves for a China/Russia/German/(and Iranian - for energy?) axis. There could be an increased need for food and fuel. Depending on the severity, there could even be the necessity to move the bulk of their populations to more southern latitudes. It would not be unreasonable to anticipate such countries to band together for purposes of physical survival of.

North Korea , facing a bitter winter, may seek to move southward into South Korea, especially if the threat of a space born USA nuclear assault was off the table. The USA and the whole world are in a major state of flux. A New World Order could be required if mankind is to survive. It is not beyond imagination to suspect that we are seeing the beginnings of the 'Collapse Of Civilization' as we know it. If the world is facing a Little Ice Age, the regions in the USA that may become highly desirable would be tiny Hawaii, California and the Gulf Coast. Foreclosures in the latter two areas (especially Florida) are common and the powerful may wish to clear out the Gulf Coast making way for the wealthy to move from the North and East coast of the USA. Furthermore, they may be willing to do this in a brutal way. Europe may be the first to go, with only the countries around the Mediterranean basin able to survive. This is more true if the possibility of atomic war is off the table. Critical areas around the Mediterranean basis will be found to be in the hands of the 'financial elite'. Germany may have to fund this venture if some of its citizens are to survive. And the change in weather starts to destroy the economy and food supply of those countries affected.
Comet fragments explode over the North Atlantic 12 to 15 Nov. 2010
WEATHER A HUGE BLOW TO ECONOMY - 02 Dec 2010
The UK economy has suffered a huge blow when millions of people could not get to work because of travel chaos caused by the snow, losing firms valuable business in the crucial run-up to Christmas.
A survey of almost 1,000 employers found 38% of workers could not get to their office on Thursday morning and a further 43% were late arriving.
HEAVY COLD WEATHER GRIPS EUROPE - 12/4/2010
Severe flight delays were reported at airports in Brussels, Frankfurt, Munich, Vienna, Prague and Paris Orly. Eurostar trains from France faced cancellations or delays while snowfalls trapped hundreds of motorists in Brittany and Normandy. In Belgium, 650km of traffic jams were reported, with Flanders hit hard. Snow also affected the UK, where Gatwick airport was closed and some rail services in the south were cut.
CHINA WHEAT-GROWING AREAS UNDER DROUGHT CONDITIONS, XINHUA SAYS - December 06, 2010
China's major wheat producing areas have been experiencing drought for the past two months, with the dry weather affecting millions of hectares of crops
HEAVY SNOWS DISRUPT GERMAN ROAD, RAIL, AIR OPERATIONS - Dec 10, 2010
UK WEATHER: 35,000 DEATHS FEAR IN NEW ARCTIC BLIZZARDS - December 11,2010
NOW GERMANY IS BROUGHT TO NEAR STANDSTILL BY 12 HOURS OF SOLID SNOWFALL (and they're not coping any better than us) - 14th December 2010
EXTREME WEATHER SPARKS GLOBAL COMMODITIES RALLY - Dec 15, 2010
Around the globe, the weather has turned extreme, driving up prices for commodities running the gamut from sugar and wheat to heating oil and orange juice.
HEAVY SNOW BLANKETS NORTHERN EUROPE - Thu Dec 16, 2010
A cold snap's sweeping Northern Europe. For over a week, large parts of Poland and Germany have been facing harsh weather conditions. Now, as fresh snow arrives in France, the country's Interior Ministry has switched on the high alert button. ... Whether we like it or not, weather experts say this is not the coldest winter, not in the past ten years.
Its not yet winter.
EUROPE TRAVEL MAYHEM AS ARCTIC FREEZE STRIKES AGAIN - Dec 17, 2010
Temperatures fell to an average of minus 0.7 degrees Celsius (30.7 degrees Fahrenheit), some 4.9 degrees below the normal average for the month of December.
Snow also fell briefly over Rome, where temperatures had dropped overnight to below zero, causing water in the capital's fountains to freeze.
MILLIONS FACING FUEL RATIONING OVER CHRISTMAS AS HEATING OIL RUNS LOW - 18 December 2010
An estimated two million homes, schools and hospitals face fuel rationing over Christmas after MPs warned that supplies of heating oil would hit "crisis" point during the cold snap.
SNOW STORMS COULD PUT 1,000 FIRMS OUT OF BUSINESS - 18 December 2010
Temperatures are expected to drop to -15C (5F) in the coming days, leaving Britain colder than the North Pole, the Arctic and Alaska. . . . Jonathan Powell, of Positive Weather Solutions, said it was possible that Britain's record coldest recorded temperature, -27.2C (-16.96F) at Braemar, Scotland, on Feb 11, 1895, and Jan 10, 1982, could be broken.
HEATHROW RESPONDS TO BIG FREEZE BY FREEZING PASSENGERS - December 19, 2010
IT'S NOT JUST THE UK - THE CONTINENT IS SUFFERING TOO - 20 December 2010
YOU ARE BEING WARNED! FREEZING TEMPS WORLDWIDE MAY LEAD TO FOOD SHORTAGES - December 23rd, 2010
MORE SEVERE WEATHER ADDS TO TRAVEL WOES IN EUROPE - Dec. 25, 2010
As the third wave of unexpectedly severe weather in a month struck, ill- equipped airports and treacherous road conditions conspired to ruin the festive spirit for those stranded by canceled flights, long traffic jams and slowed trains.
YEP, THAT'S SNOW INSIDE THE SUBWAY STATIONS - December 26, 2010
EUROPE'S DIFFICULT CHRISTMAS CONTINUES - 26/12/10
RAPID CLIMATE CHANGE: COLD, SNOW AND FOOD INFLATION - January 3, 2011
Cold, Snow and Food Inflation
As we emerge, temporarily perhaps, from weeks of the coldest weather since records began - with snow disasters right round the northern hemisphere, from the US and Europe to China and Mongolia - more examples come to light of how the cost of extreme cold is far greater than that of warming, writes Christopher Booker for The Telegraph.
That makes it the second coldest since records began in 1659. The chilliest on record was 1683-1684, when the average was -1.17°C and the River Thames froze over for two months. But with January and February to come, experts believe Britain could suffer the most freezing cold winter in the last 1,000 years. How come we have not seen this in the mainstream press?
RUSSIAN SHIPS STRANDED IN 30CM THICK ICE - 04 January 2011
POWER STATIONS DISABLED BY BAD WEATHER IN CENTRAL RUSSIA January 05, 2011
SOUTHERN CHINA'S FREEZING WEATHER FORCES CLOSURE OF POWER GENERATING UNITS - Jan 6, 2011
A cold front is expected to hit the central and eastern parts of China during Jan. 8 to Jan. 10, leading to temperature drops of at much as 10 degrees Celsius, according to a report today on the website of the China Meteorological Administration.
WIND FARMS DON'T WORK IN THE COLD: WHY IT'S NO USE WAITING FOR TURBINES TO KEEP US WARM AS THE SNOW RETURNS - 7th January 2011
'ONE POOR HARVEST AWAY FROM CHAOS' - 07 Jan 2011
The cause of such alarm? On Wednesday, the Food and Agriculture Organisation (FAO) reported that global food prices had hit a record high and were likely to go on rising, entering what Abdolreza Abbassian, its senior grains economist, called "danger territory".
That is bad enough for Britain, adding to the inflationary pressures from the soaring cost of oil and other commodities, not to mention the VAT increase. But for the world's poor, who have to spend 80 per cent of their income on food, it could be catastrophic.
Robert Zoellick, president of the World Bank, warns that the rising prices are "a threat to global growth and social stability", and Nicolas Sarkozy has identified them as a priority for the G20, which he chairs this year.
THE MET OFFICE FRIES WHILE THE REST OF THE WORLD FREEZES - 09 January 2011
Meanwhile, in the real world, another weather-related disaster is unfolding in the Sea of Okhotsk, off the coast of Russia north of Japan, where the BBC last week reported that a group of Russian "fishing trawlers?had got stuck in ?0 centimetres?(a foot) of ice.
Although several smaller ships have now escaped, the two largest are still trapped in up to six feet (two metres) of ice ?including one of the world's biggest factory ships, the 32,000-ton Sodruzhestvo. They still have more than 400 men on board. Three Russian ice-breakers, including two huge 14,000-tonners, are engaged in what looks like a forlorn bid to free them. A 14,000-ton ice- breaker can scarcely clear the way for a ship well over twice its size. And as the weather worsens, with gales, blizzards and visibility often reduced to zero, the chances of helicoptering the men to safety seem sadly remote.
As the ice-breakers struggle to reach the hundreds of trapped men, and still- thickening ice threatens to start crushing the hulls of their ships, it seems that, short of a miracle like that which saved the Chilean miners, a major tragedy could be unfolding.
MORE THAN 2,000 FLIGHTS CANCELLED ON EAST COAST AS 'WEATHER BOMB' BEARS DOWN ON NEW YORK - 12th January 2011
GOLDMAN SAYS BUY GASOIL ON EUROPE, CHINA COLD WEATHER - January 11, 2011
Goldman Sachs Group Inc. renewed its November recommendation to buy gasoil futures as cold weather spurs demand in Europe and China, even as blizzards undercut consumption in the U.S. Northeast.
FRIGID WEATHER IN SOUTH CHINA TO IMPACT OIL, POWER SUPPLY: ANALYSTS - 13Jan2011
In Guizhou and Hunan provinces, temperatures in certain areas have dipped below zero since January 6 and many trucks have been held up in highways as the diesel in fuel tanks were frozen.
CNPC's Guizhou subsidiary has distributed additives to gasoline stations to increase diesel fluidity in low temperatures, and its Hunan subsidiary has also delivered more than 1,000 mt of low freezing point diesel to areas hit by bad weather.
FLIGHTS CANCELLED AFTER FRESH NEW YORK BLIZZARD - 12 Jan 2011
FREEZING WEATHER IN EUROPE BOOSTS TURKEY'S SALT EXPORTS - 14 January 2011
Bone-chilling cold and heavy snow fall in Europe proved to be a lucrative business for salt producers in Turkey, sending exports skyrocketing almost seven folds over a year earlier.
CHINA SENDS RELIEF SUPPLIES TO ICY RAIN-HIT YUNNAN PROVINCE - 17 Jan 2011
China's Ministry of Civil Affairs Monday allocated a further 10,000 quilts and 10,000 cotton-padded coats to the southwest province of Yunnan to help the people there keep warm in the unusually cold and icy weather.
As of Monday, the ministry had sent 6,000 tents, 130,000 cotton-padded coats and 130,000 quilts to Hunan, Sichuan, Guizhou and Yunnan provinces, Chongqing Municipality and Guangxi Zhuang Autonomous Region, in China's south.
COLD WEATHER IN SOUTH KOREA LEADS TO HEATING RESTRICTIONS - 2011-01- 19
An unusual cold snap has prompted authorities in South Korea to impose heating restrictions in buildings, as the demand for electricity soars.
The cold weather has also hit Seoul's main transport network, with subway lines halted by malfunctioning overhead wires.
The Han River that runs through the heart of the city has also frozen over.
Coastal waters around the peninsula have also iced over, preventing fishing trawlers from going out to sea, hampering fish supplies and pushing up prices.
HEAVY SNOW WRECKS HAVOC IN SOUTH WEST CHINA - January 20, 2011
In the neighbouring Chongqing Municipality, more than 10,000 people in Qianjiang District have been out of tap water since Monday afternoon as freezing temperatures have caused water meters and pipelines to break.
Snow and sleet has struck five provincial level localities, including Hunan, Guangxi, Chongqing, Guizhou and Yunnan since Monday
HEAVY SNOW WRECKS HAVOC IN SOUTH WEST CHINA - Jan 20, 2011
GUIYANG - HEAVY snow that began falling in south-west China on Tuesday night has disrupted traffic, shut airports and collapsed train station shelters, and freezing weather has left thousands of homes without tap water in Chongqing.
COLD RUINS PEACH BLOSSOM HARVEST - January, 22 2011
"In 20 years, this is the first time the weather has turned this cold. Most of the trees will be lucky to survive, let alone produce flowers," said Dung.
At this time last year, his garden was a splendid red carpet of peach blossoms and most of them had already been sold.
KOREA: THE FEMALE WARRIORS OF TOMORROW TRAIN TODAY - Jan 24, 2011
But many of the female cadets found nothing daunting about the training; to them the hardest part was fighting the coldest weather in decades.
COLD WEATHER TO RETURN - 2011-01-25
This winter has been one of the coldest in many years, but it is not over yet. American meteorologists warns that to the cold weather soon will be back. Very cold weather is predicted to hit northern Europe from late February to April,
COLDEST TEMPERATURES IN NORTH-CENTRAL AND NORTHWESTERN US DURING JANUARY-MARCH PERIOD; SLIGHTLY WARMER THAN NORMAL IN SOUTHEAST - January 25, 2011
US EXPERTS WARN DRAMATIC RETURN OF BIG FREEZE - 26th of January 2011
LOCKDOWN! CHAOS AFTER UP TO 19 INCHES OF SNOW PARALYSES ROADS AND AIRPORTS ON U.S. EAST COAST - 28th January 2011
Up to 19 inches of snow fell on parts of East Coast
State of emergency called in New York City
650,000 homes and business left without power at height of storm
Thousands of airline passengers stranded as airports remain closed
Schools across the region shut for a second day
Obama's motorcade stranded for an hour in Washington
RECORD SNOW AGAIN BURIES U.S. NORTHEAST - Jan 28, 2011
A thick blanket of snow covered U.S. Northeast on Thursday, as the fifth major storm of the winter set snowfall records, delayed the opening of financial markets and clogged Washington highways with abandoned cars.
AMERICA BRACES FOR NEW SNOWSTORMS AS COUNTRY DIGS OUT FROM 'BOMB SCENE' BLIZZARD OF ICE AND SNOW THAT CRUSHED BUILDINGS AND KILLED 12 - 3rd February 2011
Snow and ice predicted across much of the country for Saturday
At least 12 dead as most recent storm causes chaos in 30 states
Temperatures plunge to 30 below as last storm passes
Hundreds of thousands of people without power
13,000 flights already cancelled this week with more chaos expected as airports fight to open
Storm was 'worst in 50 years'

CYCLONE YASI STRIKES NORTH QUEENSLAND - 2 February 2011
Category five cyclone tears roofs off pubs and houses, topples trees, and sends power cables crashing on to roads
The residents of North Queensland are assessing the damage after cyclone Yasi, the largest tropical storm to strike Australia since Europeans first settled there, created winds of 186mph and waves more than 9m high.
STATEWIDE GAS OUTAGE UPDATES - 04 Feb 2011
NEW MEXICO (KRQE) - Gas and electric companies across New Mexico are encountering issues this week due to the extreme cold and increased demand for heat.
35 ZOO ANIMALS FREEZE TO DEATH IN NORTHERN MEXICO - February 5, 2011
Temperatures have dropped to 9 degrees Fahrenheit (minus 13 Celsius) in the area, the coldest weather in 60 years.
Power outages have affected much of northern Mexico, forcing factories and businesses to close. Dozens of people are in shelters.
SNOW, COLD MAKE DALLAS FEEL MORE LIKE GREEN BAY - Feb 5, 2011
NEW SUPERSTORMS WARNED HAVE 'DOOMED?WORLD FOOD PRODUCTION - February 6, 2011
Of the Superstorm that pounded America [photo 2nd left] this past week we can read as reported NASA: "In a winter marked by several crippling storms, the storm of February 1?, 2011, stands out. Heavy snow, ice, freezing rain, and frigid wind battered about two thirds of the United States, making it "a winter storm of historic proportions,?said the National Weather Service.?
Of the Superstorm that pounded Australia [photo 3rd left] this past week we can further read as reported by the Associated Press News Service: "The tail end of one of Australia's largest-ever cyclones was felt at the other end of the country Saturday, as wild storms lashed Melbourne with destructive winds and flash flooding. Many parts of Australia have suffered a summer of awful weather, including pounding rains across northeastern Queensland state that caused the nation's worst flooding in decades, killing 35 people and causing an estimated $5.6 billion damage.?
Taken by themselves, this report says, the damage done by these Superstorms to the crops of North America and Australia do pose "significant? but not "catastrophic?damage to our world's ability to feed itself this year.
However, this report continues, when the damage caused by these Superstorms is combined with the cataclysmic destruction of over one-third of Russia's crops due to historic fires and drought, the historic drought in China that is now being warned could cripple their entire winter wheat crop, the Superstorms that have pounded Southern Africa leaving their agricultural sector in ruins, the Superstorms that have virtually destroyed Sri Lanka's ability to feed itself, the Superstorm that killed over 2,000 in Pakistan and destroyed its agriculture sector, historic fires and drought in Ukraine that destroyed 20% of their crops, the record cold and snow hitting a European Continent after their worst flooding in decades, catastrophic Superstorms hitting Brazil that has left nearly 700 dead, and a catastrophic drought in Argentina?to all of these, and more, the damage done in the past 12 months to our world's ability to feed its 6.8 billion human beings has been "completely destroyed?
So dire has the situation become, especially after world food prices hit a record never before seen this past month, Josette Sheeran, the UN World Food Programme's executive director, warned that "If people don't have enough to eat they only have three options: they can revolt, they can migrate or they can die.?
Even more ominous is this past week's chart of Baltic Dry Index (BDI) [photo bottom left] showing our world's shipping has dropped to its lowest level since the Great Economic Collapse of November 2008 and signaling a hoarding of grain and food supplies by producer nations
Global cooling limits food production. This is the major cause of deaths after comet or comet fragments strikes. The BDI as of Friday 4 Feb. 2011 was 1043 vs. the 815 on 4 Nov. 2008.
COULD THE UNREST IN EGYPT BE IN THE CARDS FOR THE US TOO? - February 6th, 2011
These riots and government protests against the Mubarak government began from food shortages and the cost of the important staples that it takes to feed families there. The sudden and systematic collapse of the food market as the Egyptian currency devalued thus making food scarce, was all that it took to set off a massive reaction from the public to call for the ouster of Egyptian President Mubarak.

CALIFORNIA AND THE WORLD AT RISK

THE PENTAGON WARNINGS ~ 2004
THE CALIFORNIA GOVERNMENT RESPONDS ~ 2006
THE CALIFORNIA DANGER APPROACHES ~ 2010

WALL STREET CELEBRATES RECORD PROFITS - January 18, 2011
I would think of [White House Chief of Staff] Rahm Emanuel saying, 'Never let a good crisis go to waste,?as we used the growing economic catastrophe to achieve changes and sacrifices that would have been impossible in another environment,? he writes.
GLOBAL FOOD PRICES HIT RECORD HIGH - 04 Feb 2011
Problem is set to worsen after a massive snowstorm in the United States and floods in Australia.
In response, some countries are increasing food imports and have built stockpiles to meet their domestic needs.
Among them is Algeria, wary after food riots in early January. It has made huge wheat purchases to avoid shortages, and on Thursday it announced plans to lift a 19-year-old state of emergency in a bid to to avert spreading protests.
Capital Economics, a consultancy in London warned that "Even if the crisis in Egypt eases soon, the actions taken by governments elsewhere to prevent similar uprisings in their own countries will add to the upward pressure on global agricultural commodity prices."
In Central America, Honduras has frozen prices on many basic foodstuffs despite complaints from farmers.
El Salvador is increasing anti-poverty programs by 30 per cent, and Guatemala is considering slashing import tariffs on wheat and is handing out food and cash vouchers to landless peasants.
Indonesia, Southeast Asia's biggest economy, last week bought 820,000 tonnes of rice, lifting rice prices, while suspending import duties on rice, soybeans and wheat.
Sugar prices also have surged to three-decade highs on fears of the damage that Cyclone Yasi would bring to the Australian cane crop.
Prices for Malaysian palm oil, a cooking staple in the developing world, hit 3- year highs on flooding.

NORTH KOREA APPEALS TO FOREIGN GOVERNMENTS FOR FOOD AID - 10 February 2011
RECOMMENDED READING: EGYPT AND CHINA'S LOOMING WHEAT PROBLEM. - February 11, 2011
FIRST SNOWFALL BRINGS HOPE OF RAIN - February 12, 2011
All eyes are now on China as it battles to salvage 7.8 million hectares of winter wheat affected by drought. But the country has sufficient stock to ride out a drop in the country's annual wheat output.
Records show that the latest snowfall in the Chinese capital since 1951 was on Jan 29, 1984. The mid-week snowfall broke this 60-year-old record. Many Beijingers would have dreaded an extended cold and dry spell.
OBAMA DOCTRINE SENDS SHOCKWAVE ACROSS WORLD - February 13, 2011
The Russian Foreign Intelligence Service (SVR) report on the New Obama Doctrine, however, paints a much grimmer picture of it by stating that the Americans are preparing for a "full-scale?pullback into the Western Hemisphere and their actions of this week are a "warning?to the rest of the World to "leave them alone?and have likened it to a 21st reaffirmation of the 19th Century Monroe Doctrine.
The main reason for the United States retrenchment to the Western Hemisphere, the SVR says, is due to many factors, the most important of them being the water crisis currently engulfing the entire Middle East and stated by all military experts will lead to outright warfare.
Equally as important, the SVR says, are the United States new assessments that Saudi Arabia is running out of oil, meaning that the cost in money and American lives to protect the dictators of the Middle East are no longer in their greater Nations interest, especially when viewed in the light that the World's largest oil reserves now lie in the Western Hemisphere countries of Venezuela and Brazil.
To the main reason lying behind the New Obama Doctrine we have, also, reported on many times as being the secret (and still blacklisted in the US) 2004 Pentagon report obtained by London's Observer News Service that, in part, warned:
"Climate change over the next 20 years could result in a global catastrophe costing millions of lives in wars and natural disasters..
A secret report, suppressed by US defense chiefs and obtained by The Observer, warns that major European cities will be sunk beneath rising seas as Britain is plunged into a 'Siberian' climate by 2020. Nuclear conflict, mega-droughts, famine and widespread rioting will erupt across the world.
The document predicts that abrupt climate change could bring the planet to the edge of anarchy as countries develop a nuclear threat to defend and secure dwindling food, water and energy supplies. The threat to global stability vastly eclipses that of terrorism, say the few experts privy to its contents.
'Disruption and conflict will be endemic features of life,' concludes the Pentagon analysis. 'Once again, warfare would define human life.'
It always has. Humans are a Warrior Species.
IRAQ SHELVES US ARMS DEAL TO BUY FOOD - February 14, 2011
WORST FREEZE IN 60 YEARS WIPES OUT ENTIRE CROPS ACROSS THE SOUTHWESTERN U.S. AND NORTHERN MEXICO - February 14th, 2011
BIG FREEZE DRIVES UP BRITISH GAS PROFITS TO A RECORD 720M Pounds - 19th February 2011
British Gas is to announce record annual profits of more than 720million on the back of punishing price increases and the coldest winter in 120 years.
HEAVY SNOWFALL IN LAHORE FOR THE FIRST TIME IN HISTORY [5 Videos] - 26 Feb 2011
Most Pakistani's have never seen snow in their life - apart from those living up in the mountains, of course. For Lahore, this is totally abnormal. Day temperatures should be between 15 and 25 celsius this time of the year.
GLOBAL WARMING HITS BURBANK CALIFORNIA! - Feb 27, 2011
SECOND DAY OF DISRUPTION IN ATHENS DUE TO SNOW - March 9, 2011
You know how cold those Mediterranian winters can be!
KILIMANJARO REGAINING ITS SNOW CAP - March 21, 2011

CALIF. DROUGHT OFFICIALLY ENDS AFTER SNOWY WINTER - Mar 31, 2011
A drought that loomed over some of California's most fertile farmland officially ended Wednesday after a winter of relentless mountain storms that piled snow up to three stories high and could keep some ski resorts open until the Fourth of July
GARDEN AS IF YOUR LIFE DEPENDED ON IT, BECAUSE IT WILL - April 1st, 2011
After peak, in soil like in oil, comes descent. Adding insult to injury, every year farmers lose thousands of acres of arable land to urban and suburban sprawl and more tons of topsoil than they produce of grain and other field crops to attrition. Half the Earth's original trove of topsoil, like that which once permitted the American Midwest to feed the world, has been lost to wind and erosion. Millions of years in the making, it has been depleted and degraded by industrialized agriculture in only a couple of centuries. China's soils ride easterly winds across the Pacific to settle out on cars and rooftops in California while the American Bread Basket's soils are building deltas and dead zones at the mouth of the Mississippi. Like oil, that soil isn't coming back. We can only build it, help it to build itself and wait.
MIDWEST DROUGHT MAY CAUSE FOOD PRICE INCREASE - April 2, 2011
SNOWY SATURDAY WORST IN 15 YEARS - April 5, 2011
DUST BOWL STATES SEE FARMS DRY UP, FIRES RAGE - 4/6/2011

Drought expected to worsen; grass so dry 'it's like gasoline' for wildfires
MIDWEST DROUGHT CAUSES CONCERN - April 7, 2011
Oklahoma was drier in the four months following Thanksgiving than it has been in any similar period since 1921. That's saying a lot in the state known for the 1930s Dust Bowl, when drought and high winds generated severe dust storms that stripped the land of its topsoil.
Neighboring states are in similar shape as the drought stretches from the Louisiana Gulf coast to Colorado, and conditions are getting worse, according to the U.S. Drought Monitor. The area in Texas covered by an extreme drought has tripled in the past month to 40 percent, and in Oklahoma it nearly doubled in one week to 16 percent, according to the monitor's March 29 update.
Associate state climatologist Gary McManus said conditions have actually gotten worse since crops began emerging. The plants have rapidly sucked up the limited moisture in the soil.
Ranchers in western Oklahoma are worried about their land too. Monte Tucker, 36, a volunteer firefighter and cattle rancher who lives in Sweetwater near the Texas border, said the grass and brush on his property are like tinder. He saw 1,500 of his 5,000 acres burn a few years ago, and without rain, it could easily happen again this year.
"Right now, it's like gasoline," he said of his land.
NOAA: MARCH ABOVE NORMAL - April 8, 2011
•Washington, Oregon and California had their second, fifth, and ninth wettest March on record, respectively. Regionally, it was the second wettest March on record for the Northwest. In the Northeast, Pennsylvania had its third wettest such period.

•Drought conditions continued to intensify across much of the nation in March. According to the U.S. Drought Monitor, the overall footprint of drought did not increase, holding fairly steady at about 24 percent of the country. However, the area covered by the "Severe" and "Intense" drought categories almost doubled, from about 12 percent early in the month, to more than 20 percent at month's end.
10 INCHES OF SNOW IN FLAGSTAFF, I-17 CLOSED - April 9, 2011
A winter storm warning remains in effect through 5 pm as a spring snowstorm that has already dropped nearly a foot of snow in areas of Flagstaff continues to move across the region.
As of 10:30 am, the National Weather Service in Bellemont said it had so far received reports of 12 inches of snow in Grand Canyon Village, 10 to 11 inches in Flagstaff, 10 inches in Parks, 7 inches in Williams, 4.5 inches in Kachina Village and 4 inches in Doney Park. Sedona received an inch of snow all in one hour.
- April 11, 2011
YES, IT'S APRIL 14 AND IT'S SNOWING - April 14, 2011
People in parts of Western Washington were surprised to look outside Thursday to see snow coming down – and almost a month into spring.
'TEXAS IS BURNING FROM BORDER TO BORDER': MILLION ACRES SCORCHED AFTER WILDFIRES BLAZE FOR A WEEK. NOW TOWNS ARE PUT ON RED ALERT - 20th April 2011

Cost of containing fires throughout the state has spiralled to more than $8million
22 separate blazes burning throughout Texas
One fire in Stephen County increased in acreage by nearly 90,000 in just 24 hours
Hundreds have been evacuated and fears grow of flames spreading to big cities
Some fires burning dangerously close to Oklahoma border, where conditions are also ripe for spread
Rain forecast for next few days giving weary firefighters some hope
6 INCHES OF SNOW BLANKETS NORTH SPOKANE COUNTY - April 26, 2011




US Drought Monitor - 26 April 2011

DAMAGE OF 'BIBLICAL PROPORTIONS': U.S. ENVOY - 04/28/2011
FLOOD MAY TOP 1927 RECORD - Apr. 28, 2011
A surge of water not seen since the Great Mississippi Flood of 1927 is forecast in coming days to test the enormous levees lining the Mississippi River on its course through the Deep South, adding another element of danger to a region already raked by deadly tornadoes and thunderstorms.
ALL EYES ON THE MISSISSIPPI RIVER - 28 Apr 2011
"Right now the Mississippi river is in the process of going through what we call an epic flood, meaning it's more than historic, it's more than a 100 year flood, it's more like a 500 year flood," he said. "We could flood many homes, businesses, close down factories, people could drown."
VIOLENT HAIL STORM LEAVES LISBON, PORTUGAL WITH A WINTRY MESS - April 29, 2011
SPRING SNOWSTORM SWEEPS THROUGH STATE - 05/01/2011
As of Sunday around 10 p.m. The New Mexico Department of Transportation had not reported any alarming traffic conditions.
STORM UNLEASHES WATERSPOUTS, HAIL AND THUNDERSTORMS - May 03, 2011
About 60,000 customers in East Honolulu and Windward Oahu lost power at about 5 p.m., he said. Crews began restoring power to some customers beginning about 6:30 p.m.
The most unusual sight yesterday was the appearance of at least two tall waterspouts that stretched from the ocean off Oahu's south shore and up to dark clouds.
SNOW IN MAY? IN SOUTHERN FRANCE? - May 5, 2010
Residents of the southwestern town of Carcassonne slipped and slid over centimetres of snow on Tuesday as an unusually late cold snap hit France.
HEAVY DOWNPOURS CAUSE PROBLEMS ON OAHU - May 7, 2011
Locals says massive thunder/ligntening storms occurred only durning the last 2 or 3 years.
MONTANA BRACES FOR ROUND OF RECORD FLOODING - May 11, 2011
SNOW ON MAY 16. SERIOUSLY. IT WON'T STICK, BUT EXPECT A COOL, DAMP WEEK - 05/16/1105/16/11
You can rub the sleep out of your eyes and pinch yourself as much as you want, but what you saw this morning falling from the sky was snow.
Snow that was currently sticking to the ground above 3,200 feet at 8 a.m. Snow that was falling with rain during the morning commute in the Boise area.
THREE GORGES DAM HAS CAUSED URGENT PROBLEMS, SAYS CHINA - 19 May 2011
Communities downstream from the Three Gorges have begun diverting flows from the Yangtze to restore parched water supplies in central China's Hunan and Hubei provinces, the official Xinhua News Agency reported Thursday, citing water officials in Hunan's Huarong county.
The Three Gorges Power Co, operator of the massive dam, has been discharging extra amounts of water to help fight the drought.
AMERICA'S NEXT DISASTER: MULTIPLE FLOODS IN WESTERN STATES AS MONSTER SNOWPACKS MELT - 23rd May 2011
It's been one long series of natural disasters this year - and now it looks like another is on the way.
The focus may soon be shifting from the epic flooding in the Mississippi Valley to Westwern states where enormous winter snows have piled up on mountain ranges.
More than 90 sites from Montana to New Mexico and California to Colorado have record snowpack totals on the ground for late May.
Arthur Hinojosa, the chief of the Hydrology and Flood Operations Office with the California Department of Water Resources, said: 'It just takes one really sunny hot spell to get things running.
SEA LEVELS SET TO RISE BY UP TO A METER: REPORT - 23 May 2011
NASA: WEST INTO THE NEXT FLOOD AREA - May 25, 2011
Meteorological experts kPa strategy (Bill Patzer) said that between late spring and early summer floods are likely to attack the West, hardest hit is located in the North and the Bay Delta (Bay Delta) of Sacramento (Sacramento) and St hekun (San Joaquin) Valley, he's worried.
Surge in the Rockies and Sierra Nevada snowfall this year, has yet to show signs snow thaw. PA policy said, residents of California will probably witness a 25 year flood. North Delta and the Gulf expanse of farmland in the vicinity, where mostly residents, if flood outbreak, this area will be in jeopardy.
HEAVY SNOWS SPOIL WEEKEND HOLIDAY PLANS IN THE WEST - May 27, 2011
Epic snowpack in parts of Colorado, Utah, Wyoming, Montana, Idaho, Oregon and California is forcing many tourists to abandon the annual rites of launching their summer holidays with a camping trip. Others plan to take advantage of prolonged skiing and snowshoeing this strange spring.
In Oregon, some resorts were still trying to dig out cabins — let alone campgrounds — from snowpack.
Yellowstone National Park has just one campground open. "We're telling people to be prepared for snow," said park spokesman Al Nash
In other parts of Wyoming, officials have extended winter closures of wildlife management areas to campers. The reason: To protect wildlife from humans because animals are still searching for food at lower elevations.
FEMA WARNS DISASTER-RELIEF FUND IS RUNNING LOW -05/28/2011
"FEMA will have to stop recovery efforts in 50 states in the spring of 2012" without additional money, Sen. Mary Landrieu, D-La., wrote in a letter to her colleagues. She heads the Senate panel that oversees FEMA finances.
UMASS TORNADO CHASER: SPRINGFIELD TORNADOES WERE 'UNCHARACTERISTIC' - June 02, 2011
While tornadoes are not "as rare as you think," what happened "was a pretty big system," and was "uncharacteristic."
HAWAII: SNOW, RAIN AND POSSIBLE THUNDERSTORMS IN FORECAST - Jun 01, 2011
A winter weather advisory is in effect for Mauna Loa and Mauna Kea summits, where 1 to 3 inches of snow is expected.
Forecasters say cold air in the upper atmosphere is creating unstable conditions. The weather system should move past the islands by Friday, but the chance of heavier than usual showers will continue into Saturday.
FLOODS ARE FEARED IN STATES ACROSS THE WEST AS RECORD SNOWPACK MELTS, DAMS FILL - June 02, 2011
At Grand Coulee Dam, gigantic cascades of water are being released to make room for spring snowmelt that is expected to fill the reservoir. A constant roar emanates from the structure as surging water churns the Columbia River below the dam into a white froth.
The massive amounts of water coursing through the dams have also created a surplus of hydroelectric power. It's such a huge glut that the main provider of electricity in the Northwest ordered a shutdown of wind farms in the region because the grid can't handle all the extra power.
Early signs of flooding have been seen in other states. Utah has had dozens of mudslides ahead of what the governor calls a "perfect storm" for disastrous flooding in the northern part of the state. Small towns in Montana have been swamped with floodwaters in the past week. The U.S. Army Corps of Engineers has been carrying out big increases in the flow from the state's Fort Peck Dam, causing flooding in South Dakota and North Dakota. Sacramento, with a population of about 470,000, is the major city at greatest risk of flooding in California. The major concern is flooding caused by deep snowpacks in the Sierra Nevada melting suddenly after a warm rain. Such an event can overload Northern California's extensive system of dams and flood bypasses, straining century-old levees to the breaking point.
Federal officials have determined that Sacramento has the highest flood risk of any U.S. city outside New Orleans, with some neighborhoods under 10 to 20 feet of water after a catastrophic levee failure. Last month, state and federal officials participated in an emergency drill to prepare for just such a disaster.
In Wyoming, residents are already using sandbags to protect their homes along the North Platte River near Casper. More than 100 Wyoming National Guard troops have deployed this week in preparation for expected flooding. The Natural Resources Conservation Service reported that the water content of the snowpack across Wyoming stands at more than three times the average for this time of year.
Utah could be one of the hardest-hit spots thanks to heavy mountain snow and a record of 11.73 inches of rain in the past three months. Weber County Commissioner Kerry Gibson estimated that his county has suffered $20 million in damage already, with the potential for $90 million or more in the next month.
SNOW MELTING, DAMS FILLING, FLOODS FEARED IN WEST - Jun. 2, 2011
States across the West are bracing for major flooding in the coming weeks once a record mountain snowpack starts melting and sending water gushing into rivers, streams and low-lying communities. The catalyst will be warmer temperatures forecast for the next week that could set off a rapid thaw.
The giant concrete dams of the Pacific Northwest are overflowing with water. Wyoming has deployed National Guard troops to pile up sandbags. A federal official compares the impending situation to a bucking bull ready to storm out of his chute.
The Columbia River has been hovering right at flood stage for days in Portland, a low-lying area along the Columbia River. Steve Barton, the Army Corps' reservoir control chief in Portland, said the Columbia should stay below 17 feet, but if the river reaches 18 feet, flooding could occur in lowlands, pastures and farmlands in an area that has a long history with floods.
Sacramento, with a population of about 470,000, is the major city at greatest risk of flooding in California. The major concern is flooding caused by deep snowpacks in the Sierra Nevada melting suddenly after a warm rain. Such an event can overload Northern California's extensive system of dams and flood bypasses, straining century-old levees to the breaking point.
Federal officials have determined that Sacramento has the highest flood risk of any U.S. city outside New Orleans, with some neighborhoods under 10 to 20 feet of water after a catastrophic levee failure. Last month, state and federal officials participated in an emergency drill to prepare for just such a disaster.
HAWAII'S MAUNA KEA SUMMIT BLANKETED WITH 3 INCHES OF SNOW - June 7, 2011
Snow on the summit of Mauna Kea: it's not exactly a rare sight during a Hawaiian winter. But how about in June?
BUTTE MONTANA: SNOW IS FALLING THIS MORNING - Jun 9, 2011
UK: SUMMER SNOW FALLS ON SUMMIT OF SNOWDON - 10 June 2011
The wintry scene, at the Snowdon Mountain Railway's terminus near Hafod Eryri, was photographed at 1300 BST on Friday - in the middle of June, days before the start of Wimbledon and just over a week before the summer solstice.
"We are going through a little bit of a cold spell at the moment, with temperatures of 12-13C when the average temperature for this time of year is 18- 19C.
IT'S SNOWING IN WALES - BUT BRITAIN IS OFFICIALLY IN A DROUGHT - Jun 11, 2011
While the snow and hail may not be welcomed by summer holidaymakers, many are hoping that it will help bring some relief to the dry conditions around the country. After one of the driest springs on record in many parts of Britain, a state of drought has been officially declared in parts of eastern England.
The drought affects Cambridgeshire, Northamptonshire and Lincolnshire and more areas could follow. Parts of the South West, South East, Midlands and Wales are experiencing near-drought conditions, the Environment Agency said.
The growing crisis prompted calls for government action to better manage water resources in Britain, as fears were raised of imminent hosepipe bans in Staffordshire, Nottinghamshire, Derbyshire and Leicestershire.




US Drought Monitor - 14 June 2011

SNOW FALLING IN COLORADO ON EVE OF NORTHERN HEMISPHERE'S SUMMER SOLSTICE - Jun 20, 2011
The calendar says summer starts tomorrow in the Northern Hemisphere. The snow falling in the mountains of Colorado tells a different story.
A storm that has prompted a tornado watch across Nebraska andKansas today also left 2 to 4 inches of snow in the Rocky Mountains, said Joe Ramey, a weather service meteorologist in Grand Junction, Colorado.
"It is unusual," Ramey said. "Here it is the last day of spring."
Ramey said the lingering effects of the La Nina ocean cooling are still playing havoc with local weather patterns. Normally at this time of year the daytime high temperature in Grand Junction, at an altitude of almost 4,600 feet, is 88 degrees Fahrenheit (31 degrees Celsius), according to the weather service. Yesterday it was 59, Ramey said.
SNOW MELT CAUSES CALIFORNIA FLOOD CONCERNS - Jun 20, 2011
NORTH DAKOTA'S FOURTH LARGEST CITY FACES FLOOD EVACUATIONS - Jun 21, 2011
Officials ordered the evacuation of more than a quarter of the residents of North Dakota's fourth largest city of Minot, where massive flooding is expected to overwhelm barriers, authorities said on Tuesday.
THE ENTIRE STATE OF TEXAS HAS BEEN DECLARED A NATURAL DISASTER - Jun. 30, 2011
Texas Agricultural Commissioner Todd Staples told 103.5 things are bad and they will probably get worse:


"We are currently ranked as the third-worst drought on record in Texas. But each passing day moves us closer to the number one year. It is a true calamity. The impact is heartbreaking," says Staples. "We've had over two million acres of dry land cotton being declared 100% abandoned. We have livestock producers that are liquidating their herds, something they've spent their entire lifetime building up. It's just a dreadful set of circumstances."

FREAK COLD WEATHER GRIPS SOUTHERN BRAZIL - June 29, 2011
The southern parts of Brazil, a tropical country, have been stricken by cold snaps since Monday, driving down temperatures to record-low levels and bringing snow in some areas, a local weather service has reported. The weather monitoring department of Santa Catarina state said the temperature fell to 8.8 Celsius degrees below zero in the small town of Urupema on Tuesday, while in Cambara do Sul, in Rio Grande do Sul state, along the southern border, the temperature dropped to minus 6.2 degrees. The three cities of the southern region on Tuesday also recorded record-low temperatures for the year, and the lowest temperature was monitored in Curitiba, capital of Parana state, where the temperature hovered around one degree above zero.
WACKY WEST WEATHER MEANS SNOW ON THE 4TH OF JULY - 02 Jul 2011
An unseasonably strong low-pressure system has brought above-average rainfall to California's Central Valley and the Sierra earlier this week, and the National Weather Service on Thursday issued a flood warning for much of the region, cautioning that warming temperatures leading into the weekend will accelerate snowmelt and cause rising water levels in rivers and streams.
At Snowbird in Utah, where upper runs have remained open every weekend, resort operators are even considering trying to extend the season through July 24 for Pioneer Day, a Utah state holiday that generally sees a lot of travel, said spokeswoman Emily Moench.
"I keep telling people how good the skiing still is, which they find unbelievable until they actually get up here," she said.
THE ATACAMA DESERT EXPERIENCES HEAVY SNOWFALL - Jul 07, 2011
One of the driest spots on earth has experienced its heaviest snowfall in almost two decades, according to the Chilean Directorate of Meteorology (DMC).
A cold front brought up to 80 centimetres (31.5 inches) of snow to the Atacama desert region of South America forcing emergency services to close local roads and rescue dozens of motorists from their vehicles. The temperature in the Chilean capital, Santiago, dropped below minus 8c on Wednesday. Neighbouring Argentina and Uruguay are also experiencing subzero temperatures.
Located in the north of Chile, the Atacama Desert records less than 50mm of rain on average each year. Some weather stations in the region record only 1-3mm of rain each year. The desert is, according to NASA, National Geographic and many other publications, the driest desert in the world, due to the rain shadow on the leeward side of the Chilean Coast Range, as well as a coastal inversion layer created by the cold offshore Humboldt Current.
NO DEGREE OF DOUBT: DEEP CHILL OF WINTER HAS ARRIVED - 09 Jul, 2011
''That's just bringing up lots of cold fronts from the Antarctic region over south-eastern Australia,'' he said. ''Normally you just get one cold front move through, maybe two, but we've had five consecutive cold fronts move through in the space of a week.
A flurry of fireball activity (7/8 Nov. 2010) preceded foreign submarine based ballistic missiles (SLBM) launches off the USA coast by about a day. It is thought that these launches were the result of misconceptions that comet fragment explosions of comet related fireballs were warheads from SLBMs exploding over (largely uninhabited regions) of the Chinese landmass and that these warheads were G20 coercion attempts by the USA. The last four weeks of Chinese fog and low temperatures appeared first around 7 November and are possibly related to these fireball explosions. European low temperatues followed and are anticipated to get worse.
A similar, but less pervasive event,is believed to be associated with a comet fragment/meteorite that exploded over Indonesia on 8 October 2009. Latitudes between +/- 46o appear most affected. The eastern states between 38o and 46onorth latitude received massive snow falls while areas farther north (Toronto, Vancouver, the Arctic and Siberia) experienced less precipitation or warmer weather. The 8 Oct. 2009 air- burst appears related to a Vulcan induced comet like object based on time co- incidence with the 5 October Camelopardalids comet debris shower.
Effectively, these major events occurred within a day of the original 8 to 11 Nov. 2010 Web Bot 'tipping point' window. This was initially associated with a thermonuclear war, but the association became tenuous as the event approached. It now appears that what Web Bot was picking up may be related to the fireball activity over the North Atlantic that may result in a major, possibly global, weather change. The latter Web Bot date, 6:50 AM PST on 14 Nov. came and went without a major incident unless it is related to the appearance of the fireball over 14 Nov. N. Lanarkshire and that event defused the tense military situation.
Perhaps the ET aliens cancelled the war by neutralizing the missiles launched off the USA coasts as they have done before (circa 26 Oct. 2010). One must wonder if it had not been for the (until now - undefined) UFO appearances (by apparently the very same alien species that warned Moses 3200 years of the comet collision threat and this nuclear war), what could have happened. Given this, and the likelihood that Crop Circle T367 clearly relates to an alien warming of a comet/comet fragment impact threat, then this is a very good time to form the United Nations Office for Outer Space Affairs (UNOOSA) whose mission is tracking and development of a unified response to threats from asteroids, meteors and space debris as well as encouraging world's governmental bodies to take the subject of possible alien encounters more seriously.
Without these alien UFOs, the world would now be teetering on the brink of a thermonuclear war. Even so, the bulk of humanity may be at risk of severe weather problems, even a Little Ice Age. However, if this analysis is correct, it certainly is not the first times extra- terrestrial aliens have saved us from a catastrophic comet related events, this time exacerbated by a nuclear war.
NOAH'S ARK ?VERIFICATION OF ALIEN CONTACT
Perhaps a nuclear space assault on one country by another is not an option any more. Both the USA and China (and Russia) may have lost their mojo. It also makes one wonder if these same aliens may be prepared to destroy threatening meteors and comets, or even if they have already done so for our benefit.