BROWN DWARF GENERATED COMET SWARMS THREATEN MANKIND
© Copyright: 5 May 2010 & 13 June 2010
Back To Home Page
Vedic Prophecies have long held that the Sun has a 'dark companion' and the Bible Code, written about 3200 years ago not only contains references to it (along with comet/asteroid impacts) but even refers to it by the name Vulcan. Madam Blavatsky even refers to how its presence astrologically influences avatars like Christ and Buddha. But there have been more recent references to this dark companion, those from extra-terrestrial aliens sources. Dr. J. Allen Hynek (Astronomer) seems to think that some of these alien contact reports were valid.

Civilian scientific consultant to the U.S. Air Force (1948/49-1969) i.e. 20 years. He began as a debunker of UFO sightings, however he discovered there was what he felt were a significant percentage of these reports which he could not explain. He became convinced they deserved further study by the scientific community.
Perhaps this was one that caught Hynek's attention.



Figure 1. Extra-terrestrial Alien Description Of Our Alphabet And Solar System.

A well circulated, but unpublished, case occurred on 6 Oct. 1974. The individual was invited on-board a saucer. Figure 1 is his description of their interpretation of our alphabet and a description of our solar system. Common human planetary symbols were employed by the aliens, but they may have been deduced years before. The first three alien symbols (12 V) translates to G2V. The Sun's recognized astronomical characterization is that of a G2 main sequence spectral class (V) star.

Three other solar objects are indicated, one above and one below the string of planets and a final one at the end. Two (* and phi) appear out of the ecliptic plane. One of these may be Eris whose inclined orbit indicates that it (and 2000 CR105) are 'captured' objects. The I symbol denotes a super-giant star, but if the Invitee failed to notice a V (i.e. VI) a sub-dwarf star is indicated (incorrectly associated with brown dwarf stars, but perhaps the only designation available to the aliens). The Invitee was told that the asteroids (Maldek) resulted from an exploded planet, a view since popularized by a Naval Observatory astronomer.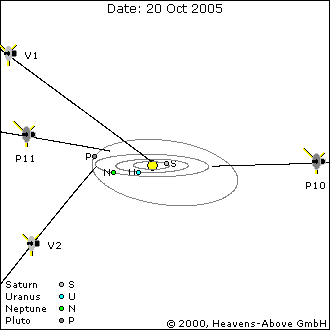 Figure 2. Locations Of Pioneer And Voyager Space Probes.
Figure 2 shows that the Voyager probes (launched 1977) bracket an object (a Brown Dwarf?) roughly located by the Pioneer probes (launched 1972 - 73). See Figure 3. Table 1 shows one of the first reported IRAS (Infrared Astronomical Survey) Satellite objects, IRAS 1732+239, in this direction.
Table 1 - Space Probes And The 'Dead Star'*

| Probe/Target | Rt. Asc. | Dec. | Range | Helio. Long. | Helio. Dec. |
| --- | --- | --- | --- | --- | --- |
| Pioneer 10 | 5.057 hrs | 25.83 deg. | 89 AU | 77.20 deg. | 3.01 deg. |
| Pioneer 11 | 18.596 hrs | -8.57 deg. | 70 AU | 279.06 deg. | 14.59 deg. |
| Voyager 1 | 17.076 hrs | 12.13 deg. | 97 AU | 253.35 deg. | 34.78 deg. |
| IRAS 1732+239 | 17.5476 hrs | 23.9433 deg. | 448** AU | 260.78 deg. | 47.17 deg. |
| Voyager 2 | 19.680 hrs | -52.26 deg. | 78 AU | 287.50 deg. | -30.35 deg. |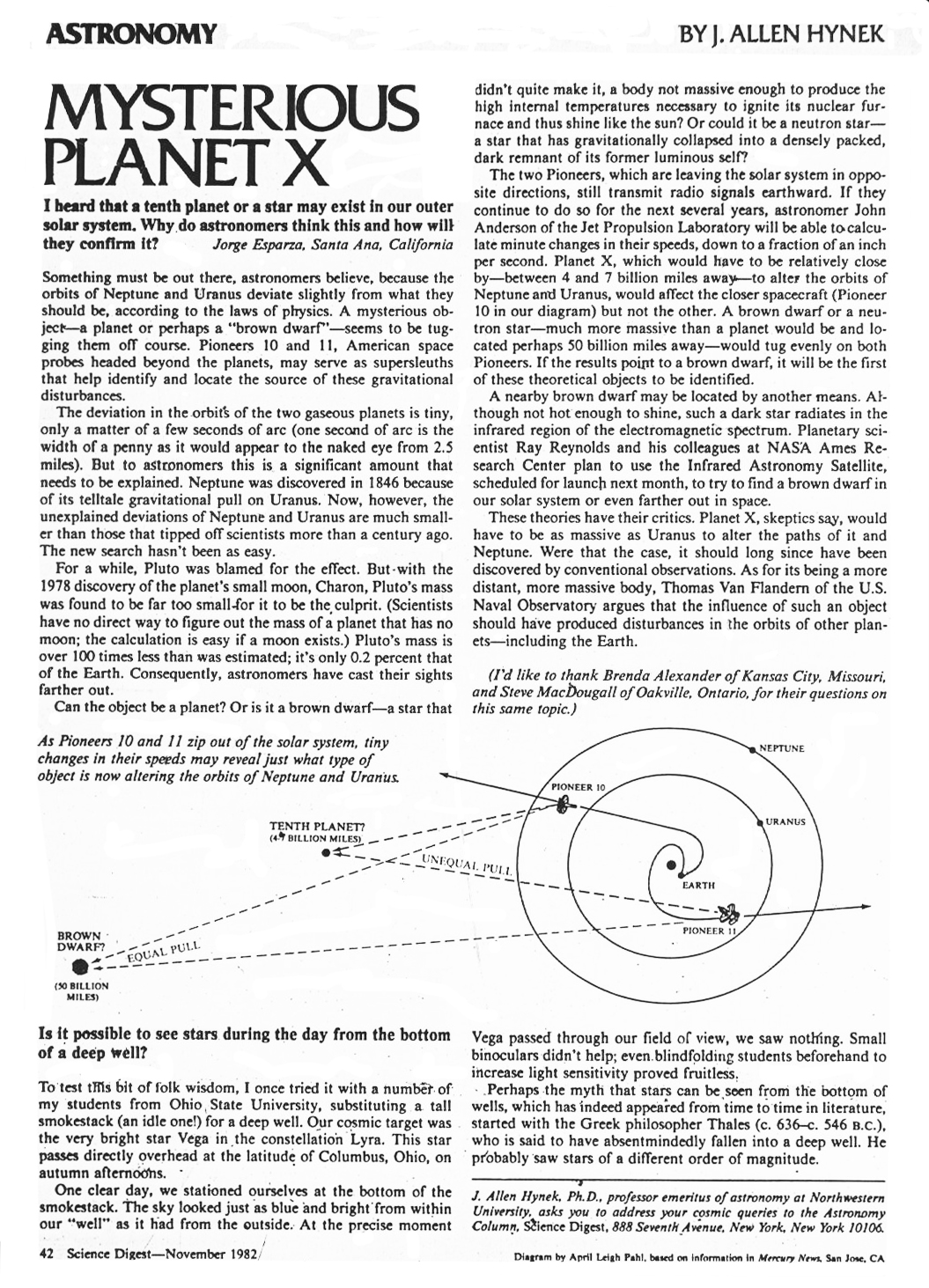 Figure 3. A Brown Dwarf In Our Solar System Suggested In Nov. 1982 Science Digest.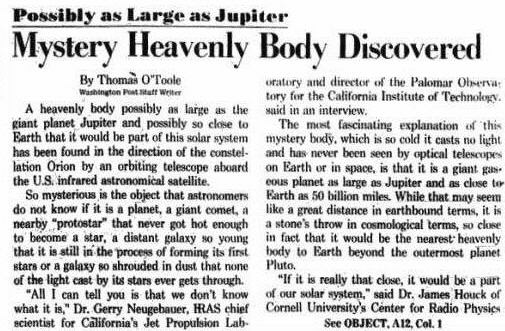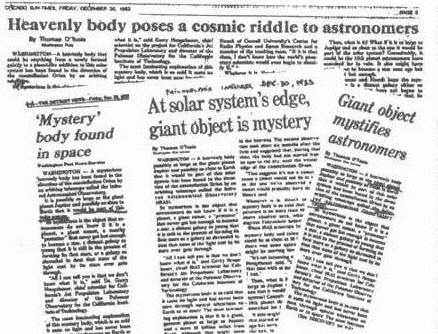 Figure 4. 1982 - 1983 NEWS Reports A Jovian Sized Object Discovered 50 Billion Miles Away.
TABLE 2 - The First Nine Unresolved Objects Found By The IRAS Satellite

Object
RA
(hr:':")
Decl.(deg.:':")
Uncert.
60 žm/100 žm Flux
(Jy/Jy/T/K deg.)
Discrip.


0358+223
03:58:02.8
22:18:00
84"X30"
0.68/1.5/44
Dis. Galx.
0404+101
04:04:44.7
10:11:52
66"X30"
0.56/4.2/26
Faint Galx.
0412+085
04:12:32.3
08:31:13
38"X30"
1.50/7.0/31
Hot Cirrus
0413+122
04:13:37.3
12:17:36
64"X30"
2.20/3.4/55
Triple Galx.
0422+009
04:22:54.0
00:56:06
38"X30"
0.68/3.0/31
Poss. Galx.
0425-012
04:25:21.1
- 01;14;50
66"X30"
0.75/2.0/39
Galx.
1703+049
17;03:01.4
04:57:50
100"X30"
0.72/1.7/41
Unknown
1712+100
17:12:57.8
10:04:08
104"X30"
0.65/1.9/37
Unknown
1732+239
17:32:51.4
23:56:36
78"X30"
0.54/1.8/29
Unknown (Vulcan?)
Object 1732+239, found by the Infrared Astronomical Survey Satellite (IRAS), is believed to be the object sought by the the Pioneer and Voyager space probes.
Table 3 - Vulcan's Orbital Parameters

| Parameter | Value | Max. Error | Min. 2 Sigma Error | Forbes'(1880) |
| --- | --- | --- | --- | --- |
| Period (years) | 4969.0 | +30.4/- 24.3 | +/- 11.5 | 5000 |
| Orbital Eccentricity | 0.537 | +0.088/-0.035 | +/- 0.0085 | not cal. |
| Orbital Inclination | 48.44o | +3.12o/-9.05o | +/- 0.23o | 45o |
| Longitude of the Ascending Node | 189.0o | +/- 1.3o | +/- 1.3o | 185o |
| Argument Of Perihelion | 257.8o | +6.11o/-13.47o | +/- 0.90o | not cal. |
| Time of Aphelion (years) | 1970 AD | +/- 1.0 | +/- 1.0 | not cal. |
Table 3 shows Vulcan's orbital parameters. Vulcan's Aphelion is 41.6 billion miles (448 AU) vs. Hynek's 50 billion. Forbes (1880) used comets aphelia to predict a similar planet's orbit. Stars pass within 2000 AU of the Sun over the solar system's life and would eject planets more distant than 47 billion miles (500 AU).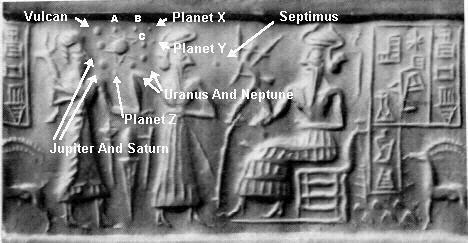 Figure 5. The 4500 Year Old Akkadian Seal. Note The Indicated Sizes Of The Jovians And The Sun.
Figure 5 shows the Akkadian seal. Figure 6 shows a mathematical fit of the Sun and Jovian's diameters as measured from the 4500 year old Akkadian seal vs. their known masses. It clearly shows that the 'ancients' were aware of their relative size (by extra-terrestrial alien contact?). It also implies that there is another Jupiter like body in our solar system (our Vulcan), 141 +/-35 Earth masses in size. Similar size estimates for Vulcan can be deduced from actual TOI (time of perihelion) of the more definable comet clusters Vulcan generates (yielding a 0.05% Solar mass - 166 Earth mass - Vulcan) and from a suspected alien generated crop circle (yielding about two thirds of the original 0.105% solar mass estimate or 237 Earth masses.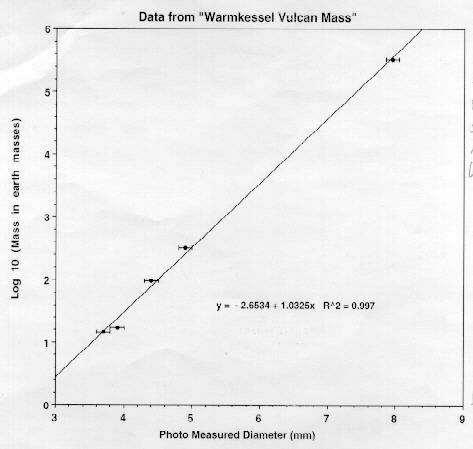 Figure 6. A Mathematical Fit Of The Diameters Of The Jovians And The Sun Against The Logarithm Of Their Masses.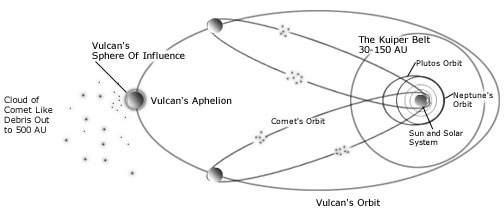 Figure 7. Vulcan Draws In Kuiper Belt Comets From That Fragment Into Swarms Rounding The Sun.

Figure 7 shows these Vulcan related swarms. They are labeled A' & A and B' & B respectively. A rogue swarm C is also present. Their periods (~3313 years) are about are two thirds that of Vulcan's, but vary slightly due to Vulcan's distant presence. The 3:2 resonate orbit means that the comets orbit the Sun three times every time Vulcan orbits it twice. Thus, for an interval of every three comet revolutions, or two Vulcan revolutions, the celestial geometry modifying the periods of the distant comet swarms is the same as before. This interval is theoretically 9938 years, two times Vulcan's theoretical 4969 year period.

Table 4 illustrates that Earth has been the victim of many impacts in the recent past. Major comet/meteorite impacts cause significant weather changes and cause the collapse of civilizations. The most notable events are Noah's Great Flood (~3195 BC) and the Atlantis disaster (~9,703 BC). The comets/meteorites may not be visible until they hit the atmosphere as their volatile ices may have been cooked away during their many passes around the Sun.

Comet impact generated climate changes offer indirect evidence that verify Vulcan's theoretical period when the 3:2 resonance effect is considered. An interval of two theoretical Vulcan (4969 year) periods is required to maintain the same celestial geometry otherwise Vulcan's gravitational force slightly changes the comet swarm's period. The 9938 year interval has been measured to be accurate to within a year for two A Swarm Cluster 1 (A:Cl-1) impact events spaced two Vulcan periods apart. The measured value was found to be exactly 9939 +/- 20 years. However, the second event was a minor one as the major bolloid appears to have hit during the earlier event. A similar value of 9919 +/- 32 years is measured for the B:Cl-2 cluster that initiated the Younger Dryas period.

Indirect evidence is also available from giant comet 2000 CR105's average orbital period. CR105 is a member of the exclusive Extended Scattered Disk club containing only a few distant objects whose perihelion's are too far away from Neptune to be influenced by it. Unlike the Earth threatening comets, CR105 is a virgin comet whose motion is never influenced by the known planets. CR105 offers the elusive astronomical evidence that reveals Vulcan's existence and this is tantamount to discovering Vulcan. Including Vulcan's mass and orbit in the solar system, CR105's average period is 3319.3 years (3316.7 years without Vulcan). Multiplying by 3/2 gives Vulcan's period of 4979.0 years, ten years off the theoretical 4969 year value. Moreover, other scatter disk objects, like 2001 FP185 (3433.7 years) and 2002 GB332 (3234.2 years), appear to be in a similar 3:2 resonance and 1999 DP8 (1246 years) in a 4:1 resonance with Vulcan.

It is statistically certain that these intervals/periods are in the predicted resonant relationship with Vulcan's orbital period. The probability that CR105's orbital period is associated with Vulcan's theoretical period in a resonate relationship is 77% - 83%. The same probability for the A:Cl-1 impact events is 97% and for the B:Cl-2 events is ~57%. The B Swarm clusters are multiple and a little confusing. Any probability > 40% means that the two physical quantities are related.
Table 4 - Past Significant Climate Changes
Past Comet Strike Dates For The Five Comet Swarms
Observed Date
Years Ago#
Swarm A, A'
B, B' or C
Cluster
Delta*
Cluster Pre
Post Aphelion **
Event
289, 320
510
B':Cl-2
B':Cl-1
237 - 278
-
Small Strikes 1680 - 1700 AD?
Mahuika Crater, New Zealand tsunami 1422 or 43
882
1120
C:Cl-2
C:Cl-1
238
-
Water, China Strike
Tree Ring Data 880 +/-5 AD
1464
A:Cl-2
300
-
Dark Ages Start Two-stage event after Comet of 531 AD Exploded Near The Sun.
1584
1764
Volcanic
A:Cl-1
-
-
666
Volcano
Volcano or Comet dust
2044
Comet dust
-
-
Caesar's Comet
2207
2430
A':Cl-2
A':Cl-1
223
-
Volcano or Comet dust
Volcano or Comet dust
2785 to 2838
3159
B:Cl-2
B:Cl-1
374 - 321
843 - 790
740
Global Climatic Boundary
Exodus?/Bronze Age Collapse
3370
Volcanic
-
-
Volcanic dust
3582
?
-
-
Joshua Impact Event 1582 BC?
3628
3899
B':Cl-2
B':Cl-1
271
-
Comet - Deucalion Flood
Comet - ?
4020
Volcanic
-
-
Volcanic dust
4195?
4344 - 54
C:Cl-2?
C:Cl-1
149
-
Sodom/Gomorrah sulfur found - 2195 BC?
Global Comet Event
4772
Volcanic
-
-
Volcanic dust
5006
5195 5201
A: Cl-2
A:Cl-1
189 -195
~ 544?
S. Africa Strike
Noah's Flood
5550

A':Cl-2
-
-
Oldest Societies 3500 - 3600 BC
6370
B
-
-
Tree Ring Data 4370 BC
7000
B':Cl-1
-
-
Water Strike/Black Sea Flood
7600
C:Cl-1
-
-
Cold Dry Period
8060
8230

A:Cl-2
A:Cl-1
170
-
Volcanism/Mini Ice Age
8550
A':Cl-2
-
-
Global Climate Change
9350
A': Cl-1
-
-
Global Climate Change
9797-9907
9946
B:Cl-2?
B:Cl-1
-
-
Strikes/Volcanism - Five dates from Copenhagen; 7797 BC, 7812 BC, 7878 BC, 7907 BC, 7946 BC
10350
B':Cl-1
-
-
End Of Last Ice Age
10850
C:Cl-2
-
-
Global Climate Change
11320
11703
A Cl-2
A:Cl-1
383
-
Younger Dryas Exit?
exact ice core data. 9,703 BC Atlantis impact event, Younger Dryas Exit?
12220
A':Cl-?
-
-
Younger Dryas Event?
12,729
13230
B:Cl-2
B:Cl-1
501
-
exact ice core 12,679 BP
13.18 kyr BP ( Bolling/Allerod)
13650
B'Cl-2
-
-
Younger Dryas
14235
14,700
A:Cl-1
A:Cl-2
375?
-
Huge pulse of freshwater drained from continental ice sheets ice core
Goughs Cave (Cheddar) radiocarbon

*Cluster Delta, = one turns before, the other after Vulcan. ** Cluster Pre/Post Aphelion = one forms before, one after Vulcan's aphelion. # before 2000 AD
Humans became sentient about 55,655 to 55,680 BC near an Ice Age thermal minimum. Then it got colder. The climate did not begin to warm up until 15,000 years ago. Sir Fred Hoyle, Britain's royal astronomer said: "The next ice age is not specific problem of the distant future. Besides wiping out a considerable fraction of those now alive, it would leave a wan, grey future from which the survivors and their descendants could do nothing to escape." He proposed that meteors (or comets) strikes are responsible for both the rapid onset and termination of Ice Ages as well as the variations of global ice levels found in the Pleistocene.

The climatic change data provided by the Center for Ice and Climate, offers data showing at least five major weather changes about ten thousand years ago.
7946 BC + 9938 = 1991 AD +/- 24 years
7907 BC + 9938 = 2030 AD +/- 23 years
7878 BC + 9938 = 2059 AD +/- 23 years
7812 BC + 9938 = 2125 AD +/- 23 years
7797 BC + 9938 = 2140 AD +/- 23 years
These are thought to be associated with the B swarm that threatens Earth this century. If these comet clusters remain potent weather changers, the odds are that that a significant weather changing event will occur in the next six years, or before the close of 2015. The 8 October 2009 Indonesian 10 meters meteor exploding in air with the force of 50,000 tons of TNT could be the first major strikes from the returning first cluster of the B-swarm. Significant weather changes have appeared since October 2009. A major impact can cause the collapse of civilization as we know it.

Figure 8 contains an image of Crop Circle T367. Note that the planets depict a planetary positions that seem to relate to late February 2007 and that the Earth appears missing from its orbit seeming implying that it will be destroyed (impacted by one of the objects labeled 2 - 5; comets?).

It is interesting that in this crop circle, the Sun is offset from a cleared central region. The offset is in the opposite direction of IRAS 1732+239. Considering Vulcan to be near aphelion, 448 AU, simple mathematical projection implies it is about half the mass of Jupiter. Vulcan's high inclination is not alluded to here implying that this crop circle is to be considered a 'cartoon' and not a 'photograph' of the physical situation.

The threat periods assume that the comet debris round the Sun before threatening Earth. Notable fireball activity/meteorite fall has been observed during the threatening thirteen day long periods. This activity is thought to be precursor debris to the main massive objects. The dates of concern are:
2010, 2011 AND 2012 THREAT LEVEL
#1 IMPACT THREAT: 07/05/ +/- 6 days.
#2 IMPACT THREAT: 08/12/ +/- 6 days
#3 IMPACT THREAT: 09/09/ +/- 6 days. ?
#4 IMPACT THREAT: 10/07/ +/- 6 days The WISE Infra-red comet and asteroid detector was launched in December 2009. This Infrared Space Telescope "is really good at finding the darkest asteroids and comets" like "dark asteroids that may be former comets that have long since had all the ice vaporized from their exteriors, leaving them with inactive surfaces that no longer shed dust to produce tails." It will be active until late October 2010, when the mission is slated to end. The space telescope is expected to complete its first all-sky map survey during the first six months of its mission. It can track and warn of meteors and comets that could threaten Earth between July 2010 through the October 2010, just the interval warned of by crop circle T367. The WISE dark comet detecting satellite runs out of coolant by October. Its broad field search ends by July. The dark comets will be warmed by the Sun for 5 months before they threaten Earth increase their visibility.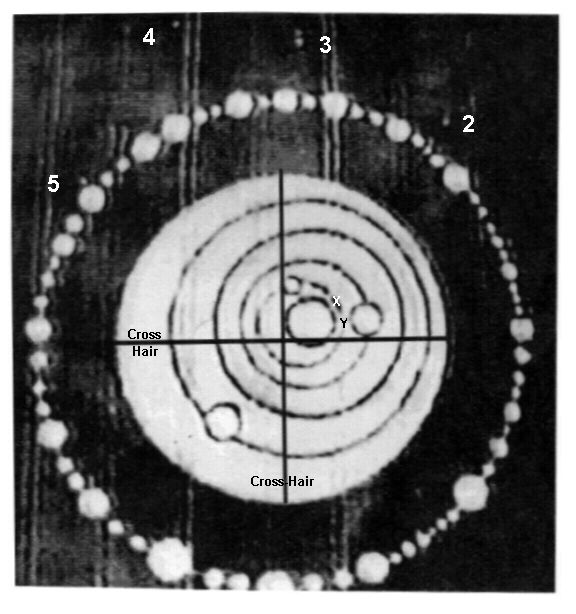 Figure 8. Crop Circle T367 - The Solar System - Indicates Four Threatening Impact Times.