MYSTERIOUS PLANET X
Civilian scientific consultant to the U.S. Air Force (1948/49-1969) i.e. 20 years. He began as a debunker of UFO sightings, however he discovered there was what he felt were a significant percentage of these reports which he could not explain. He became convinced they deserved further study by the scientific community.
A photocopy of the November 1982 Science Digest Article - Mysterious Planet X depicting both planet X and a Brown Dwarf Star in our solar system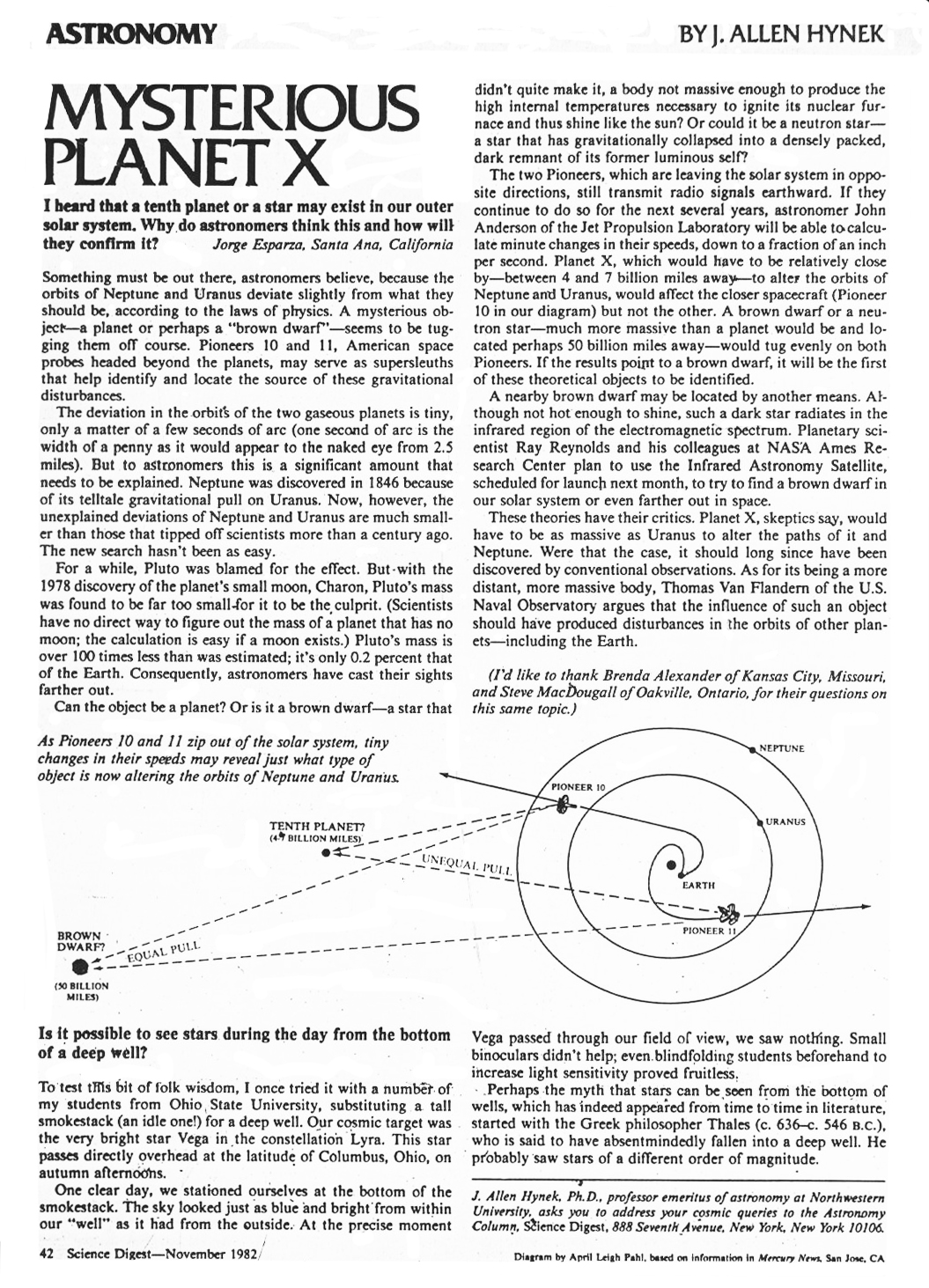 KEY EVIDENCE, FROM A CHILDREN'S ENCYCLOPEDIA!
One of the more amusing pieces of evidence for the existence of Planet X is a picture from the 1987 New Science and Invention Encyclopedia. In a section on space probes, the encyclopedia shows the paths of the 2 Pioneer probes and illustrates how the probes were used in the search for more planets. It shows the Earth, the Sun, a dead star (at 50 billion miles or 538 AU) and a tenth planet (at 4.7 billion miles or 50 AU).
With the discovery of Xena (2003 UB 313) whose orbit varies from 36 to about 97 AU, the image is a reasonable fit to Xena's position. This Vulcan web site carries Vulcan aphelion at 41.6, not 50 billion miles.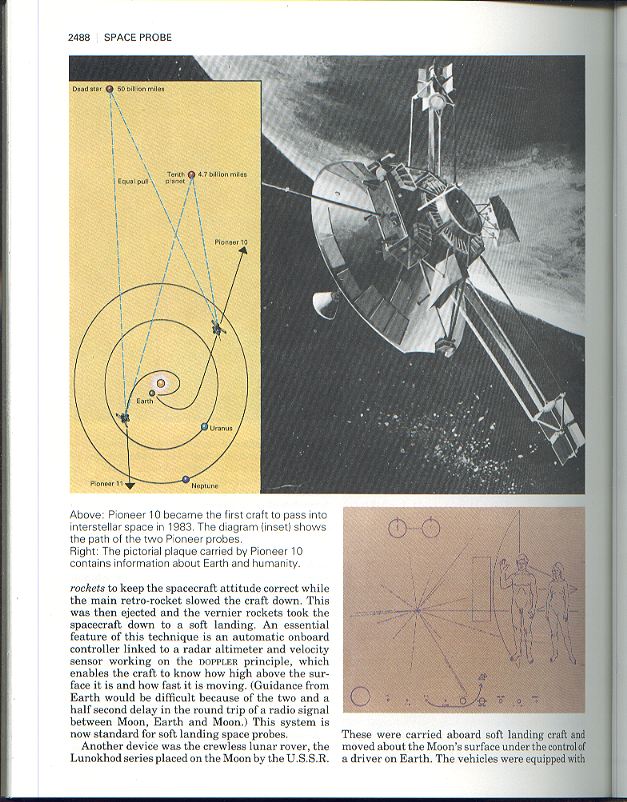 Nearly all binary stars orbit each other in fairly elliptical orbits. Some of these support a 3:2 comet resonance as does our dark star Vulcan. See comment two by our orbit analyst. Here three or four of our nearest ten star systems support such a resonance. Any astronomer skilled in celestial mechanics would be aware of this possibility. So the existence of a 'brown dwarf'or 'dead star' in our solar system implies a nominal 40% chance that the inner planets of our solar system would be subject to bombardment by comet swarms in resonate orbits. However, most of these star systems are close together, so the comets in resonate orbits would be rapidly swept out of these solar systems by a variety of means. However, in our solar system, the 'brown dwarf' star draws Kuiper belt bodies into the inner solar system. These bodies crumble rounding the Sun producing comet swarms. These comet swarms would stay around for several million years. Some of these comets would impact Earth causing massive natural catastrophes. The above illustration clearly associates the 'tenth planet' with the 'brown dwarf' star that in turn indicates Earth's vulnerability to natural comet impact catastrophes. This may be why the existence of 2003 UB 313 was kept secret.
The following are PHOTOCOPIES OF NEWSPAPER articles reporting the discovery of a Jupiter sized planet (Our Vulcan) 50 billion miles away.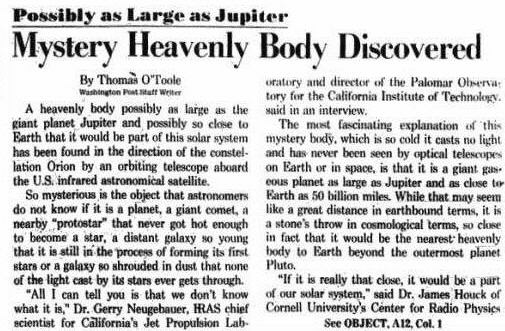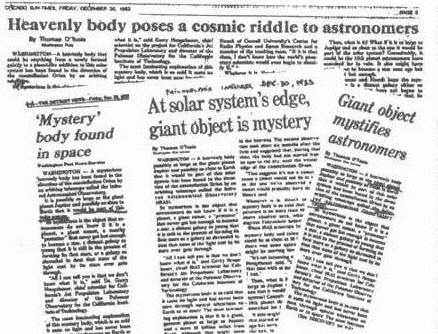 THE WHISTLEBLOWER
In a recent unrecorded conversation with us, not yet reported on our site, Henry confirmed the existence of the "Dark Star", and that its reality had been deduced by American military astrophysicists because of the need to account for certain gravitational anomalies that had been observed. (He mentioned the Pioneer spacecraft, for instance.) This is very important: the "Dark Star" is fully known and understood in the "black world". When he told us this, we immediately realised how extraordinarily important this was.
This observation appears to be valid. See:
IS IRAS OBJECT 1732+239 NEAR VULCAN? - CIRCUMSTANTIAL EVIDENCE
"Henry went on to explain that this was linked to Dan Burisch's testimony and to the 2012 problem. Again, he was citing real-life feet-on-the-ground "black physics", and NOT esoteric knowledge. The Dark Star (he did not mention whether it had been named, and we neglected to ask) has an extremely elliptical orbit
This observation appears to be valid. See:
SUMMARY: VULCAN'S NEW ORBITAL PARAMETERS Its in the C"EV orbit.
And
THE 2006(7) AND 2012 STRIKE DATES
"The problems started a few years ago when the current approach of the Dark Star began to create resonance effects on Sol, our own sun. Kerry and I presumed these resonance effects are electromagnetic in nature rather than purely gravitational, but again we didn't verify this. This, crucially, is what is causing the current increase in solar activity, and the rapid heating up not only of Earth (as in global warming), but of every planet in the system."
This observation appears to be valid. See:
ANALYSIS - PHYSICAL DATA IMPACTING CANDIDATE VULCAN ORBITS
It rotates the core of the planets causing a heat pulse to arrive some years later. For Earth this happened in 1970 and the big heat pulse finally hit the oceans circa 2005 causing lots of hurricanes, rain, etc.
It's now approaching, and NOAA knows that this is the indirect cause (triggering increased solar activity through complex forms of resonance) of the heating of all the planets, not just ours. They factor this data into all their supercomputer weather forecasting calculations. [Note: the big question is why all this has been hushed up. Henry can speculate as well as we can ?bad news on the way? ?but he did not know for certain.]
This observation appears to be valid:
See above hyper link. It past aphelion in 1970 and is now inbound. But it never gets near the known planets. The "bad news" is that it forms comet swarms in a 3:2 resonate orbit and we are due for a passage of several clusters of this swarm this century. Also See:
NEAR MISSES AND POSSIBLE IMPACT EVENTS SUMMARY