MANKIND HUMBLED AND MINDFUL OF THE SKYS
29: Phaeton's legend continues for a while. - A
30: New Ice Age alien arrival. - D
31: Aliens teach mankind how to live. - D
The Bible Code's 2006 And 2012 Strike events are clearly discernable in Mother Shipton's Last Prophecy. Its hard to imagine how she could have obtained this material without the aid of a computer. However, the Izapas managed to get the second strike date, but they may have been descendents of Israel and brought knowledge of the Bible Code with them to the "New World" 600 years before Christ (as Mormon doctrine proclaims). The computer processed Hebrew Pentateuch and 1995 T367 crop circle data are the current source of the earlier (2006 - 2007) date. Further, it is of great interest that Mother Shipton indicates that this threatening comet swarm has visited Earth six times before, a value consistent with the six comet strike event dates listed on the index (front) page of this web site.
Inspecting Table 5 yields information that the first strike is (at least in part) a water strike. Prophecy 10 discusses tsunamis, prophecy 11 suggest several volcanoes awakening, prophecy 12 indicates earthquakes and 13 discusses massive rains and floods. It is logical that water strikes would produce tsunamis and vaporize massive amounts of water which would then fall as rain. Prophecies 14, 15 and 16 suggest that this will happen in a populated area. The Pacific Northwest coast of the USA, Japan and the Mediterranean basin come to mind as possible locations that would satisfy these prophecies although large island nations in the Pacific (like Indonesia) offer possibilities. Mother Shipton's first Comet Strike in Table 5 correlates well to the Bible Code's 2006 "Star-like object - Its path struck their dwelling" indicating a long fragmenting comet impact path over water.
Little is known about the second comet strike except that it may be from a comet crumbled by the Sun and striking in the Southern Hemisphere. This crumbling process may destroy the ability to accurately predict where it (or its fragments) will strike. Shipton offers the consequences of the second strike. Prophecies 21, 22, 26, and 28 indicate that this strike results in the world turning cold and the beginnings of a new Ice Age. Water seems to be leaving the sea to lower the sea level exposing the sea-bed. Presumably, this is because the latent heat in the ocean's water causes it to rain out, freezes on land and enlarges our glacier ice cap. This comet's impact apparently is of sufficient strength to cast much debris into the atmosphere. Then, much of the Earth's atmosphere will remain permanently glazed over with a cloud of ice crystals, Sir Fred Hoyle's so- called diamond dust, reflecting more sunlight and giving the Earth less heat. The micron-sized debris particles would remain aloft for about ten years exhausting the ocean's supply of latent heat. The oceans normally produce rain, and heat released by the rain normally keeps these ice crystals at bay. But when the ocean's supply of latent heat is exhausted, these ice crystals will remain in the atmosphere for thousands of years, returning us to an Ice Age. Earth has spent the better part of the last 2.4 million years locked in the Pleistocene Epoch known as the Great Ice Age. By comparison, man (Neanderthals, Homo Sapiens, etc.) have developed over the last 300,000 years. Thus, the last comet strike must come about ten or more years before 2026 (the end of Shipton's prophecy) because her prophecy 27 (survivors live among the dead), 28 (frozen vegetation) and 30 (an alien arrival) indicates that a new Ice Age begins before her final date (2026). Thus, the comet strike must occur around or before 2016, and this date fits the Baseline Scenario well.
Equally reasonable, and equally disturbing, is Shipton's description of the human actions that accompany these events. Humanity, waiting too late to prepare for the impacts, fight among themselves for survival.
During the middle of the sixteenth century, Mother Shipton generated a set of prophecies that have since been "verified," at least to some degree. See Appendix A. Table 6 summarizes one evaluation of these 46 prophecies along with a letter "grade" classifying each interpretation. It is interesting to notice that the only known failure was of the one pertaining to herself. At one time during her life, she feared being burned at the stake.14 It is reported that she later correctly prophesied the year of her own death.
Table 6
Summary Of Mother Shipton's Verified Predictions
#1 Widespread diffusion of literacy. - A
#2 Automobiles, traffic accidents. - A
#3 The Church Of England. - B
#4 Radio, telephone. - A
#5 Hydroelectric Power, irrigation. - A
#6 Vague. - D
#7 Mountain Tunnels. - A
#8 Submarines. - A
#9 Airplanes, airborne military. - A
#10 Mathatma (great soul) Gandhi - an avatar? - C
#11 Iron ships. - A
#12 California, Alaska etc. gold rush. - A
#13 legal admission of Jews to Parliament. - B
#14 Benjamin Disraeli. - B
#15 The Crystal Palace - B
#16 World War I. - C
#17 USA Civil war. - B
#18 USA springs from England. - A
#19 The French Revolution. - B
#20 British/French allies WWI/WWII? - C
#21 NATO or the Common Market? C
#22 Engineering great bridges and tunnels? - C
#23 Women's fashions, they will have short hair and ride side saddle. - A
#24 Mechanized agriculture. - A
#25 Commercial air travel & business. - A
#26 Woman's lib. & low birth rate. - A
#27 Pedophiles. - B
#28 Heinous greed-driven capitol crimes? - C
#29 Drug addicts secretive. B
#30 Robots, mechanized assembly. - B
#31 Most current politicians blab & lie? - C
#32 The cold war's Mutually Assured Destruction. - A
#33 Massive tax rates enforced. - B
#34 Maybe 1980 - 2000? - C
#35 Mount St Helens, etc.? - C
#36 Vague. - D
#37 Christian fighting in Ireland and elsewhere. - B
#38 Chinese weapons from USSR. - A
#39 Allies and Communist block. - B
#40 The cold war. - B
#41 AIDS & HIV+. - B
#42 Humanity will find her prophecies. - A
#43 Who will find her prophecies? - C
#44 The printing press. - A
#45 Shipton expects to be killed. - F
#46 Movies & Television. - A
Almost 75% of Shipton's past (verified) prophecies are clear (Class A or B) prophecies and only 6% are vague or have failed. All but four of her upcoming Comet Strike prophecies (Last Prophecy) represent a reasonable description matching the Baseline Scenario of two comet strikes that could easily throw our planet back into an Ice Age.

How valid are Shipton's prophecies? A hoaxter15 who published Shipton's versus in 1862, Charles J. Hindley, has caused accusations of "Predicting The Past" by Revilo P. Oliver. However, radio, automobiles, mechanized agriculture, submarines, aircraft and Movies/TV were certainly not widely known and likely not even imagined (although a submarine and balloons were used in the US's civil war). In 1873 Hindley admitted having forged a rhyme that claimed the world was going to end in 1881 and crediting it to Mother Shipton. Presumably, he needed it to make his book more marketable. Most modern sources of Shipton's work have sought to eliminate such versus.

But worse then the forgeries was the reported withholding of Mother Shipton's Prophecies from the general public.16 They may be related to the impending (agonizing) mass death of half (or more) of humanity by protracted war and starvation - during our generation. And even worse than this is the deliberate obscuring of extraterrestrial alien contacts and their warnings of impending comet strikes. The only written communications we may have from the aliens is in script form. Crop script was spelled out to say that they are opposed to "cunning and "deceit". This is found in the one and only "crop script" which was formed in a manner similar to that of the T367 crop circle17. Are they implying that some of the powerful among us are cunning and deceitful? Possibly so, because the only official who really alerted us to the possibility of a giant meteoroid induced catastrophe (surprisingly occurring about every 10,000 years as estimated in section 2.3) was Sir Fred Hoyle, the British Royal Astronomer, in his (poorly edited) book "Ice The Ultimate Human Catastrophe".11 Being British, he may have known of Shipton's prophecies. Publication of this book may have been quite an act of courage, but then, he is a knight!

The large number of A-class prophecies add up to the fact that either Shipton's prophecies are a present day hoax or she was an excellent prophet. Data from the World Wide Web indicates that her work was published in 1684 and 1862 implying that her material is credible.15 But remember the alien warning concerning human "cunning and deceit". No real new information is added by her prophecies and this seems disturbing. However, there are so many of Shipton's verified prophecies. If they are not a hoax, the comet strike predictions are highly likely. If they are a hoax, why does her dual comet strike prophecy (the Last Prophecy) fit the Baseline Scenario so well? In either case, something seems amiss. The alien allusion to human "cunning and "deceit" certainly seems applicable, and perhaps sinister.

Not only are the sum totals of Mother Shipton's Verified Prophecies viable, but her Last Prophecy correlates well with the Baseline Scenario, data from selected mediums and even geochronological evidence indicating that the oceans recede during Ice Ages. Shipton's "Last Prophecy" covers a time period up to 2026, with the comet strikes likely occurring before 2016. These events conclude with the arrival of aliens to aid (or dominate) mankind. Some sites see the aliens as malevolent, others (plus one by one of these authors) see hope that they may be benevolent. Did we refuse their help in destroying the comets?. An Ice Age as well as a New Age seems to be prophesied, with much of the present human political and physical infrastructure wiped away. Those who survive will define the tenor and quality of the future human race.

It is hard to believe that there has ever been a prophet as good as Mother Shipton. That is why her material has sometimes been considered a hoax, and it may be. However, it is even harder to believe that it is a hoax when her Last Prophecy coincides so well with the Baseline Scenario (which is further supported elsewhere on this web site). If Shipton's Last Prophecy is a hoax, someone has undertaken a substantial effort to make it appear consistent with other data warning of two comet strikes in the immediate future. Whatever the case may be, the alien warnings of human "cunning and deceit" seems warranted.

Nostradamus wrote most of his quatrains (four line verses) purposely obscure. Being a French Jew, he may have believed that he could be subject to persecution by the Catholic church. Such hardly seems unreasonable at a time when people were burned at the stake for witchcraft. Nevertheless, of his thousand plus quatrains, a few (about thirteen) and others of his writings can be isolated as being related to an impending comet strike. These are discussed in Appendix A of the 1999 Paper found on this web site. The translations of the eight clearest of the thirteen strike related quatrains are listed below. The particular "Century" (group of about 100 quatrains each) is denoted by a Roman numeral and the quatrain within it is denoted by an Arabic number.

Only one of his quatrains denote the time of this event.



II/46:
After great human misery, a greater one approaches,- The second strike after the first
The great motor of the century renews: - The millenium begins
It will rain blood, milk, famine, iron and pestilence. - Comet strike related.
In the sky will be seen a fire, dragging long sparks.- A fragmenting meteoroid.

Just as the millenium begins, human misery from the first comet strike will precede the second strike. The first comet's debris cloud strikes, rains iron meteoroids and forms red or rusty like material (blood) as well as a (milk- like) hydrocarbon material.18 Famine results from the climate change. Disease (pestilence) arises from mutations of bacteria and virus when the Earth's magnetic field falters due to the strike and the Van Allen belts are no longer held at bay. A (flaming) meteoroid is seen with fragments (sparks) breaking off and burning.

Nostradamus obscured his quatrains, but the locations he named are known. For example: I/69 and VIII/16 clearly indicates that a water impact is anticipated. The locations can be shown to fall into two major groups. Group 1 includes quatrains I/69, II/46 (see above), III/10, VI/6 and VIII/16.

I/69:
The great mountain, 4247 feet in circumference, - A 412 meter diameter meteoroid.
After peace, warmth, famine, flood: - After a severe El Nino?
The impact will spread far, drowning with great contradictions [or oscillations],
even ancient objects and their great foundations. - A big tsunami washes ashore.

This indicates that a mountain-like comet/meteoroid will strike the sea causing a tsunami that sweeps fourth inundating ancient (Greek and Roman) buildings. Ancient buildings near the sea in South America were generally unknown at the time. Sir Fred Hoyle estimates that a strike by a 300-meter meteoroid could result in a new Ice Age11 and Nostradamus estimates the size of one of the fragments that strikes the Mediterranean sea at just under 500 meters.

VIII/16:
At the place where JASON had built his ship, - HIERON, a cryptogram for IESON (i.e. JASON)
There will be such great and so sudden a flood,
That one will have nowhere on earth that was not attacked
The wave mounts the Olympic Fesulan.

This is Nostradamus' description of a great tsunami caused by the comet strike in Aegean sea (where JASON of the Argonauts built his ship). The tsunami may sweep over Mount Olympus at 9570 ft., or just inundate nearby Fiesole, Italy that is at 970 ft.

VI/6:
There will appear towards the seven stars - Maybe The Pliedes or Ursa Minor & Polaris
Not far from Cancer, the bearded star: - A comet
Susa, Siena, Boeotia, Eretria, - four Mediterranean locations along a straight line
Great Rome will die, the night disappeared. - The sky alight, Rome destroyed.

A comet is noticed in the sky. It is associated with the destruction of Rome. Others have noticed that four places found in this quatrain fall along a narrow straight line about a thousand miles long.19 This fits Mother Shipton's first comet strike description well since volcanoes lie along this path.

III/10:
Greater calamity of blood and famine - Famine after the strike.
Seven times it will advance toward the marine shore: - Seven waves hit the shore.
Monaco, from hunger, place captured, captivity, - Monaco starved into submission.
The great leader is crushed in a metal cage. - A great leader crushed in a metal bunker.

After a time of famine, fragments of a comet strike. Seven tsunami's from the seven comet fragments strike fall into the sea. A fragment kills a great leader in a metal bunker. Monaco is overrun by starving people.

Group 2 impact events include quatrains I/46, II/81 and V/98.

I/46:
Very near to Auch, Lectoure and Mirande, - Three towns in southwest France.
Great fire of the Sky in three nights will fall; - Fire in the sky falls 3 nights after first seen.
which will cause a stupendous event to happen - The fire's fall causes a big event.
A short while after the Earth will tremble. The fire's fall causes an earthquake.

A comet is seen in the sky for three nights before it strikes. It explodes in the air and some of its fragments hits around three towns in Gers county, France.

V/98:
At a latitude of 48 degrees climatic [things]. - In Northern (France?)
At the end of Cancer so great [is the] drought: - Drought in mid July
Fish in the sea, river and lake boiled hectic, - Bubbling and boiling waterways
Bearn, Bigorre the sky in distress from fire, - fire falls from the sky in southwest France

A stupendous event occurs in mid July during a drought in northern France. Organic ices from an exploding comet burn as they enter the atmosphere and bubble when they fall into the sea, river. and lakes. The bay of Biscay is near the extreme corner of southwest France (which is denoted by Bearn and Bigorre counties).

II/81:
Through fire from the sky the city is almost burned. - Meteoroids hit a city
The urn menaces Ceucalion once again. - A great flood like Noah's
Sardinia is vexed by the Punic "fuste". - An island west of Italy.
After that Libra will abandon his Phaeton. - A comet cluster departs a constellation.

A comet/meteoroid fragment or its associated debris field may destroy Rome (see VI/6) or Athens (see VIII/16). Ceucalion may mean Deucaion, the Greek name for Noah and the "urn" refers to the urn of Aquarius, the Water Bearer, that brings a flood. Punic is synonymous with treachery and fuste is a galley (ship), thus Sardinia may be troubled by this treacherous vessel (or cluster of comets). Phaeton (alias Marduk) is the ancient name of the comet cluster and Libra refers to the constellation which lies nominal celestial direction from which the comets leave (RA 222o to 240o, Dec. 25o +/- 15o S). Phaeton/Marduk seems to be the cluster from which the comet that impacts Earth springs from. Tiamat, the first cluster arrives from the northwest at Heliocentric Longitudes ranging from 103o to 195o and would round the Sun and leave at roughly the same direction. Likewise Phaeton/Marduk would arrive from the same general direction and depart from southerly declinations at the same nominal RA. This quatrain seems like a reasonable description of the Phaeton/Marduk departure.

Long ago, Zechariah also seemed to describe a meteoroid impact, although through the ages it has not remained as clear as the Nostradamus description. Zechariah Chapter 14, verses 4 to 8 are as follows (taken from the NIV translation of the Holy Bible):

Verse 4: On that day His feet will stand on the Mount of Olives, east of Jerusalem, and the Mount of Olives will be split in two, from east to west, forming a great valley, with half the mountains moving north and half moving south.

Christ has already stood and preached on the Mount of Olives and it has not split. Christ standing on the Mount of Olives and it splitting are not simultaneous events. Something will split the Mount of Olives. This could certainly occur from a comet or meteoroid strike at this location.

Verse 5: Main translation:
You will flee my mountain valley, fore it will extend to Azel. You will flee as you fled from the earthquake.
Alternate translation (see the verse 5 footnote in the NIV Bible):
My mountain valley will be blocked and it will extend to Azel. It will be blocked because of the earthquake.

The alternate translation makes more sense. In other words, there will be massive debris from the impact covering a mountain valley (from Jerusalem) to Azel.

Verse 6: On that day, there will be no light, no cold or frost.

On that day, dust will block out the sunlight but it will be warm from the energy released by the meteoroid impact.

Verse 7: It will be a unique day, without daytime or nighttime - a day known only to the Lord. When evening comes, there will be light.

This is a catastrophic day. While people may not be able to see the Sun and Moon, there may be light from the ensuing volcanic eruption. Therefore, this verse fits Shipton's verse 6, prophecy 12A well and associates it with her first comet strike.

Verse 8: On that day, living water will flow out from Jerusalem, half to the eastern sea (The Dead Sea) and half to the western sea (The Mediterranean) in summer and in winter.

Lava flows out of the impact zone for more than half a year. See Revelation 9:1-2.

Nostradamus' and Zechariah's biblical impact points are listed below in Table 2.


Table 2
Group 1: The Nostradamus & Zechariah Impact Path
| | | |
| --- | --- | --- |
| Quatrain | Place | Latitude Longitude |
| VI/6 | Susa - Italy/France Border | 45.0N 7.0E |
| VI/6 | Siena - Tuscany Italy | 43.0N 11.3E |
| VI/6 | Eretria - Greece | 38.2N 23.6E |
| III/10 | Monaco | 44N 07E |
| VI/6 | Boeotia - Greece | 38.5N 23.5E |
| Zechariah 14:4 - 8 | Mount of Olives | 32N 35E |
One may suspect that Group 1 describes path of fragmenting comet impacts because in quatrain VI/6; (1)a comet is mentioned, (2) the places described lie in along a linear path and (3) the destruction of Rome is mentioned. Monaco in quatrain III/10 falls on this path. Jerusalem also falls directly along Nostradamus' IV/6 comet related line of destruction. Thus, it seems reasonable that Zechariah is describing the comet's residual solid core impacting near Jerusalem on the Mount of Olives. The only other possible description of Zechariah's prophecy is a massive nuclear explosion. But it is unreasonable that a nuclear explosion would lie along Nostradamus' comet related line of destruction. Nostradamus and Zechariah seem to be describing the same fragmenting comet strike event. They both appear to be related to Shipton's first comet strike.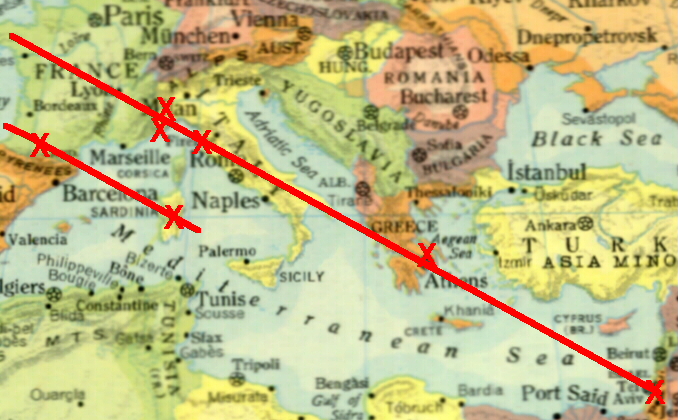 Figure 4 . The Nostradamus/Zechariah Comet Strike Plot
A plot of the locations indicated by Nostradamus (in quatrain VI/6) and Zechariah (14:4 - 8) is offered in Figure 4 . Nostradamus' VI/6 and Zechariah's points define a long narrow straight line spanning 1,700 miles across the Mediterranean basin. This comet strike is presumed to be, at least in part, a water strike, such as is described in I/69 and VIII/16. As such, it ejects much vapor and debris into the atmosphere. Massive rains occur as this moisture condenses out of the atmosphere, nucleating on the microscopic debris particles blasted into the atmosphere. Quatrain II/46 also describes a fragmenting comet or meteoroid and the date of this event is just after the beginning of the next millenium (2000 AD).20
The Nostradamus/Zechariah impact event seems similar to the first one described in the Bible Code. Its 2006 event (maybe closer to March 2007 per T367) has a distinct "path" as does this one. Additionally, VI/6 suggests that the comet first appears star-like towards "the seven stars". Note that 2006 is just after the beginning of the millenium (II/46). This strike appears to impact both land and sea, so it is suspected to be the one Christ referred to in Revelation, Chapters 8 and 9.
A second line of comet strikes parallel the 1,700 mile long path. The regions affected are southwestern France and Sardinia. Both are near and parallel to the comet's main impact path. These may be due to small fragments that have broken off the comet earlier and may be where an exploding meteoroid strikes (similar to the Tunguska event). Thus, they are the size of a nuclear detonation. Nostradamus' I/46 indicates that the southern France event is stupendous and it causes the Earth to shake. But he does not indicate the presence of a comet. His V/98 quatrain seems to indicate debris (including organic ices) burning in the sky and bubbling (evaporating) in the water. See Table 3. But what are the chances that these first two events are related?
Table 3
Group 2: The Second Nostradamus Impact Path
| | | |
| --- | --- | --- |
| Quatrain | Place | Latitude Longitude |
| I/46 | Auch, Lectoure, Mirande | 43.5N 0.5E |
| V/98 | Bearn, Bigorre | 43.5N 0.5E |
| II/81 | Sardinia | 40N 09E |
The three Group 2 impact event contains just three quatrains. Moreover, two, I/46 and V/98 exhibit geographic correlation. This occurs because these two regions represent about 1/40,000 to 1/10,000 of the Earth's surface. The probability that they are the same location is at least 99.99%. Further, both I/46 and V/98 are describing a celestial event involving fire. While I/46 could be a military attack involving rocket fire, that would be inconsistent with V/98 and the "fish boiled hectic". This impact path is parallel to the Group 1 impact path. It is thought to be a major comet fragment exploding in the atmosphere. Its proximity to the Group 1 path leads to the most reasonable assumption that it is related to this same event. However, since there is a reference to "Phaeton" there still remains a possibility that it is related to the second comet strike. But since its path is so parallel with the other, it is likely just a piece of the first comet striking Earth, probably one breaking up in the high atmosphere or simply under Earth's gravitational tug. These fragments rain mostly on southern France and Sardinia.
Nostradamus' predictions suffer from his intended obscurity, and are more a subject for tabloid journalism. Zechariah's biblical predictions are likewise obscure, perhaps more due to their antiquity. However, these quatrain's and biblical verse's are certainly in step with the predictions of the Bible Code (possibly obtained from an extra-terrestrial alien source ) and the teachings of Christ.
5000 years ago, Vulcan probably would have strongly affected the orbit of these comets. After they rounded the Sun 3200 years ago and disappeared into the far reaches of our solar system, their orbits would have stabilized. Could space-mobile aliens predict a comet impact location 500 (or 2500) years before the strike? This is less than one orbital period with no large solar system object to restructure their stable Keplerian orbits. Certainly human scientists could predict the orbits, but the precise orbit definition as they neared the Sun would be more difficult to estimate. Current human scientists have no structural data on these comets, but the aliens might. Their models could be based on information taken from when the comets last rounded the Sun. By Zechariah's time, extra-terrestrial aliens could have accurately estimate the comet's orbits because they had been in the cold far reaches of space (no out- gassing) and because they had comet structural information (obtained from direct observations) that would aid in determining the comet's orbits as they neared the Sun.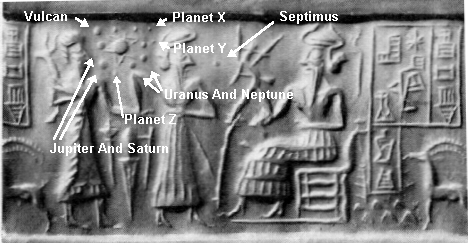 Figure 5. The Akkadian Seal.
The Bible Code's comet strike prophecies could be reasonably accurate because they could have been derived in a logical, not a divine, manner by alien scientists. Alien interaction with humans can be traced back to the Akkadian seal that was generated around 4500 years ago. See Figure 5. However, the Bible Code comet impact estimates (predicting strikes early in this millenium) were made some 3,500 years ago. Comet orbits are not perfectly stable, especially when one considers that these comets may have last rounded the Sun (a major celestial object) about 3200 years ago. The exact location where the first threatening comet might strike could not be known with any degree of precision at that time. However, a long fragmenting path could have been anticipated. Minor strike time corrections (up to a year or more) from the original Bible Code predictions could then be made. Further, impact location predictions after comet orbits stabilized in the far reaches of space could have also been made. Human calendar changes and the development of civilizations and cities throughout the Mediterranean basin also had to be determined. By 500 years ago, most of these locations would be firmly established. Jerusalem would still be where it had been from Zechariah's time. The late February 2007 Crop Circle T367 derived strike date could be an example of such a time correction. However, it must be acknowledged that even small changes (of a hour or less) in the comet's time of impact would greatly influence where a comet could strike the Earth. Estimated first comet strike locations could have also been made and transmitted by the frequently mentioned alien telepathic techniques to Zechariah, Mother Shipton and Nostradamus. However, the breakup of the second threatening comet rounding the Sun would still limit predictions of precise Southern Hemisphere strike locations.
The Nostradamus/Zechariah prophecies seem to tell of an impacting comet, fragmenting in the atmosphere, as it passes along a 1,700-mile path over much of the Mediterranean basin. At least a dozen major impact fragments are anticipated, with some fragments being almost 500 meters in diameter (implying a 1 km comet). A second, probably related comet fragment, follows a nearby parallel path and explodes over southern France and Sardinia. This fragment likely breaks loose as the main body nears the Earth or enters the high atmosphere. Multiple land and water strikes are envisioned, with some of the major fragments exploding in the atmosphere like the Tunguska event. These seem to correlate well with Mother Shipton's first strike due to all the water related activity she prophesied. It also fits well with the Bible Code's (2006) "The Year predicted for world," the "Star-like object" and the "Its path struck their dwelling" (a long fragmenting strike path). The 1,700 mile long Group 1 impact path fits this description well.
A definition of a Composite Scenario follows. Around 2006 to 2016, strikes from fragments of two separate comets are anticipated. The first involves a nominal one-kilometer diameter comet fragmenting into about a dozen major pieces, some about 500 meters in diameter. France, Italy, Greece and Israel are struck as well as parts of the Mediterranean Sea. Tsunamis, earthquakes, volcanic eruption and massive flooding occur. There are vast struggles among surviving mankind along with a terrible death toll, partly due to insurrections. Around a few to about ten years later, a second comet strike is in the Southern Hemisphere occurs and this one is the most severe. This comet appears to be crumbled rounding the Sun (such is often witnessed by astronomers) and an unknown number of (massive) fragments strike Earth (at unspecified locations). These strikes send Earth back into an Ice Age. The bulk of the human population is destroyed, likely due to relocation trauma, water deprivation and starvation. Survivors in the US Air Forces' nuclear hardened survival center in Cheyenne Mountain Colorado emerge to count the survivors.
Christ, The Old Testament, The Bible Code, Nostradamus, Shipton, extra- terrestrial aliens and even some famous astronomers and geologists have warned us of a possible catastrophic comet collision with Earth. But there have been many prophets of doom, yet the world is still here.21 However, there was one such prophet who was correct. 5000 years ago, Noah predicted one of the quasi-periodic catastrophes contained in the table found on our web site's front (index) page and he is still remembered because of it.
It can hardly escape notice that The Figure 2 painting (made around 1456 AD), Shipton (1488 AD - 1561 AD) and Nostradamus (1503 AD - 1566 AD) all occurred within about a century of one another. Within the next century, Kepler, Galileo, Newton (and his assistant Whiston) and Halley formalized the mathematics of celestial bodies and even realized the possible influence of comet strikes in causing Noah's great flood. Whiston believed that the London earthquake of 1750 was a sign of impending doom, though other considerations suggested to him that 1866 would be the year. Newton ultimately set the date at some time after the year 2000.22 The catastrophes cause by these periodic comet swarms, the nominal date of the next one and the celestial mechanics needed to rigorously define the problem was available in the 17th century. What a fortunate coincidence! By the 1990's we had launched satellites into the far reaches of our solar system and have hydrogen bombs capable of destroying comets. We have all the tools necessary to define the problem and save ourselves. Who do we have to thank? Christ, aliens, human mediums and prophets or all of them? Perhaps the aliens could destroy the comets now, but would we continue to ignore them never knowing if they did so. None have shown evidence of desiring a mass extinction of the bulk of humanity . . . but it has occurred several times before. This is our solar system and our world after all, and it may be up to us to maintain our home. The choices and their consequences are ours.
Notice the role of "fear" in Nostradamus' recordings of his visions. Had he not feared persecution, he may have made clearer prophecies. Similarly, greed (the fear of want or need) may have motivated Charles J. Hindley's forgeries related to Shipton's prophecies. The subtle forces of fear are responsible for most of mankind's misery and much of our ignorance. If the impending threat is valid and we do nothing to counter it, our fears may be responsible for an unprecedented loss of human life in the near future.
From our perspective, the long period comet swarms causing these catastrophes just "suddenly appear". Moreover, there does seem to be a convergence on the dates and circumstances predicted for the next impending catastrophe. Most of those who made these predictions are not available to take the credit (or blame) for them. The comet strikes these swarms cause are not "the end of the world". But if true, they could cause a catastrophe of such magnitude that most of us often want to just close our minds to imagining it. This is largely due to our stubbornness, our fear of change, which is humanities' most popular fear. We can act to avoid this possible catastrophe or just gamble (or hope) that it won't happen or take it on "faith" that Jesus Christ (or the aliens) will save us. The choice is ours. Any choice is correct; we just have to live with the consequences.
APPENDIX A

MOTHER SHIPTON'S VERIFIED PROPHECIES

Included are most of Mother Shipton's commonly understood verified prophecies. They are denoted by a # sign followed by the number itself. The reasonability of the individual interpretation of the prophecy itself is given by a letter grade found in Table 5.
And now a word, in uncouth rhyme - Introduction
Of what shall be in future time. - "


All England's sons that plough the land - #1 Widespread diffusion of literacy.
Shall oft be seen with Book in hand. - "


The poor shall now great wisdom know - "
And waters, wind, where corn (English: wheat. barley, rye and oats) did grow. - "
Great houses stand in far-flung vale - "
All covered o'er with snow and hail. - 25: The new Ice Age begins


A carriage without horse will go - #2 Automobiles, traffic accidents.
Disaster fill the world with woe. - "
In London, Primrose Hill shall be - #3 The Church Of England
in center hold a bishops sea. - "



By the mid 1800's the Lambeth Conference was meeting once a decade at the archbishop of Canterbury's residence in London. Here, Church of England issues all over the British Empire were resolved. The Pope (in Rome) orchestrates the world wide Catholic Church and is known as the Holy See. Likewise, London indeed "held a bishop's See". "Primrose Hill" is still unaccounted for, but there is the ancient (1250 AD) Parish church of St. Cuthberts on or near Primrose Hill in Halsall Village in Lancashire. See Appendix A; verse 4; #4.

Around the world men's thoughts will fly, - #4 Radio, telephone
quick as the twinkling of an eye. - "
And water shall great wonders do, - #5 Hydroelectric Power, irrigation
How strange, and yet it shall come true. Comment only.


Then upside down the world shall be - #6 Vague. Finance rules our life.
And gold found at the root of tree - "
Through towering hills proud men shall ride, - #7 Mountain Tunnels.
no horse or ass move by his side. - "
Beneath the water, men shall walk, - #8 Submarines.
shall ride, shall sleep, shall even talk. - "
And in the air men shall be seen, - #9 Airplanes, airborne military.
In white and black and even green. - "
A great man, shall come and go - #10 Mathatma (great soul) Gandhi.
for prophecy declares it so. - Comment only.



Gandhi is believed to be an avatar and, as such, is the "great man" of whom Shipton speaks. His title "Mathatma" literally means "great soul". Gandi is one of four transcendental soul avatars (the others are Mohammed, Socrates and Zoroaster). There are four infinite soul avatars (Christ, Buddha, Lao Tzu and Sri Krishna) The dates of manifestation of Christ, Buddha and Gandhi were used to define Vulcan's(our Sun's dark star companion) orbit in this work.

In water, iron then shall float - #11 Iron ships.
as easy as a wooden boat. - "
Gold shall be seen in stream and stone, - #12 California, Alaska etc. gold rush.
In land that is yet unknown. - "


And England shall admit a Jew, -
Do you think this strange, but it is true. - #13 legal admission of Jews to Parliament.
The Jew that once was led in scorn, - # 14 Benjamin Disraeli.
shall of a Christian then be born. - "



Benjamin Disraeli ( 1804-81), was not only a British statesman and writer but was the first Earl of Beaconsfield. He was the son of a Jewish father, Isaac D'israeli and Jewish mother. Benjamin as a young boy drifted away from the Jewish Faith and at the age of 13 years in 1817 was baptized a Christian. So he's a Christian bornof a Jew? When he converted to Christianity, he was ridiculed and scorned by his fellow politicians, but he proved to be a giant among men in his achievements.

Disraeli made four unsuccessful attempts to enter Parliament even though he was a converted Christian. He was eventually admitted to Parliament for the first time as a Tory in 1837. Refused office by Sir Robert Peel in 1841, he went in opposition to Peel, later being appointed to lead the party. For 3 years he built up the new Conservative Party based on the popular association of church, monarchy and the people. The government did not legalize the admission of Jews to Parliament until 1858-59. In 1868 and again in 1874 he became Prime Minister of England. See MOTHER SHIPTON PROPHESIES POLITICS AND PROPHESY.

A house of glass shall come to pass, - #15 The Crystal Palace.
In England. But alas, alas, - "
a war will follow with the work - #16 World War I.
where dwells the pagan and the turk. - "



In 1851 the opening of the Crystal Palace in London, England, put the world of technology on show. It was the first great International Exhibition ever held. The magnificent building designed by Joseph Paxton, contained some 300,000 panes of glass and covered 9 hectares of ground. Visitors could walk around some nine miles of exhibits from around the globe. Construction took 2000 workmen 22 weeks of continuous labor. Indeed it was England's glittering show case, but on the night Of December 1, 1936, it burned to the ground. See MOTHER SHIPTON PROPHESIES POLITICS AND PROPHESY.

Turkey was an adversary in WWI.

These states will lock in fiercest strife, - #17 USA Civil war.
and seek to take each other's life. _ "
When north shall thus divide the south - "
an eagle build in lion's mouth - #18 USA springs from England.
then tax and blood and cruel war - "
shall come to every humble door. - "



The despised Internal Revenue Service is used to finance the USA's involvement in wars and police actions since its civil war.

Three times shall lovely sunny France - #19 The French Revolution.
be led to play a bloody dance. - "
Before the people shall be free - "
three tyrant rulers shall she see. - "
Three rulers in succession be - "
each springs from different dynasty. - "
Then when the fiercest strife is done. - "
England and France shall be as one. - #20 British/French allies WWI/WWII?



The French Revolution begun on 14 July 1789 when Parisian rabble seized the Bastille (the symbol of royal tyranny) and then marched on Versailles. The National Constituent Assembly swept away the feudal system, but a weak Louis XVI refused to support it. Revolution and counterrevolution followed. War. Regicied and the Reign of terror followed as the revolution spread over much of Europe. Louis XVI was executed for treason early 1793. Montagnards (led by Robespierre) and the Griondin gained power and soon the Reign Of Terror commenced and a revolutionary army of more than a million men was soon raised. With its victories, the terror and social restrictions seemed unnecessary and Robespierre was executed in 1794, only to be followed by the "White Terror". Napoleon soon took over and battles all around the Mediterranean basin ensued from 1792 to 1815. His excursion into Russia cost him a half million French deaths, and he was finally defeated at Waterloo. "Lovely sunny France was indeed led to play a bloody dance." After WWI and WWII, Britain and France became firm allies.

The British olive shall next then twine, - #21 NATO or the Common Market?
in marriage with a German vine. - "
Men walk beneath and over streams - #22 Engineering great bridges and tunnels?
fulfilled shall be their wondrous dreams. - "France/England tunnel?



Britain, France and Germany allied to fend off possible attacks from the communist bloc after WWII. France and Germany are currently in the European Common Market, while Britain debates joining it. A common currency is anticipated as well as a general breakdown of borders. Shipton anticipates great projects to be undertaken by this union.

For in those wondrous far off days, - #23 Women's fashions;
the women shall adopt a craze - "
to dress like men, and trousers wear - "
and to cut off their locks of hair. - "they will have short hair
They'll ride astride with brazen brow, - " they will not ride side saddle.
as witches do on broomsticks now. - "


And roaring monsters with men atop, - #24 Mechanized agriculture
does seem to eat the verdant crop. - "
And men shall fly as birds do now, - #25 Commercial air travel & business
and give away the horse and plow. - "


They'll be a sign for all to see - Introduction.
be sure that it will certain be. - "
Then love shall die and marriage cease - #26 Woman's lib. & low birth rate.
and nations wane as babes decrease. - "
And wives shall fondle cats and dogs - "
and men live much the same as hogs. - "



France, Italy, Japan, Germany, China and Russia are among 51 or the worlds 185 countries that are not having enough children to replace their current population. AIDS may worsen this situation in Africa.

The signs will be there for all to read; - #27 Pedophiles.
when man shall do most heinous deed - "
man will ruin kinder lives; - "
by taking them as to their wives. - "
And murder foul and brutal deed: - #28 Heinous greed-driven capitol crimes?
when man will only think of greed. - "
and man shall walk as if asleep; - #29 Drug addicts secretive.
he does not look - he may not peep - "
And iron men the tail (toil) shall do; - #30 Robots, mechanized assembly.
and iron cart and carriage too. - "


The king shall false promise make; - #31 Most current politicians blab & lie.
and talk just for talking's sake. - "
And nations plan horrific war; - #32 The cold war's Mutually Assured Destruction.
the like as never seen before. - "
and taxes rise and lively down; - #33 Massive tax rates enforced.
and nations wear perpetual frown. - "



This is yet another reference to the massive tax rates imposed by the industrial nations upon their peoples. Shipton seems to see the governments enforcing these tax rates as an oppressive force on society. It is obvious that these forces are essentially ones of fear (e. g. "The power to tax is the power to destroy"). Shipton has already described "fear" as "ugly" (see verse 7 of her Last Prophecy). Further, she sees that aliens teach men how to "live and love". Love is the antithesis of fear as discussed elsewhere.

yet greater sign there be to see; - #34 Maybe 1980 - 2000?
as man nears latter century. - "
three sleeping mountains gather breath, - #35 Mount St. Helens etc.
and spew out mud, ice and death. - "
an earthquake swallow town and town; - #36 Vague
in lands as yet to me unknown - "
And Christian one fights Christian two - #37 Christian fighting in Ireland and elsewhere.
and nations sigh, yet nothing do. - "
And yellow men great power gain; - #38 Chinese weapons from USSR.
from mighty bear with whom they've lain. - "



The last few years have seen massive volcanic eruptions such as Mt. St Helens, Versuvis, Moun Serrat, and Loki. Earthquakes, tidal waves, floods and landslides of untold proportions with death and injury resulted. See MOTHER SHIPTON PROPHESIES PRESENT DAY HAPPENINGS.

These mightly tyrants will fail to do, - #39 Allies and Communist block.
they fail to split the world in two. - "
But from their acts a danger bred; - #40 The cold war (Korea, Vietnam).
an ague (fever or illness), leaving many dead. - "


And physics (physicans) find no remedy; - #41 AIDS, HIV+.
for this is worse than lepresy. - "
Oh many signs for all to see; - Closing comment.
the truth of this true prophecy. - "


I know I go, I know I'm free, - #42 Humanity will find her prophecies.
I know that this will come to be, - "
Secreted this, for this will be - "
found by later dynasty. - "


A dairy maid, a bonnie lass, - #43 Who will find her prophecies?
shall kick this tome as she does pass - "
And five generations she shall breed - "
before one male child does learn to read. - "


This is then held year by year, - #44 The printing press.
till an iron monster trembling fear, - "
eats parchment, words and quill and ink, - "
and mankind is given time to think. - #42 Humanity will find her prophecies.


And only when this comes to be - #42
will mankind read this prophecy. - "
But one man's sweets is another's bain - #45 Shipton expects to be killed.
so I shall not have burned in vein. - "



Verse 25 of this section and last verse of the previous section indicated that Mother Shipton anticipated to be burned at the stake. Cardinal Thomas Wolsey vowed to have her burned at the stake.
1. D. S. Allan & J. B. Delair; WHEN THE EARTH NEARLY DIED; Gateway Books, The Hollies, Wellow, Bath, BA2 8QI, UK; 1995; pp. 218ff.
2. Rick Marin; ALIEN INVASION!; Newsweek; July 8, 1996; pg.50. According to a Newsweek poll, 48% of Americans UFOs are real and 29% think we've made contact with aliens. Another 48% think there is a government plot to cover the whole thing up.
3. Beishline, Blackburn and Warmkessel; DOWSING FOR EXTRA-TERRESTRIALS; American Association Of Dowsers; Fall 1995.
4. Michael Lindemann Video; UFOs AND THE GLOBAL SITUATION; CNI NEWS; E-mail CNINews1@aol.com
5. A comet swarm with either a 3,353 or 3,170 year period, 48.97o inclination, 0.99726 eccentricity, and ascending node of 192o was used to simulate Marduk/Phaeton swarm. It was found that such a swarm took 0.5 years to move from the asteroid belt (3.0 AU) to perigee and 0.1 years to move away to a distance of Earth's orbit. It is estimated that this cluster would be visible for 1.0 years, disappearing again at 3.0 AU at a heliocentric longitude of about 205o.
6. Chelsa Quinn Yarbro; MICHAEL FOR THE MILLENNIUM; Berkeley Publishing Group, 200 Madison Avenue New York, New York 10016; 1995; pp 14 - 25.
7. Professor George Forbes; ON COMETS; Proc. Roy. Soc. Edinburgh; Vol. 10, 1878 - 80; pg. 426: and Professor George Forbes; ADDITIONAL NOTE ON AN ULTRA-NEPTUNIAN PLANET; Vol. 11, pg. 89; and Monthly Notices Of The Royal Astronomical Society, 1908 - 1909, Vol. 69, pg. 152. Pluto had not yet been discovered.
8. William H. Pickering; A SEARCH FOR A PLANET BEYOND NEPTUNE; Annals of the Astronomical Observatory of Harvard College, Edward C. Pickering, Director; Vol. LXI, Part II (1909) and III (1911); Cambridge Mass.; Published by the Observatory; See pp.192, 193, 234, 235, 317, 368.
9. Mother Shipton's Prophecy, an internet site.
10. S. E. Hough and L. M. Jones; AFTERSHOCKS: ARE THEY EARTHQUAKES OR AFTERTHOUGHTS?; EOS Transactions Of The American Geophysical Union; Vol. 78, Number 45, 11 November 1997; pg. 505ff, esp. pg. 508.
11. Sir Fred Hoyle: ICE The Ultimate Human Catastrophe; Continuum Publishing Co. New York 1981 pgs. 135ff.
12. Chelsa Quinn Yarbro; "MORE MESSAGES FROM MICHAEL; Berkley Books; 1986; pg. 211. Contacts with beings from another planet will occur, to a greater or lesser degree, in the next fifty years OR BY 2036. Shipton's prophecy indicates that it will happen before 2026. These two values are quite close.
13. Paul Dong; CHINA'S MAJOR MYSTERIES; China Books and Periodicals, Inc.; San Francisco CA 94110; 2000; pps. 39 - 40. Figure 3 was taken from a copy of Chinese newsprint.
14. Cardinal Crumbles in Clash with Mystic Mother Shipton meets with representatives of Cardinal Thomas Wolsey (the Duke of Suffolk, Charles Brandon, Lord D'Arcy from Yorkshire and Lord Percy, the Earl of Northumberland). Shipton had predicted that "he might see York - but never reach it." Lord D'Arcy and Lord Percy asked if she knew of their future, she spoke of them lying dead on York's streets. Wolsey threatened to have her burned at the stake, however he was apprehended for treason just outside of York. All three prophecies soon came to pass. These reported prophecies were not counted among her verified prophecies in this work's analysis.
15. End-of-the- world Prophecies The prediction, as well as the rhyme, are faulted. A book titled The Life and Death of Mother Shipton) written in 1684 by Richard Head, was reprinted in a garbled and freely "improved" version in 1862 by Charles Hindley. In 1873 Hindley admitted having forged that rhyme and many others, but his confession caused no lessening of the great alarm in rural England when 1881 arrived.
16. MOTHER SHIPTON'S PROPHECIES This rare collection of Mother Shipton's Prophecies was brought to us by a Nexus reader who told us that, 30 years ago, she painstakingly transcribed them and managed to smuggle them out of the Mitchell library, Sydney, which is now the State Library of New south Wales. The originals were kept in a locked room, along with many other volumes of prophetic writings deemed unsuitable for viewing by the general public.
17. THE HISTORY OF CROP CIRCLES - 1991. Now explain this: The summer of 1991 was a period when serious contamination of formations began to take place. Some of the hoaxing was done by pranksters and sociopaths looking for attention, some by mischief makers. But, more sinisterly, it was also carried out by known government infiltrators who purposely added man-made features to genuine formations in a attempt to throw the researchers into total confusion. At the height of the hoaxing, an American tourist etched out huge letters on the side of a hill, "Talk to us". A reply came back a few days later when a most bizarre-looking formation resembling Hebrew script appeared at Milk Hill. Thought to be a hoax at first but since confirmed to be genuine, it was translated from Free Masonic script by Dr. Gerald Hawkins as APPONO ASTOS ­ "We are opposed to cunning and deceit." To this day, this formation represents the closest the Circle-makers have come to communicating with us in script form. A Figure of the crop script is included in the cited web site.
Prophecy #45 in Appendix A's verse 24 and the last verse (17) of her Last Prophecy attest to the possibility that she took these threats seriously (and did not forget their source - Cardinal Wolsey's religious institution). During her time, king Henry VIII sought to distance England from the Vatican. Archbishop Thomas Cranmer started changes that allied the Church of England with the Reformation (his book of common prayers first appeared in 1549. When Elizabeth I assumed the throne in 1558, the Reformation (and the Church of England) triumphed (Mother Shipton died 1561). The comparatively rapid demise of Wolsey, his companions and the Catholic church in England tells us something about the importance of Mother Shipton to collective humanity. She was no ordinary woman.
18. Tom Van Flandern; DARK MATTER, MISSING PLANETS & NEW COMETS; North Atlantic Books, P.O. Box 12327, Berkeley, CA 94710; 1993; pp. 137 - 140, 197 - 199 and 322. Figure 10.1 in this reference illustrates a comet's debris field.
19. ACADEMY #244A plot the regions indicated by Nostradamus as possible comet strike regions fall along a very narrow straight line.
20. Chains of craters (probably associated with past comet strikes) have been found in a 700 km chain running across Illinois, Missouri and Kansas and another in Argentina .
21. Daniel Cohen; PROPHETS OF DOOM; The Millbrook Press, Inc. 2 Old New Milford Road, Brookfield, CT 06804; 2000.
22. Whiston's Flood
Newton protege William Whiston (1667 - 1752) took upon himself the task of differentiating the claims of science and religion. He emphasized the hard-core millennial view that had dominated the middle ages, namely that the biblical prophecies of Daniel and Revelation should be interpreted as calling for a violent end of the world. Whiston had succeeded Isaac Newton in holding the chair of mathematics at Cambridge University in 1703. His central belief held that the biblical and scientific accounts of the deluge could be reconciled. This view was presented in A New Theory of the Earth, written in 1696, in which it was argued that comet impact was the probable origin of the deluge. Whiston's theory was controversial, but he received support from Locke and from apparently Newton himself. Whiston believed that the London earthquake of 1750 was a sign of impending doom, though other considerations suggested to him that 1866 would be the year. Newton ultimately set the date of impending doom at some time after the year 2000.